Rich clubs abandon plans for soccer super league
Share - WeChat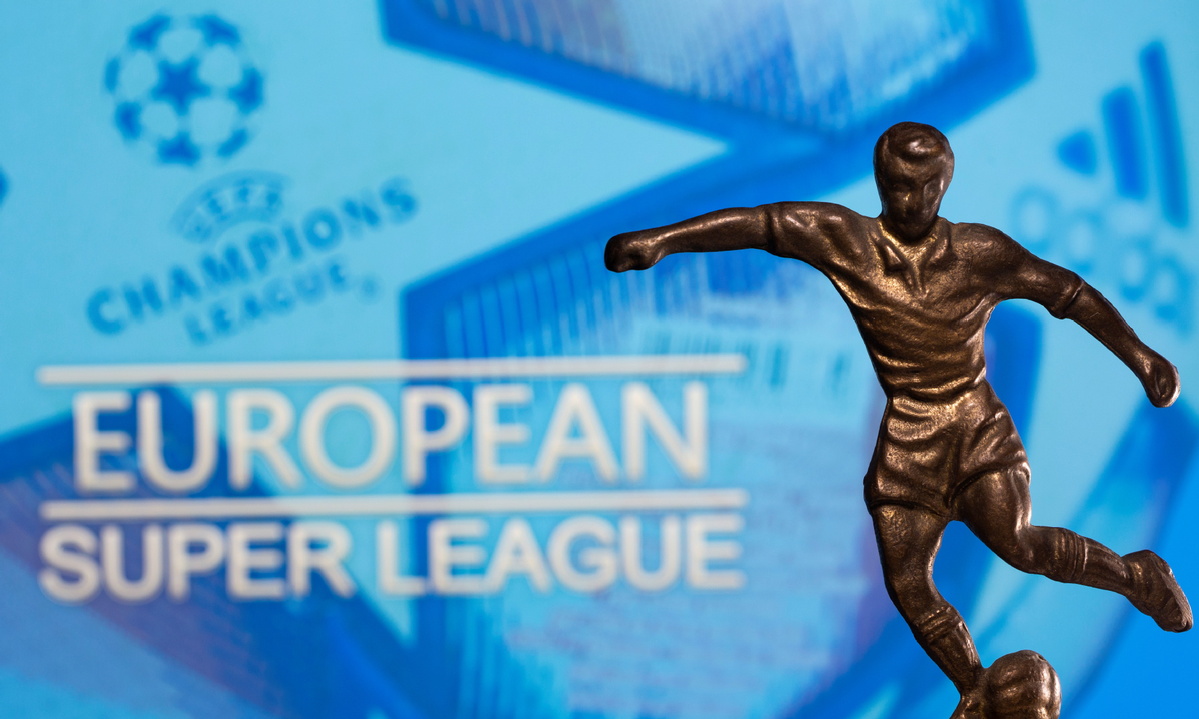 A newly launched breakaway super league composed of the richest soccer clubs in Europe appears untenable, after a widespread backlash from fans, soccer authorities, and the United Kingdom government forced most teams to withdraw.
The European Super League, or ESL, was launched on Sunday but has already been abandoned by nine of 12 founding teams.
Cowed by the project's dismal public reception, English Premier League (EPL) club Chelsea was the first to announce its withdrawal on Tuesday, followed by Manchester City, Arsenal, Manchester United, Liverpool and Tottenham Hotspur.
Spain's Atletico Madrid and Italian sides AC Milan and Inter Milan all bowed out on Wednesday.
"I don't think that that project is now still up and running," ESL co-founder and Juventus chairman Andrea Agnelli told reporters on Wednesday.
In a statement, Juventus said the ESL "has limited possibilities of being completed", though stopped short of withdrawing from the project. As of Wednesday afternoon, the two other teams, Spain's Real Madrid and Barcelona, had not released statements.
ESL organizers had sought to assemble the continent's wealthiest clubs into an elite league of permanent members, similar to the franchise model employed by major sports in the United States.
Backed by US bank JP Morgan, the ESL enticed founding clubs with generous "welcome bonuses" of up to 300 million euros ($360 million), and promised future payouts greater than those generated from existing cross-border tournaments, including the UEFA Champions League.
The financial rewards were particularly attractive to clubs like Real Madrid, Barcelona, and Manchester United, which had amassed hundreds of millions of dollars of debt even before pandemic lockdown measures hit ticket sales.
But the structure of the ESL was labelled elitist and anti-competitive by numerous European soccer fans, managers, and players who are more accustomed to performance - rather than stature - determining a team's participation in leagues and competitions.
Liverpool coach Jurgen Klopp and Manchester City manager Pep Guardiola both voiced disapproval of the ESL on Wednesday, as did the Professional Footballers' Association.
"Sport with certainty, without jeopardy, void of aspiration and reward - is not sport; it's just commercial content," the association said.
International soccer governing bodies FIFA and UEFA said they would take extreme action to prevent the league from going ahead, and Agnelli claimed that threats from the UK government in particular had given EPL sides cold feet.
Prime Minister Boris Johnson reportedly said he would "drop a legislative bomb" on the project on Tuesday.
"I have had speculation to that extent that if six teams would have broken away and would have threatened the Premier League, politics would have seen that as an attack to Brexit and their political scheme," Agnelli said.
Manchester United's chief executive, Ed Woodward, said he would step down from his role at the end of the year, shortly after the club announced its withdrawal from the ESL.
While the owners of elite clubs have been forced into an about-face this time around, some observers suggest that an appetite will remain for a franchise model similar to basketball's NBA or US football's NFL.
"In that format, it's dead, but in other formats it's on hold," former England and current West Bromwich Albion manager Sam Allardyce said. "This is nothing new, the bigger boys have been trying to get a bigger share of the pot for many years. This stinks of the American system being put into place. I hope we can protect ourselves greater. I suggest the stakeholders have a bigger influence in the games and put in better rules and regulations."