Expert: Debt issues need elegant solution
Share - WeChat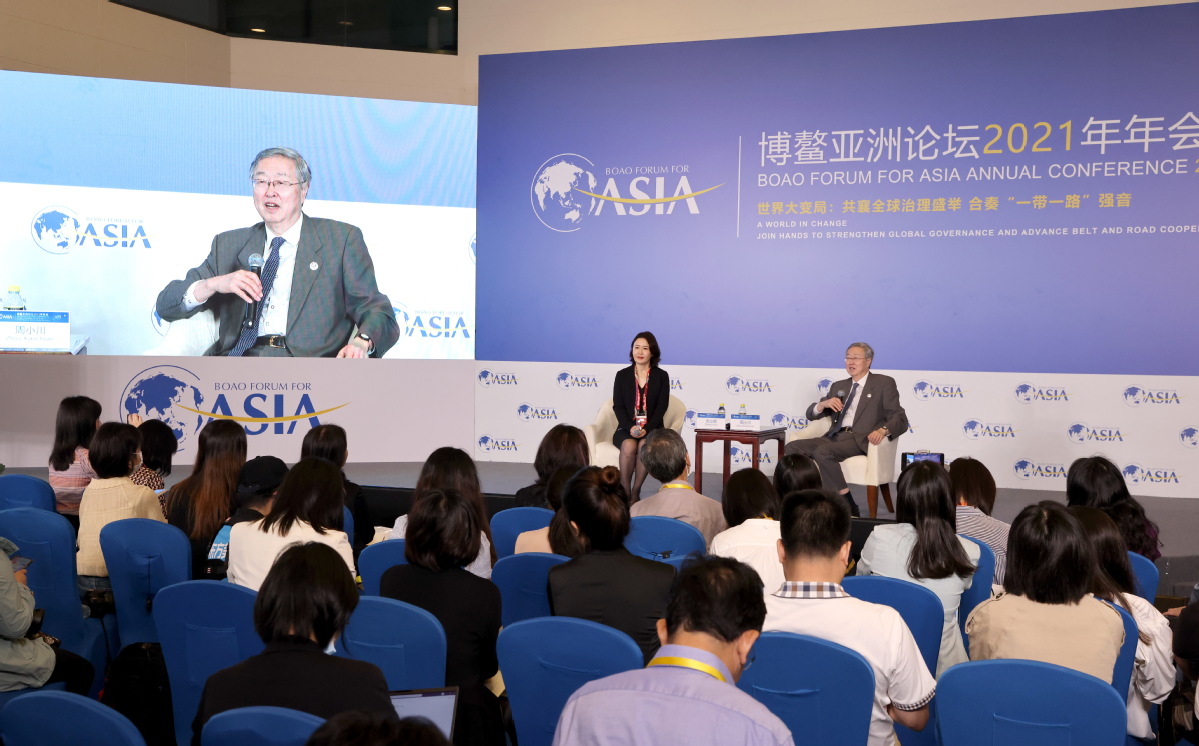 Former PBOC governor says write-offs may increase financial challenges
Appropriate measures should be adopted to sort out the debt repayment issues of emerging economies, instead of waiving off the debts altogether, a former Chinese central bank official said.
Zhou Xiaochan, former governor of the People's Bank of China, the central bank, said though many of the emerging economies are facing deteriorating financial conditions due to COVID-19, they will likely see an increase in the moral hazards and other related problems if the debts are written off altogether.
Due to the pandemic, fiscal support dwindled in several countries and governments had to leverage public funds to prevent risks and save lives. Lower income from exports led to a debt pileup, while falling foreign exchange earnings crimped repayment capabilities, Zhou said during a media conference at the Boao Forum for Asia Annual Conference 2021, which concluded on Wednesday.
According to Zhou, several low-income and some middle-income countries are facing debt repayment problems. As a result, it is necessary to consider the G20 consensus of delaying the principal and interest repayments of debt and accordingly reduce interest rates, he said.
The International Monetary Fund said in a recent report that timely fiscal support helped prevent severe economic contractions and larger job losses in several countries. But at the same time, it has also led to unprecedented increases in government deficits and debt, it said.
The average overall deficit as a share of GDP reached 11.7 percent for advanced economies, 9.8 percent for emerging market economies, and 5.5 percent for low-income developing countries last year, according to the IMF report.
Fiscal deficit is expected to shrink in most of the countries this year as the pandemic-related support expires or winds down, revenue recovers somewhat and unemployment claims decline, it said. Average public debt worldwide reached an unprecedented 97 percent of GDP last year and is projected to stabilize at around 99 percent of GDP in 2021.
Finance ministers and central bank governors of the G20 nations agreed earlier this month to extend the Debt Service Suspension Initiative to the end of this year to help the poor nations recover from the COVID-19 pandemic.
"The extension will allow beneficiary countries to mobilize more resources to face the crisis challenges and, where appropriate, to move to a more structural approach to address debt vulnerabilities," said a communique issued after the recent virtual meeting of G20 officials.
"China will strive to promote debt sustainability among the developing countries," Qian Keming, vice-minister of commerce, said at the Boao Forum on Tuesday.
"China has been an active participant in the G20 initiative on postponing debt repayments of poor nations. The nation will fully implement the debt applications that meet the requirements of the initiative in accordance with multilateral consensus, especially under the G20 framework, so as to make positive contributions to the poor nations in dealing with the epidemic situation and debt vulnerability," said Qian.
Experts said debt issues, including those related to the Belt and Road Initiative, are complicated, and the key to their resolution is development. Debt restructuring may not be the priority option as it could lead to a lowering of the sovereign rating and an increase in financing costs when the countries borrow foreign debt.
In the future, China will consider promoting infrastructure construction projects along the Belt and Road that can generate cash flows, which will help host countries increase their financial and foreign exchange income and improve their debt repayment capabilities, said Qian.