Students celebrate Yunnan diversity through art
Share - WeChat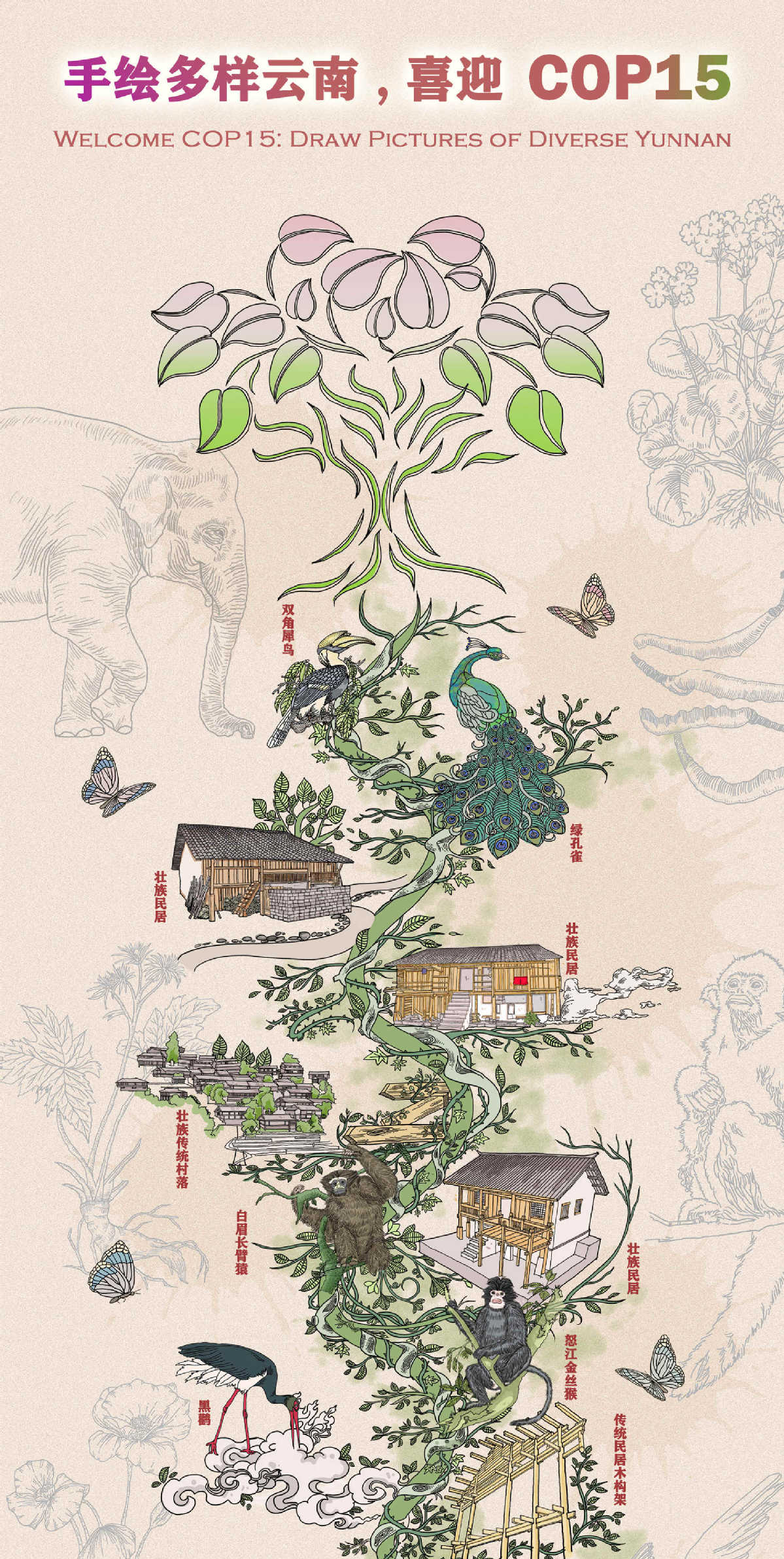 In anticipation of the United Nations' COP15 climate conference, a team from Yunnan University of Finance and Economics has created a new scroll painting — Hand-Drawn Diversity Yunnan— to showcase the beauty of Yunnan's biological and cultural diversity.
The scroll combines the theme of COP15, "Architecture Vision", with the architecture of Yunnan's ethnic minorities and incorporates elements of Yunnan's unique animals, plants and traditional dwellings in the form of vines around the whole scroll.
At the end of January, Li Nan of the university led three students to start collecting information and materials for the work and finished the scroll in mid-April.
"We had to draw both the unique flora and fauna of Yunnan and the architecture of the local ethnic minorities because biodiversity and cultural diversity are closely intertwined. The two, blended together, can reflect the diverse biological and ethnic characteristics of Yunnan," said Li, the team leader.
Li took students to the Kunming Zoological Museum and Botanical Garden for creative inspiration. They also reviewed literature to confirm what they wanted to paint.
"We wanted to make sure that the plants and animals in the scroll are unique to Yunnan and represent its characteristics," Li said.
I their spare time at school, the students created the scroll using hand-painted boards on computers. Students An Ran and Chen Ying were mainly responsible for the black-and-white line drawings.
"I can draw things I'm familiar with, such as a plant or animal or a house, in half an hour; otherwise it could take one or two hours," said An, who noted that the most difficult painting depicted a white-browed gibbon.
Liu Hailin in Beijing contributed to this story.