Chip shortage turns into wake-up call
Share - WeChat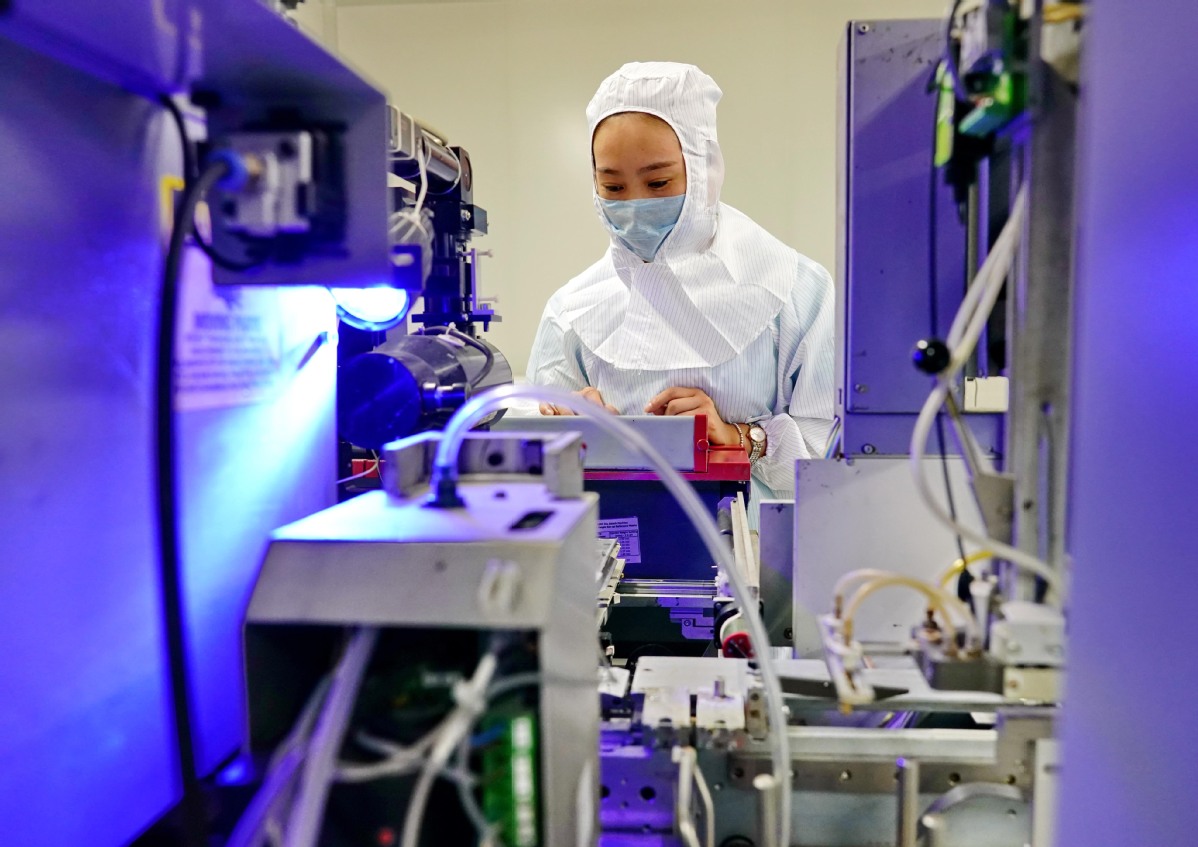 The current chip crisis sweeping the global auto industry is estimated to alleviate in the months to come, but carmakers in China are busy bracing themselves to prevent a similar scenario in the future. For, vehicles are becoming computers on wheels.
The chip crunch first began to bite in late 2020. It was triggered primarily by surging demand for consumer electronics to use at home, and the unexpected rise in car sales to avoid public transport during the acute phase of the COVID-19 pandemic.
The crisis was later aggravated by such accidents as a rare winter storm in Texas that cut chip production and a fire at a key Japan factory that would shut the facility for a month.
A number of carmakers from Volkswagen and GM to Chinese startup Nio have been forced to adjust their production plans because they lack semiconductors for their electric stability programs, infotainment and driving assist functions.
The silver lining to this industrywide problem is that Chinese carmakers are doubling their efforts to ensure a more secure supply chain that is expected to feature a growing percentage of chips.
By 2022, a gasoline car will have 934 chips and an electric car will need 1,459, according to data from the China Association of Automobile Manufacturers. In 2017, the corresponding figures were 580 and 813, respectively.
Ecarx, a startup backed by Geely and Baidu, said in March that it plans to supply products with 7-nanometer chips as early as next year through its joint venture with Arm China. Chips with 7nm process technology have relatively higher processing capabilities for smart cars.
Founded in 2016, Ecarx is focusing on technologies used in car chips, high-definition maps and smart vehicles.
Horizon Robotics, a Beijing-based artificial intelligence chipmaker, has made strides in the development and application of autonomous driving intelligent chips.
It expects its car-grade processors to come pre-installed in at least 5 million vehicles in 2023.
Yu Kai, Horizon's founder and CEO, said the number will help the company amass a roughly 50 percent share of the Chinese market that year, beating better-known rivals Mobileye and Nvidia.
The company is working with an array of major Chinese automakers, including BYD, Changan Auto, SAIC Motor and Great Wall Motors.
"The cooperation looks to fully integrate the respective strengths to build a brand-new collaborative model in automotive AI development," said Yang Xiaodong, vice-president of Volkswagen and GM's Chinese partner SAIC Motor, when the two signed deals earlier this year.
During China's two sessions-the annual sittings of the top legislature and the top political advisory body-in March, SAIC Chairman Chen Hong said the carmaker has made investments in up to 10 chip-related companies.
"It takes time from sample products, trial production to mass production, but we have started our work," said Chen.
In his proposals to this year's National People's Congress, Chen said the authorities should give an extra boost to makers of car chips on the basis of the support for chips used in consumer electronics.
Chen said Chinese carmakers and suppliers should help local chipmakers to initially produce less complicated chips so that they can grow the capacity to produce advanced ones.
Automakers like Dongfeng Motor have also sped up their foray into the semiconductor industry.
Dongfeng Motor's semiconductor subsidiary, with an annual capacity of 300,000 sets of power chip modules, will go into mass production this year.
Zhu Huarong, chairman of Ford's Chinese partner Changan Auto, called on Chinese carmakers to adopt more homemade chips.
He said currently at least 90 percent of China's automotive-grade chip market is dominated by companies based in the United States, Europe and Japan. Chinese chipmakers have an almost negligible market share.
According to the General Administration of Customs, China imported 543 billion units of chips worth over $350 billion in 2020.
Changan's UNI-T SUV, which hit the market in June 2020, was the first production model with pre-installed chips from China's Horizon.
Three months later, an electric SUV from China's Chery followed suit, with Level 2 autonomous driving functions enabled by Horizon's Journey 2 processor.
"We are far from changing the situation where chips are mainly imported, but we are seeing progress in high-computing chip platforms, autonomous driving AI algorithms, and collaboration between chip companies and carmakers, and that is very encouraging," said An Qingheng, former chairman of BAIC Group.