Major carmakers to showcase latest electric model lineups
Share - WeChat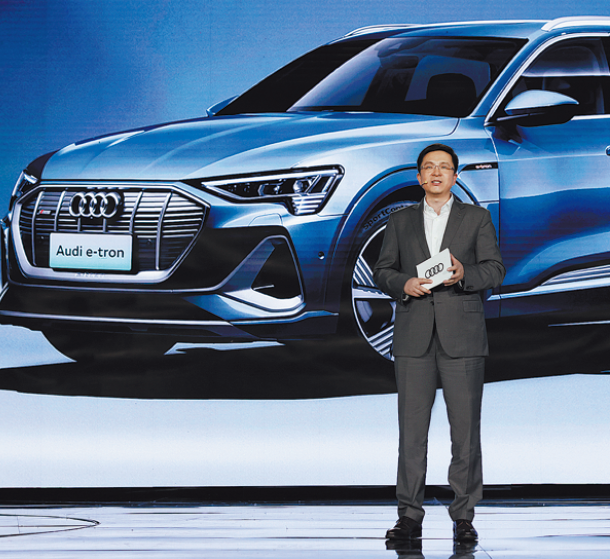 Key event to provide insight into direction industry is heading
This year's Shanghai auto show, which gets underway this week, will provide no better opportunity to see how traditional auto manufacturers have taken the bull by the horns in pushing their electrification strategies to create entire new ranges of electric vehicles.
Like no year before, the Shanghai auto show marks the potential for a sea change in the NEV segment, which still makes up around 5 percent of total vehicle sales in China, as large manufacturers bring their latest offerings to the fore in the hope of bumping Tesla out of the limelight.
Major traditional auto manufacturers have played second fiddle to the agile Tesla since the launch of the Model 3 in 2017. But the road looks bright ahead.
The stocks of major auto manufacturers have risen in recent weeks, while at the same time, those of Tesla and several other less-established NEV makers have taken a tumble. These signals growing confidence that the slow-moving, "responsible "manufacturers are gaining greater support in the market in terms of their long-term EV outlook and strategies.
Almost all major auto manufacturers have announced the acceleration of their electrification strategies over the past year, showing greater resolve and intent to make sure they capture and take a foothold in the EV market as soon as possible.
And so to the Shanghai auto show.
On the back of the launch of the ID. 4, Volkswagen will showcase a complete range of electric vehicles including the ID. 6 full-electric crossover.
Volkswagen Group's Audi looks set to preview its latest model in the e-tron series, the A5 Sportback, which is expected to hit the market in 2023 with a range of 452 kilometers. The entry-level pure-electric SUV Q4 e-tron, using VW's MEB platform, will also make an appearance, as well as an all-electric saloon model.
The German premium marque has so far sold 108,000 EVs worldwide, which pales in comparison to Tesla's half a million vehicles that it sold last year alone. That being said, parent company Volkswagen has made it clear it intends to become a dominant player in the EV segment, with Stephan Woellenstein, CEO of Volkswagen Group China, saying that its VW and Audi plants in China will be capable of producing 1.1 million electric vehicles a year by 2025.VW expects to sell 1 million electric vehicles across the globe this year, 150,000 of which will be sold in China.
Mercedes is likely to debut the EQB crossover, a full-electric version of its GLB, along with its entire range of EQ models including the EQA, EQS, EQC and EQE.
BMW is expected to showcase it entire range of EVs including the i3, and reveal its i-X full-electric SUV which will have a range of almost 500 km.
Ford will be showcasing its recently released made-in-China Mustang, the Mach-E. At its most meager setting, the Mach-E can eek out over 600 km on a single charge.
Japan's Toyota, a long champion of hybrid technology, is set to unveil its first ever full-electric concept car in Shanghai.
From South Korea, Kia will showcase the EV6, a compact electric sedan which has a range of 600 km.
Domestically, China's EV carmakers are taking the fight to Tesla as well, with Geely, China's largest private automaker and owner of Volvo Cars, unveiling its recently announced Zeekr.
The brand's first model, the 001, is aimed at young customers, and is said to go from 0-100 km/h in under 4 seconds and have a range of almost 650 km.
SAIC-GM-Wuling will of course be bringing its fashionable, budget EV the Hong Guang Mini EV, which has toppled Tesla off the top of the sales charts in China for the past few months. Though it has claimed itself sales champion, the Hong Guang Mini EV occupies a polar opposite end of the EV spectrum to that of Tesla.
Joining the assembled force of mighty manufacturers in the hunt for Tesla's crown are of course the other newer players, such as Nio, Xpeng and Li Auto, not to mention evermore technology companies such as Baidu and Google. And expect Apple to enter the fray soon.
While traditional manufacturers increasingly prove how serious they are taking the revolution in electric mobility, it cannot be ignored that Tesla is still enjoying the advantages of being a first-mover in the market. One thing is for certain, the EV segment is on an upward trajectory, the height of which has yet to be fully realized.