Passion in time of war
Share - WeChat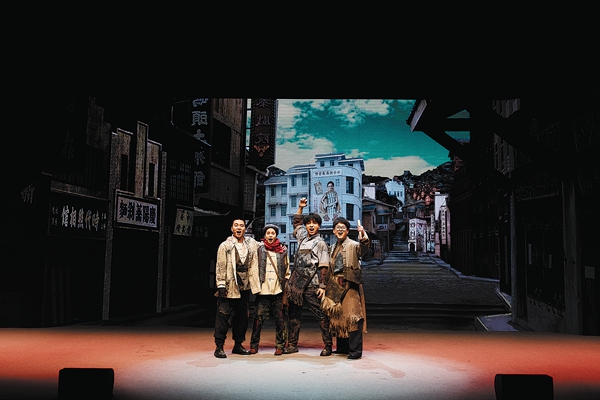 New musical honors youth selling newspapers on the streets during troubled times, Chen Nan reports.
To mark the 100th anniversary of the founding of the Communist Party of China, a new musical Xin Hua Bao Tong, or Newspaper Boy, will premiere on April 30 at the Tianqiao Performing Arts Center in Beijing.
The musical will run through May 2.
With veteran songwriter and producer Jia Ding as its artistic director, the musical tells the story of a group of teenagers selling newspapers in Chongqing and doubling up as messengers running through the streets during the War of Resistance Against Japanese Aggression (1931-45).
The musical's main characters are Jiang Yang and Jiang Yu, a young brother and sister pair. The Jiang siblings are orphans trying to make a living by selling newspapers in Chongqing. As they go along their way selling newspapers, they make friends with other teenagers selling newspapers, and journalists working for Xinhua Daily. All of them share mutual goals of fighting aggression and making their own contributions to the country.
Jia, whose real name is Wu Jiading, is a famous director of national galas such as the CCTV Spring Festival gala. Jia says the musical is set in Chongqing because the southwestern city played a critical role during wartime. Xinhua Daily, which was founded by former premier Zhou Enlai in 1938 and later headquartered in Chongqing, was the Party's first official national newspaper. Xinhua was an important newspaper of the Party during the war.
"The city of Chongqing is known for its local cuisine, natural scenery and local lifestyle. It also has a war history," Jia says.
Japanese warplanes bombed Chongqing from 1938 to 1944, killing and injuring people as well as destroying the city.
"When we visited Chongqing to collect material for the musical, we saw many air-raid shelters built during the war, which have been transformed into restaurants, stores, exhibition halls and even museums to commemorate the people who passed away during the war," Jia says.
The creative team and cast members behind the musical include Jia's young colleagues who are born in the 1980s and 1990s.