A shares continue to attract foreign interest
Share - WeChat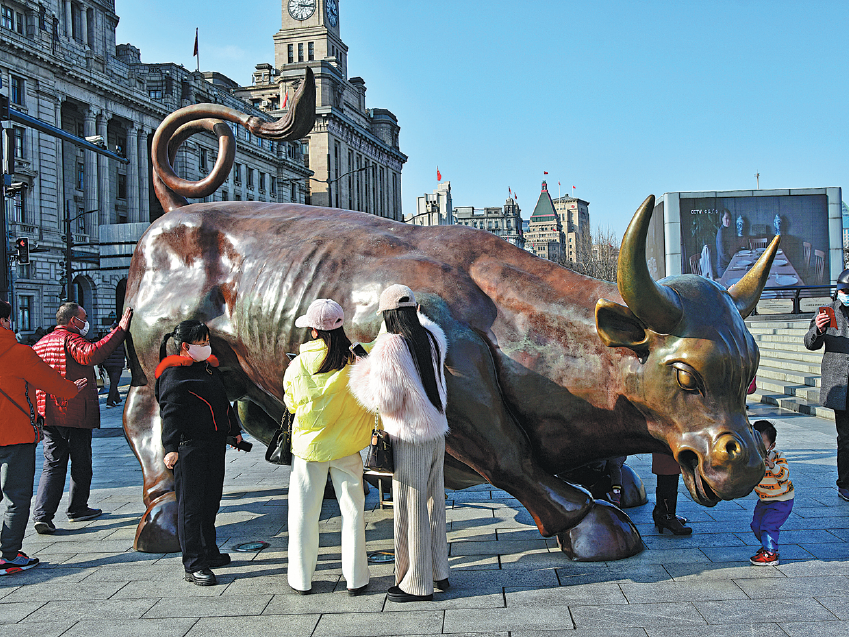 Domestic bourses have seen new sectors stand out in crowded space
While the A-share market has pulled back for nearly two months on concerns over policy tightening, many foreign investors are actually seeing through the short-term volatility to capture strategic opportunities brought by the improving quality of domestic listed companies, market experts said.
Since its recent intraday peak of 5930.91 on Feb 18, the benchmark CSI 300 index has slipped 16.6 percent to 4947.75 as of close on Monday, as investors dumped expensive high-profile growth stocks and worried about any monetary policy shift amid global reflation.
During the period, however, net foreign inflows into the A-share market via northbound links with Hong Kong remained above water at 24.81 billion yuan ($3.79 billion), despite registering net outflows on some recent trading sessions, according to market tracker Wind Info.
Robust fundamentals were behind the sustained foreign interest. As of March 26, a total of 536 A-share listed firms have disclosed their 2020 financial reports. Though hit by COVID-19, the majority-510 in total-achieved positive annual net profits with an average profit margin, or profit-to-revenue ratio, of 13.67 percent.
The structure of listed firms has also been improving as more technology-related firms went public. Up to 32 of the total 102 new A-share listings this year as of March 26, for instance, were from information technology and medical care sectors, according to Wind Info.
Chia Chin-Ping, head of business strategy and development for China-A investments at Invesco, a global investment management company, said China's capital market reforms have helped improve the quality of listed firms by bringing in more new-economy industry leaders while winnowing out the weak.
"We have observed good progress in China's capital market reform, especially in the past few years. The launch of the STAR Market in 2019 played a strategic role in facilitating new-economy companies, particularly those in technology and healthcare sectors, to tap into China's fast-expanding capital market for funding," Chia said.
Meanwhile, companies with poor fundamentals or those that were loss-making for extended periods saw consistent valuation declines, Chia said.
China launched registration-based reform of the initial public offering system in 2019 to strengthen the market's role in IPO processes and pricing and make listing standards more friendly for tech firms. The registration-based IPO system was first piloted on Shanghai's STAR Market in 2019 and then on Shenzhen's ChiNext last year.
The STAR Market has overtaken Shanghai's main board to lead IPO activities across the A-share market by both deal volume and proceeds last year. The tech board saw 145 new listings in 2020, including those from high-profile tech firms like chipmaker Semiconductor Manufacturing International Corp, vaccine company CanSino Biologics Inc, and cybersecurity service provider Qi An Xin Technology Group Inc.
While implementing the registration-based reform that ushered more quality names into the A-share market, the country also toughened delisting standards and punishment against market misbehavior to weed out companies that are weak in fundamentals or indulge in fraud.
The revised Securities Law, for instance, took effect in March 2020 and hiked fines facing firms that indulge in fraudulent public offerings from between 300,000 yuan and 600,000 yuan to between 2 million yuan and 20 million yuan.
Governance and disclosure of A-share companies have seen steady improvements as well, experts said, with particular progress seen on environmental, social and governance fronts, or ESG.
Accelerated regulatory efforts have made listed companies' ESG disclosures more readily available to investors, Chia said. "We hope that the overall quality of Chinese companies can continue to improve as having a market with institutional quality is a critical factor in attracting international capital flows."
Eddy Gan, vice-president of BlackRock Investment Stewardship in Greater China, said the asset management giant has seen China's stepped-up efforts to lead on matters related to ESG and will leverage this momentum to continue engaging Chinese companies in its clients' portfolios.