Britons hit the high street as measures ease
Share - WeChat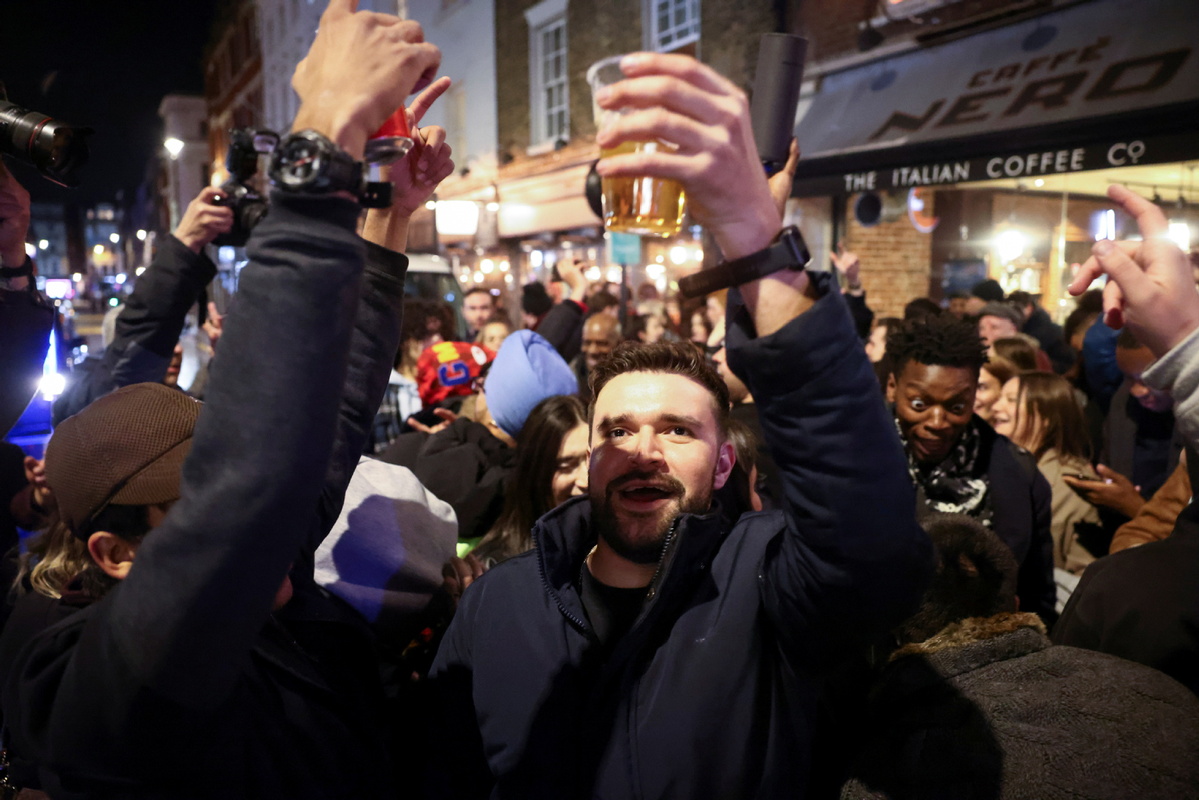 But experts warn there may be rebound in cases of infection after the relaxation
Pubs, restaurants, and retail businesses in England and Wales were quick to welcome back customers for the first time in months on Monday as the government eased lockdown measures in place due to the novel coronavirus.
Hospitality and non-essential shops have been shut since Jan 6, when England entered a third lockdown, but a largely successful vaccination campaign has reduced fatalities by more than 95 percent and cases by at least 90 percent from the peak at the turn of the year.
More than 32 million people in the United Kingdom have now had their first dose of a vaccine, and on Sunday, the nation reported its lowest daily total of COVID-19-related deaths since Sept 14.
Prime Minister Boris Johnson hailed the easing of restrictions as "a major step forward in our road map to freedom".
In a statement on Sunday night, he said: "I'm sure it will be a huge relief for those business owners who have been closed for so long, and for everyone else it's a chance to get back to doing some of the things we love and have missed." Johnson urged people to "behave responsibly" and to take steps to "suppress COVID-19".
Gyms, zoos, and hairdressers in England and Wales can now also return to business with health and hygiene measures in place. Pubs and restaurants are allowed to serve in their outdoor spaces. Indoor hospitality service could resume if restrictions are eased further, as planned, on May 17.
Some rules are also being relaxed in Scotland, though it will wait until April 26 to reopen businesses. Northern Ireland's stay-at-home order is ending.
Just after midnight, early on Monday morning, customers in England braved cold temperatures to visit pubs, and some hairdressers opened early to serve people eager for a much-needed haircut.
Later, long lines of customers were seen outside fashion retail stores in shopping centers and along high streets around the country, Reuters news agency reported.
Visits to UK shops more than tripled in early trading on Monday, as footfall jumped more than 200 percent on last week, according to figures from data provider Springboard.
The chief executive of the British Retail Consortium, or BRC, told Sky News it was a "big day" for nonessential businesses, which are relying on customers for a boost after months of closures.
Helen Dickinson told the broadcaster that "around 30 billion ($41 billion) of in-store sales have been lost during the pandemic" so far and that shops are "desperate to welcome their customers back". The BRC estimated that 67,000 retail jobs were lost last year.
Nicholas Hair, owner of the Kentish Belle pub in southeast London, told the BBC there was a "sense of celebration" in the early hours as it opened to midnight pubgoers outdoors.
"I'm hoping that this is a sort of rebirth, and that we are reopen for the foreseeable," he said.
However, in an interview with Times Radio, Peter Horby, an Oxford University professor and chairman of the New and Emerging Respiratory Virus Threats Advisory Group, or NERVTAG, warned the public to remain cautious.
"The watchword has got to be caution, really. It's not clear exactly when or how big it will be, but there is, I think, inevitably going to be a bit of a rebound in the number of cases when things are relaxed."
The months of lockdowns have forced hundreds of smaller UK businesses to close down permanently, agencies have reported, and last month, the British Beer and Pub Association estimated that about 2,000 pubs would close during the pandemic, causing many employees to lose their jobs.
People in the UK are expected to go on a spending spree having amassed an extra 180 billion pounds in their bank accounts, according to an estimate by the Office for Budget Responsibility, known as the OBR, issued last month. It said the savings are equivalent to almost 10 percent of the UK's annual gross domestic product.
The independent public finance body said if the 180 billion pounds were to be spent during the next four quarters, it would add about 6 percent to consumption both this year and the next.
"There may be a degree of euphoria once the pandemic is past, leading households to wish to treat themselves," said the OBR.
Some economists suggest the easing of the lockdown measures will spark a surge in consumer spending, "at least by wealthier households", a report in the Financial Times said. But not all agree.
"There is disagreement in the economist community over whether or not savings will get spent," said Karen Ward, chief market strategist for J.P. Morgan Asset Management, quoted in the FT. "I just think it will get spent."