Police shooting raises tensions
Share - WeChat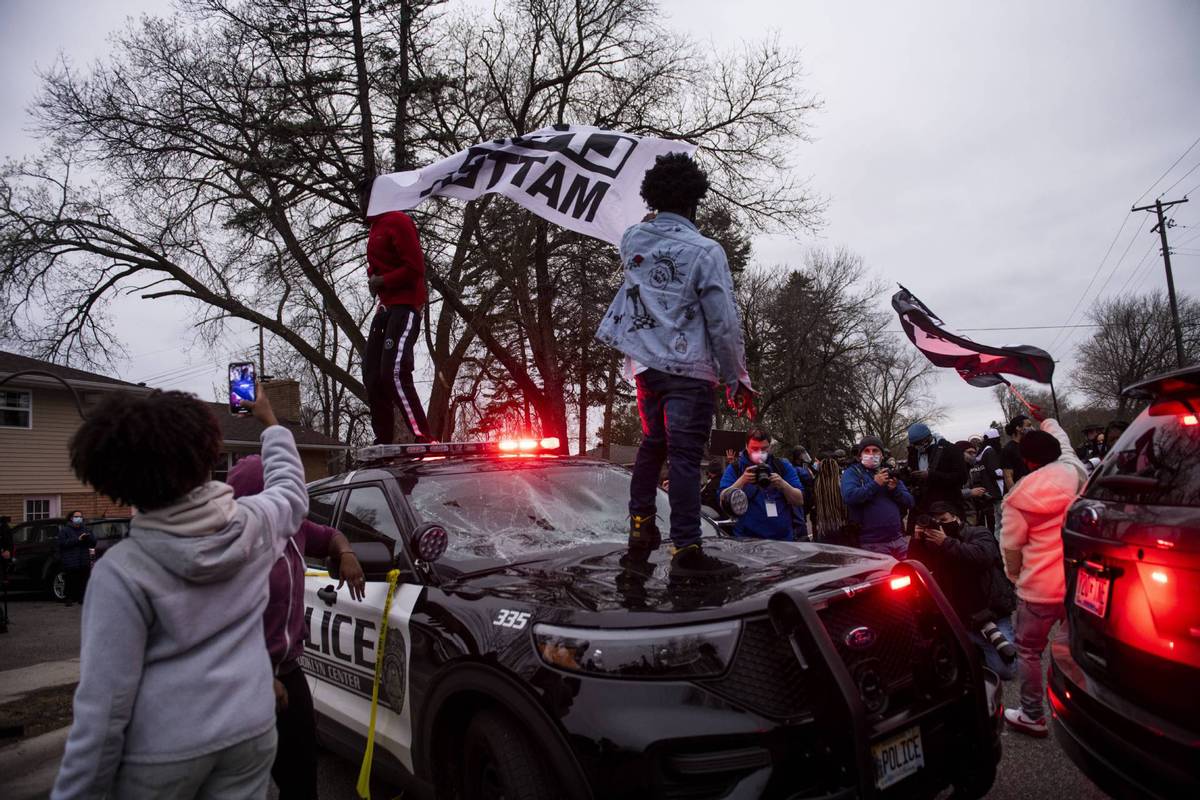 The police officer who fatally shot a 20-year-old black man during a traffic stop in the Minneapolis suburb of Brooklyn Center apparently intended to fire a Taser, not her handgun, the city's police chief said Monday.
Brooklyn Center Police Chief Tim Gannon described the shooting death Sunday afternoon of Daunte Wright as "an accidental discharge". It happened as police were trying to arrest Wright on an outstanding warrant.
"I'll Tase you! I'll Tase you! Taser! Taser! Taser!" the officer is heard shouting on her body camera footage released at a news conference. She drew her weapon after the man broke free from police outside his car and got back behind the wheel.
After the officer fired a single shot from her handgun, the car sped away, and she is heard saying, "Holy (expletive)! I shot him."
In the hours after the shooting, protests, violence and looting broke out in the suburban Minnesota city of 30,000 people north of Minneapolis.
The region has been on edge for weeks, as the trial of Derek Chauvin, the former Minneapolis police officer who has been charged with murdering George Floyd, is unfolding in a Minneapolis courtroom less than 10 miles from where Wright was shot.
President Joe Biden urged calm on Monday, following a night when officers in riot gear clashed with demonstrators. The president said he watched the body camera footage, which he described as "fairly graphic".
"The question is: Was it an accident? Was it intentional? That remains to be determined by a full-blown investigation," Biden said.
"In the meantime," he added, "I want to make it clear again: There is absolutely no justification — none — for looting, no justification for violence."
Mayor Mike Elliott called for the officer who shot Wright to be fired. "My position is that we cannot afford to make mistakes that lead to the loss of life of other people in our profession," he said. "And so I do fully support releasing the officer of her duties."
The officer, who hasn't been identified, is on administrative leave pending an investigation, said Gannon, identifying her as a "very senior officer".
Wright was pulled over for a traffic violation, and police then discovered he had an outstanding warrant for his arrest. According to KARE-TV11, an NBC affiliate in Minneapolis, the warrant was for gross misdemeanor carrying a pistol without a permit and misdemeanor fleeing police. The warrant was issued on April 2 after Wright failed to appear for court, the station reported.
As the police tried to detain him Sunday, Wright stepped back into his car, at which point one of the officers fired, Gannon said.
"It is my belief that the officer had the intention to deploy their Taser'' but instead shot Wright with a single bullet, Gannon said. "This appears to me, from what I viewed, and the officer's reaction and distress immediately after, that this was an accidental discharge that resulted in a tragic death of Mr. Wright."
Gannon said that Wright had been initially pulled over because of an expired registration on the vehicle he was driving. The video showed a brief struggle between Wright and police officers before the one officer fired.
Wright's mother, Katie Wright, said she was on the phone with her son before he was killed.
"I heard scuffling and I heard the police officers say, 'Daunte, don't run.' And then the other officer said, 'Put the phone down,' and hung it up," Wright told reporters on Sunday. "And a minute later, I called, and his girlfriend answered and said that he'd been shot, and she put (the phone) on the driver's side, and my son was laying there lifeless."
Wright's family described him as a young father who "had a whole life ahead of him".
"We just want people to know Daunte was a good kid," the family said in a statement. "He loved being a father to Daunte Jr. Daunte had a smile to make anyone's heart melt."