Delivering the need for speed
Share - WeChat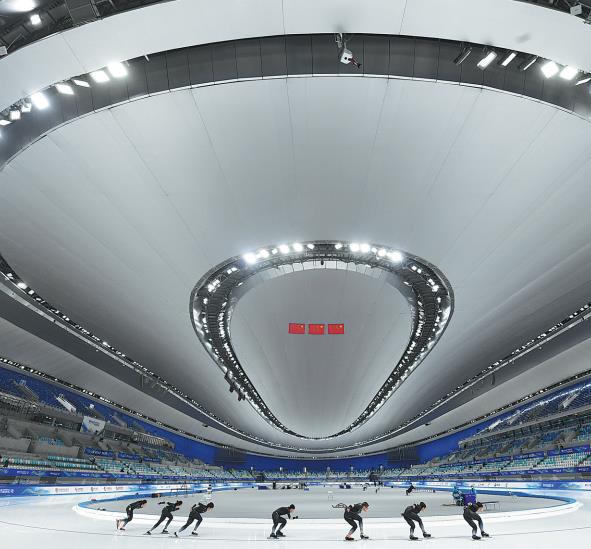 Conditions at Beijing's new custom-built skating oval conducive to world-record times at Winter Games
Optimizing state-of-the-art technology and international expertise, Beijing 2022 organizers are defying the geographical odds to produce the fastest possible ice at the National Speed Skating Oval.
Located in downtown Beijing, where the altitude is close to sea level, the venue passed its first official test program with flying colors last week, when a series of personal bests by Chinese skaters showed the ice is approaching the level usually found on high-altitude tracks.
The results have given Canadian ice-making expert Mark Messer and his team confidence that more records can fall at next year's Olympics.
"I don't see any reason why this can't be one of the fastest ovals in the world ... but we just need to find the right parameters to make that happen," said Messer, who was hired by Beijing 2022 to prepare the ice for the long-track discipline at his sixth Winter Games.
Long-track skaters commonly break records on high-altitude tracks, where thinner air-compared to the denser atmosphere in flat areas-can give athletes that vital one-hundredth-of-a-second edge in pursuit of glory. Fifteen of the 16 current world speed skating records were set at two highland venues in Salt Lake City, United States and Calgary, Canada-both situated over 1,100 meters above sea level.
Messer and his Chinese colleagues, however, are refusing to rule Beijing's newly built Olympic oval out of the world-record equation.
"There are so many different factors you have to control to get the best. We've gone to other lowland ovals that were very fast," Messer said, whose team prepared the low-lying rink for the 2018 Winter Games in South Korea, where five Olympic records were renewed.
"We are very close to breaking world records at sea level, which is not very common. So I see no reason why we shouldn't be able to set those standards here."