Int'l horticultural expo opens with over 1,100 plant varieties
Share - WeChat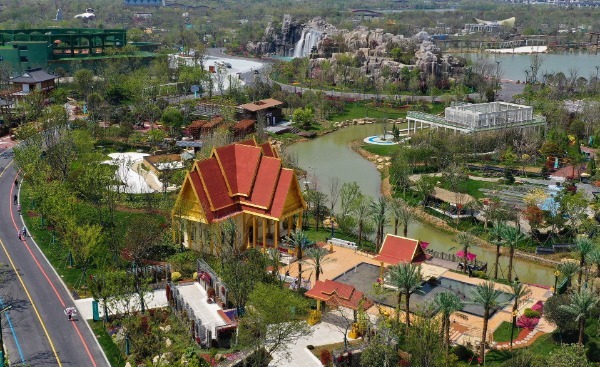 Over 1,100 varieties of plants are on display at the International Horticultural Exposition that opened in East China's Jiangsu province Thursday, the organizing committee said.
Themed "Green City, Healthy Life," the expo opened to the public in Zaolinwan Tourist Resort in the county-level city of Yizheng, Yangzhou city, and will run until Oct 8 this year.
Covering an area of about 230 hectares, the expo includes five core pavilions: the Chinese Garden Culture Pavilion, the Courtyard Garden Pavilion, the Chinese Flower Art Pavilion, the International Horticultural Pavilion and the Opening and Closing Ceremony Pavilion.
Sixty-four exhibition gardens are displayed in the pavilions which include 13 gardens from cities in Jiangsu, 26 gardens from enterprises and cities in other parts of China, and 25 exhibition gardens from foreign countries and international organizations.
With so many plant varieties at the expo, 27,800 trees over 6 meters tall and 770,000 square meters of short shrubs have been installed in domestic and international exhibition gardens, with more than 50 percent flowering plants.
The expo will hold six international contests on flower arrangement, Chinese rose and Chinese herbaceous peony plantation, displaying fruit, vegetable, tea, flower and other items of horticulture.
Most Popular