A moving performance
Share - WeChat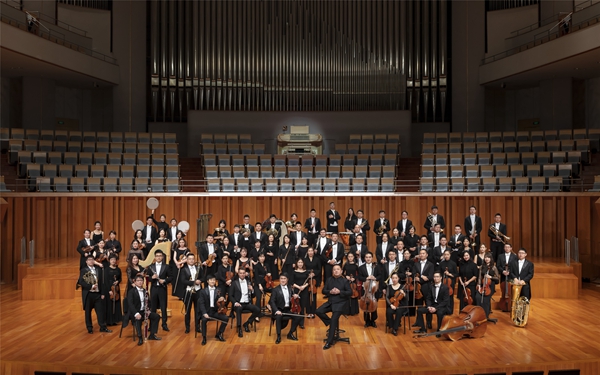 Work by composer Zhao Jiping set to feature on NCPA Orchestra's first nationwide tour, Chen Nan reports.
The China NCPA Orchestra, the resident orchestra of the National Center for the Performing Arts in Beijing, will kick off its first nationwide tour on Saturday from Nanjing, Jiangsu province. The tour, through April 17, will include five other cities: Shanghai, Wuhan, Hubei province, Changsha, Hunan province, and Shenzhen and Guangzhou in Guangdong province.
Under the baton of conductor Lyu Jia, who is the music director of the China NCPA Orchestra, it will perform various programs, including composer Zhao Jiping's Violin Concerto No 1, Austrian composer Anton Bruckner's Symphony No 6 in A Major and German composer Johannes Brahms' Symphony No 3 in F Major.
With 2021 marking the 120th death anniversary of Italian composer Giuseppe Verdi, the China NCPA Orchestra will also perform arias from his operas, such as The Troubadour, Nabucco and La Traviata.
Violinist Lyu Siqing, soprano Song Yuanming and tenor Wang Chong will feature in the concerts.
"We are very excited to launch our first nationwide tour," says Lyu Jia, who led the China NCPA Orchestra on its first North American tour in 2014."When the coronavirus pandemic hit early last year, we did many online concerts and programs, which received warm feedback from fans across the country. It inspired us to give performances for audiences of more Chinese cities."
The orchestra returned to North America in 2017 and performed at New York's Carnegie Hall, the Chicago Symphony Center and other major venues in the United States and Canada.
Since it opened in December 2007, the NCPA, located on Chang'an Avenue, has become an iconic landmark in the capital with its distinctive architecture and has attracted a long list of top artists and companies.
The birth of the China NCPA Orchestra was to meet the demand of the venue's tight performance schedule, especially for its own operatic productions by working with international artists.
Chen Zuohuang, the NCPA's founding music director, served as its first chief conductor, and Lyu Jia took over from the second season in 2012.
"When I started to work with the orchestra, I had a vision of building it up to a world-level orchestra," recalls Lyu, who has worked with renowned opera houses and symphony orchestras, such as Deutsche Oper Berlin, the Chicago Symphony Orchestra, the Leipzig Gewandhaus Orchestra and the Munich Philharmonic. "The musicians of the orchestra are very young and passionate. They are well-trained and open to new experiences."
Under the baton of Lyu Jia, the China NCPA Orchestra performed a number of German and Austrian works, which he believes, are the very foundation of classical music. It was for this reason that Lyu Jia chose Bruckner and Brahms for the orchestra's first China tour.
Most Popular