Nepal starts administering China-donated COVID-19 vaccines
Share - WeChat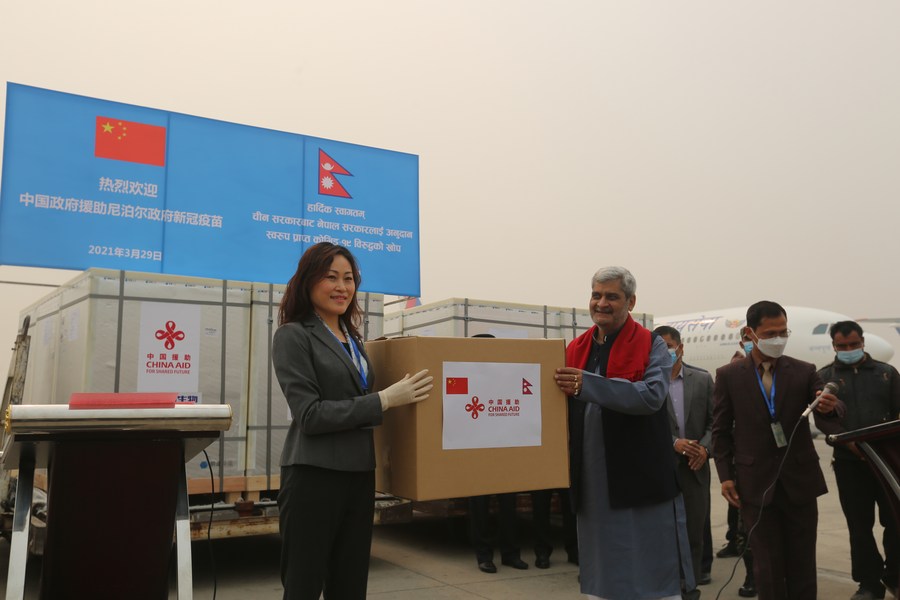 KATHMANDU - Nepal on Wednesday started administering the COVID-19 vaccines donated by China amid resurging COVID-19 cases.
A batch of COVID-19 vaccines developed by Sinopharm was delivered to Nepal late last month.
According to the Ministry of Health and Population, the Chinese vaccines are being administered from 23 hospitals located at seven districts including Kathmandu, most of them are in the country's capital and its adjacent areas.
"The vaccine is being inoculated among the people aged 18-59 years," Jhalak Sharma Gautam, chief of the National Immunization Program under the health ministry, told Xinhua on Tuesday.
Earlier the ministry said that people aged 40-49 years would be vaccinated.
According to the ministry, sanitation workers in the field of medicines, water and milk distribution, students studying in China but currently stuck in Nepal due to the pandemic, Nepali students preparing to leave for China for the higher study and people involved in cross-border trade between Nepal and China are being inoculated with the Chinese vaccines.
Raj Kumar Paraajuli, 39, is a Nepali PhD student who studies in Qingdao University, Shandong province of China. After being inoculated at the Civil Hospital in Kathmandu, he told Xinhua, "I am very happy. I wish to get the passport soon to return to China."
According to the ministry, people working in postal and telephone services, hotels and restaurants, public transportation services, electricity supply, storage and transportation of consumer goods are also the targeted group to be vaccinated.
Gautam said about 400,000 people will be inoculated with the first dose of Chinese vaccines initially. "Another dose will be given after 28 days," he said.
Nepal reported 260 COVID-19 cases on Tuesday. The number of COVID-19 cases went down below 50 per day early in March.
The Chinese vaccines arrived when Nepal was struggling to get enough vaccines from other sources to continue its vaccination drive. After starting the vaccination campaign on Jan. 27, Nepal has so far inoculated over 1.7 million people in two phases, the ministry said.