Hit film implores us to live full, optimistic lives
Share - WeChat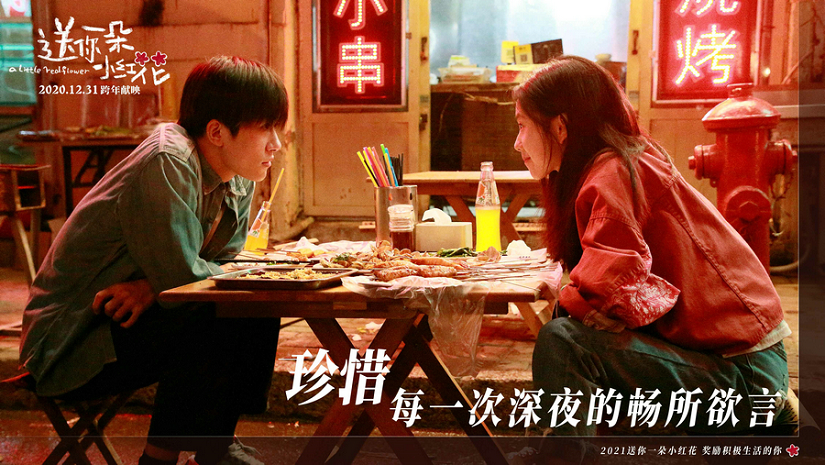 A Little Red Flower, directed by Han Yan, was released on New Year's Eve. A Little Red Flower is the second work by Han Yan of his "life trilogy" of inspirational anti-cancer films, following Go Away Mr Tumor. People all over the world were affected by the COVID-19 pandemic in 2020, so the aim is obvious.
A Little Red Flower has two main plot lines — the love between two young people, Wei Yihang and Ma Xiaoyuan, and the love between family members. Main characters Wei and Ma are both cancer patients. They didn't know each other before a memorial meeting for one cancer patient held by wig shop boss Wu Xiaomei. They have totally different personalities. Wei is timid, cowardly and doesn't want anyone notice him, while Ma is enthusiastic, optimistic, active and likes to make friends. It is these two different sets of characteristics that move the story forward. Ma invites a teacher to make lectures for patients and opens a livestream, forming close relationships with other patients. With the influence of Ma, Wei became more happy and active. In the first half of the film, which impressed me most was Ma making full use of the area's resources — the vegetable market, refrigeration storage, an inflatable swimming pool, a sand pile in a construction site — to make unique adventure experiences for Wei without leaving the city.
Wei and Ma's families are exemplars for anti-cancer families. Wei's mother bargains with the administrator of a parking lot and peels off vegetable leaves to save money, all the while working hard to cure her son and encouraging him to make more friends. Wei's father uses paper to pad table legs, pretends to have meetings on weekends while offering a custom taxi service and suffers from gastric ulcers but doesn't go to the hospital. Other relatives of Wei all have their own ways to help his family overcome difficulties. Wei's grandmother even says she would like to go to a nursing home, selling her house to help cure Wei. In Ma's family, there are only two family members, Ma and her father. Ma lost her mother when she was very young, and her father studied magic to amuse her daughter.
Besides these main characters, there are others who also impressed me. Wu, the owner of the anti-cancer chat group, had a lover who also suffered from cancer and died by suicide. There are others with only a few minutes of screen time that represent ordinary people. A grandmother lost her grandson because he was abducted. She learned to browse the Internet and shoot videos to increase the possibility of finding him. A young deaf-mute person, who is unable to communicate with customers but still works hard to survive. The father who lies to her daughter that he has already eaten. Cancer affects all of them.
The title, A Little Red Flower, is metaphorical. A "little red flower" means praise and encouragement. When children give a good performance, they may be rewarded with a little red flower. In the film, Wei never got a little red flower before, so when he shows his love to Ma, he was praised with a little red flower for his initiative. The film tells us everyone striving to live should be rewarded.
The theme of A Little Red Flower is leaving and losing, and how to live when a loved one is gone. The lesson I got from this film is whatever difficulties we meet, we ought to have an optimistic attitude toward life rather than giving up.
About a month after the film released, the singer of the movie's theme song, Zhao Yingjun, passed away from cancer. From his good friends, we learned the song was created as he was fighting the disease. He took pills to dull the pain while composing. As the lyrics show us, people ought to have an active and optimistic attitude toward life, thus giving ourselves a little red flower. Since his passing, the song has taken on new meaning, with he himself instructing us on how to live our best lives.
The author is a postgraduate student at the University of South China.

If you have a specific expertise and would like to contribute to China Daily, please contact us at opinion@chinadaily.com.cn, and comment@chinadaily.com.cn.

Most Viewed in 24 Hours
China Views