NYC rallies against Asian hate
Share - WeChat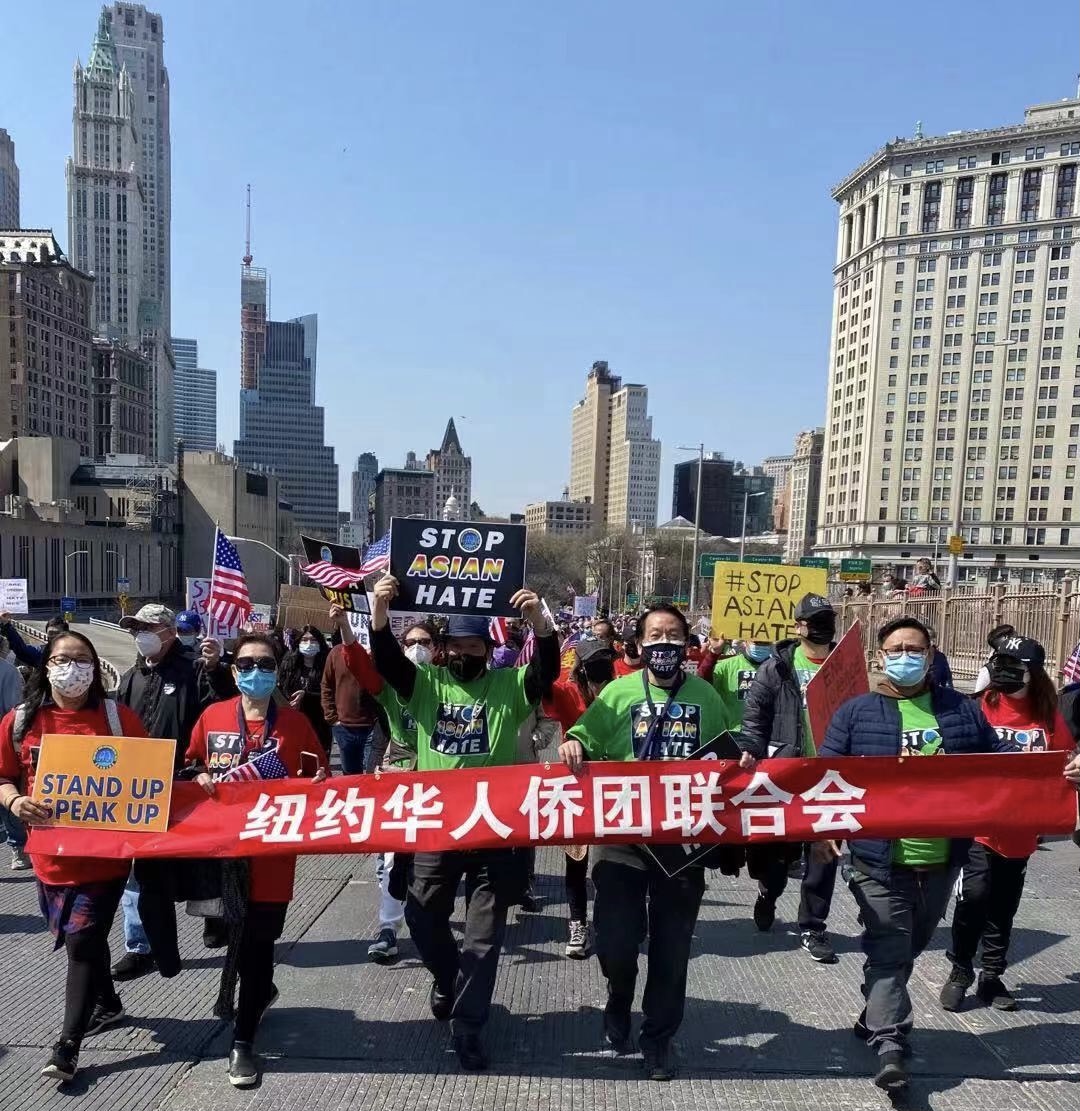 Protesters denouncing racism against Asians have again filled the streets in Manhattan as New York sees some of the most sustained agitation in the United States for a stronger response to hate crimes that have become more frequent during the coronavirus pandemic.
"Our purpose is to regain peace," John Chan, the event organizer and convener of the Coalition of Asian-Americans for Civil Rights, said at the rally on Sunday.
"We don't need violence, we don't need racism, and we call on local law enforcement agencies to pay attention to Asian hate crimes and Asian racism, and severely punish hate crimes."
The "NYC Stop Asian Hate Rally", organized by the coalition and Asian American Community Empowerment, drew a massive crowd at Foley Square in Manhattan for the start of a protest march.
Members of about 500 Asian American organizations put on a collective show of solidarity for the latest protest against a surge in racism directed at those of Asian descent.
The protesters forced the temporary closure of all Brooklyn-bound lanes on the Brooklyn Bridge on Sunday, New York City officials said.
"I want to be here today to let you know very clearly that when the haters come for the Asian American community, they come for all of us, including me," said New York City Comptroller Scott Stringer, who is running for mayor.
"I want you to know that you're not alone. Because when other people and other groups have been attacked and called out, Asian community leadership has always been with everybody. And now it's our turn to be with you."
Sunday's rally was noticed beyond the Asian community.
"My best friend is Asian. She is like a sister to me, and I consider her as my family," said Quianna, a schoolteacher.
"As this happened after Black Lives Matter, I feel that I have to support her because she did the same for me."
Min Wang met her husband in China several years ago when he was studying traditional Chinese medicine. Standing by her husband, who is black, Wang was holding their 4-year-old son, who was wearing a police uniform costume, with a hat and badge.
"He said he wants to catch bad guys," Wang said, laughing and looking at her son. "Even though he doesn't know what's going on."
New York City has been plagued by a spate of anti-Asian attacks in recent weeks.
On Saturday, a convenience store worker in Manhattan became the city's latest suspected victim of an anti-Asian crime.
His attacker spewed angry words at him and shouted an anti-Asian profanity as he punched him, police said.
Police said initially the assault was not being classified as a hate crime because the attack was over "a previous larceny and dispute".
The department, however, said later on Sunday that it was being investigated as a possible hate crime.
On March 29, a 65-year-old Filipino woman was physically and verbally attacked in Midtown Manhattan.
A parolee convicted of killing his mother nearly two decades ago was charged with two counts of second-degree assault as a hate crime and one count of first-degree attempted assault as a hate crime. He was held without bail.
New York City police said that they had recorded 26 anti-Asian incidents this year, including 12 assaults.