Off the beaten track
Share - WeChat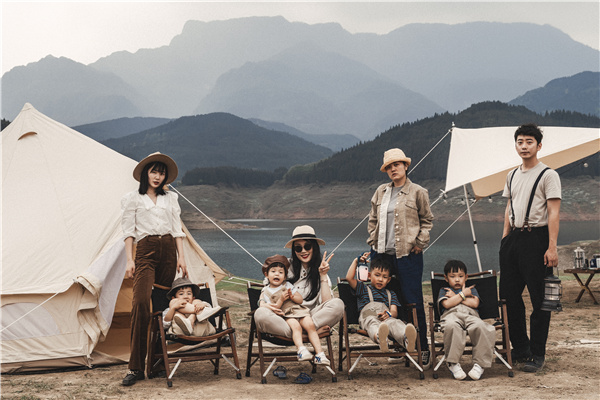 Tourists look for quieter destinations to avoid crowds and get a better understanding of the place
For some experienced Chinese travelers, who have visited many destinations home and abroad, their focus has shifted to explore the domestic road less traveled amid the global pandemic situation.
For those who're adept at discovering such places, they like to share their stories online, so that visitors can find a way to avoid crowds-be it a getaway from a city's hustle-and-bustle, or experiences like learning some craft.
Couple travel to remote villages
Tuotuo and Susu, who only reveal their online names, are known for their first-person perspective vlogs about less visited destinations in China. The couple's short videos attract over 1.66 million followers on Sina Weibo, many of whom are youngsters with a yen to travel.
When they were confined at home due to the outbreak of the COVID-19 last year, they made productive use of their time and finished a book about their journey around the world.
They used to travel overseas frequently to make vlogs. As the pandemic makes it impossible to do outbound travel, they started a new project in May, aiming to make a series of short videos about less traveled destinations in China.
"It's like a blessing in disguise. We had to adjust ourselves and make different travel content due to the global pandemic. The project allows us to meet many interesting Chinese people and experience their unique lifestyles," says Tuotuo, 33. The couple, who used to work in IT companies in Beijing, are full-time travel influencers.
"In less traveled destinations, the locals hope that tourism will boost their economy. However, some secluded places, especially those with poor public transportation, are barely known. We feel honored that if our vlogs can help promote them online."
The couple traveled to some quaint villages totally devoid of tourists. They dined and rubbed shoulders with the locals and enjoyed the agreeable rural life.
"As young people have gone to big cities to make a living, only the elderly stay in villages," she says.
"Sometimes it's good that these villages can be 'seen' by the public," she says.
They visited Laozhai village in Lingshan county, Guilin, Guangxi Zhuang autonomous region. The ancient Yao ethnic group village only has about 200 residents in 48 households. Villagers are honest and kindhearted, and taught the couple some traditional skills.
When they were in a minsu (a Chinese-style bed-and-breakfast homestay) halfway up Damian Mountain, in Guilin city of Guangxi, they made friends with the owner.
To boost the local tourism, she had built a stone path from the foot to the summit of the mountain and a viewing platform at her own expense. Photographers can enjoy a panoramic view of the rolling mountains and clean lakes, free of charge.
Most Popular