President stresses green development
Share - WeChat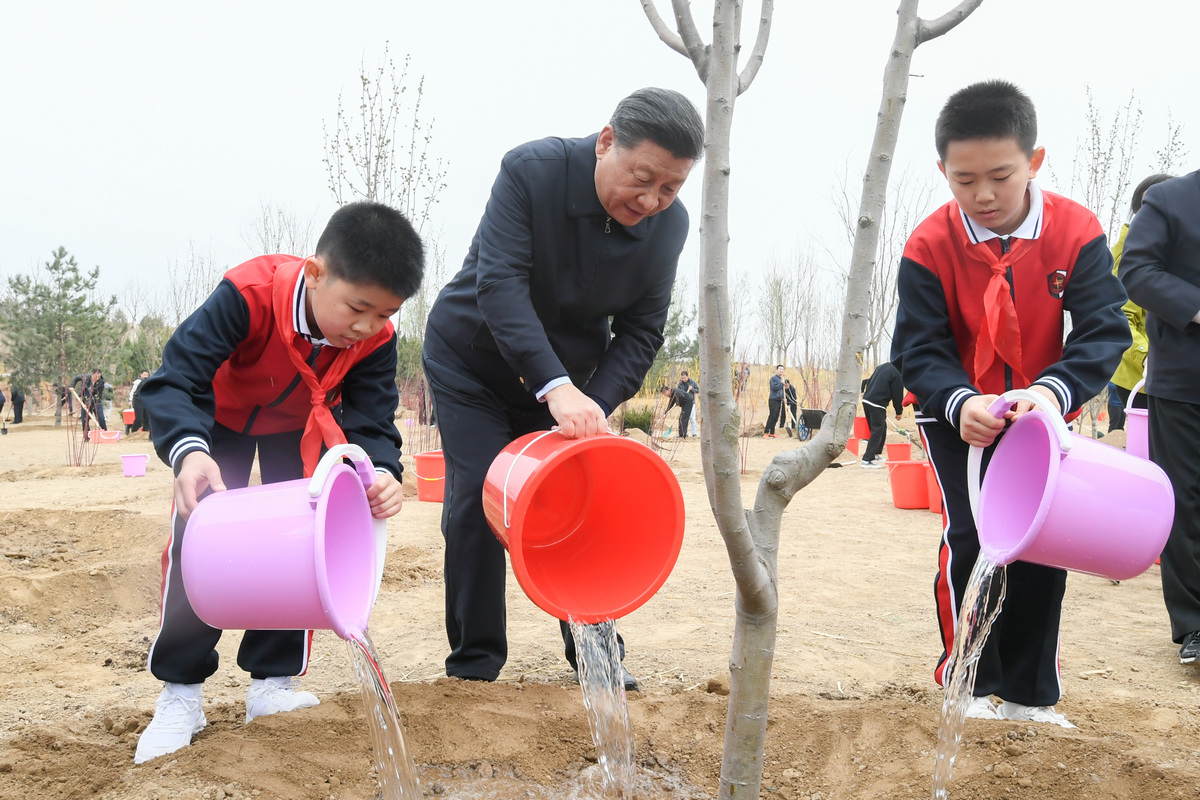 Xi urges efforts to increase area of nation's forests
President Xi Jinping underlined the importance of afforestation on Friday, and reaffirmed the need to stick to the green development path in order to meet people's ever-growing demand for a better life and make a greater contribution to upholding global ecological security.
Xi, who is also general secretary of the Communist Party of China Central Committee and chairman of the Central Military Commission, made the remarks while joining Beijing residents in a voluntary tree-planting activity in the Chinese capital's Chaoyang district.
While planting saplings of different types of trees, Xi talked to the officials and people on-site. He stressed that the annual tree-planting activity aims to get the whole of society voluntarily involved in tree-planting and afforestation and raise people's awareness of building a beautiful home where human beings and nature coexist harmoniously.
Xi said that building an ecological civilization, which requires better environmental protection, is an important feature of socialism with Chinese characteristics for a new era.
Implementing the new development philosophy, advancing high-quality socioeconomic development and responding to people's demand for a high-quality life require strengthening efforts in environmental protection, he said.
As the Chinese nation seeks the harmonious development of human beings and nature, Xi said that in the new development stage, redoubled efforts must be made to promote green development and to strive to set the global development trend.
The philosophy that lucid waters and lush mountains are invaluable assets must be firmly upheld and priority should be given to ecological conservation in the country's development, he added.
He urged efforts to increase the area and improve the quality of the nation's forests to increase carbon sinks and help the country realize its goal of peaking carbon dioxide emissions.
This year marks the 40th anniversary of the country's voluntary tree-planting activity. Xi said that over the past four decades, people throughout the country have made concerted efforts in afforestation and the people's living environment has become more and more pleasant. China has topped the global ranking of countries in terms of the growth of forest resources, he added.
Xi said that consistent and long-term efforts are still needed, while calling on the whole of society to take part in afforestation activities.
Party members and officials should take the lead in taking the responsibility for tree planting, practicing a green and low-carbon life and strengthening environmental protection in order to enable the people to live a high-quality life, he said.
Other leaders, including Li Keqiang, Li Zhanshu, Wang Yang, Wang Huning, Zhao Leji, Han Zheng and Wang Qishan, also took part in the activity.