An American who sings China's stories
Share - WeChat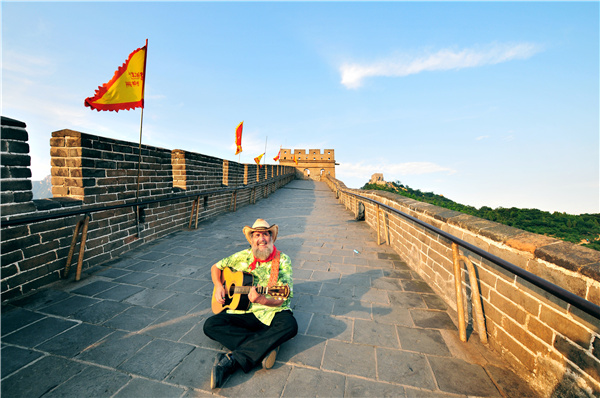 Editor's note: Many people from overseas have made a contribution to China's development over the years. As China celebrates the 100th anniversary of the founding of the Communist Party of China, China Daily looks at the lives and contributions of these friends from afar, who've not only witnessed, but also participated in, the country's transformation over the years.
American Mark Levine wears many hats in China-educator, author, volunteer, musician, sociologist, cross-cultural communicator, winner of the Chinese government's Friendship Award, and, most noticeably, wide-brimmed.
The bushy-bearded 73-year-old is perhaps best known among the Chinese public for writing American country music-style songs about China that he performs in full cowboy regalia. He often sings and plays his guitar to the accompaniment of the erhu (two-stringed Chinese fiddle) played by his friend, Fu Han, in their musical duo, In Side Out.
Levine has staged hundreds of performances in 15 provinces, including on TV, on the Great Wall and in celebration of such events as the 115th birth anniversary of New China's first premier, Zhou Enlai, at Beijing's National Center for the Performing Arts.
In fact, he chose to live in Huai'an, Jiangsu province, when he first came to China in 2005 because it was Zhou's hometown, he says.
Three of his performances were attended by over 40,000 people, and one had an audience exceeding 50,000, he says.
His songs expound upon such themes as China's trains, ethnic legends and the 2008 Beijing Olympics.
Several focus on such disasters as the 2008 Wenchuan earthquake, devastating blizzards, floods and COVID-19.
"These songs not only tell about the problems but also speak to the response-a unified response from the government, the People's Liberation Army and, most importantly, the Chinese people, who helped in the recovery from the consequences of these problems," he says.
Fu says: "If people can listen to these songs, they will better understand China and be more willing to visit."
That's why she helped him record a CD for his 60th birthday and presented him 60 copies as a gift.
"That's how his music career in China began," she says.
Most Popular