Biden's infrastructure plan has green tint
Share - WeChat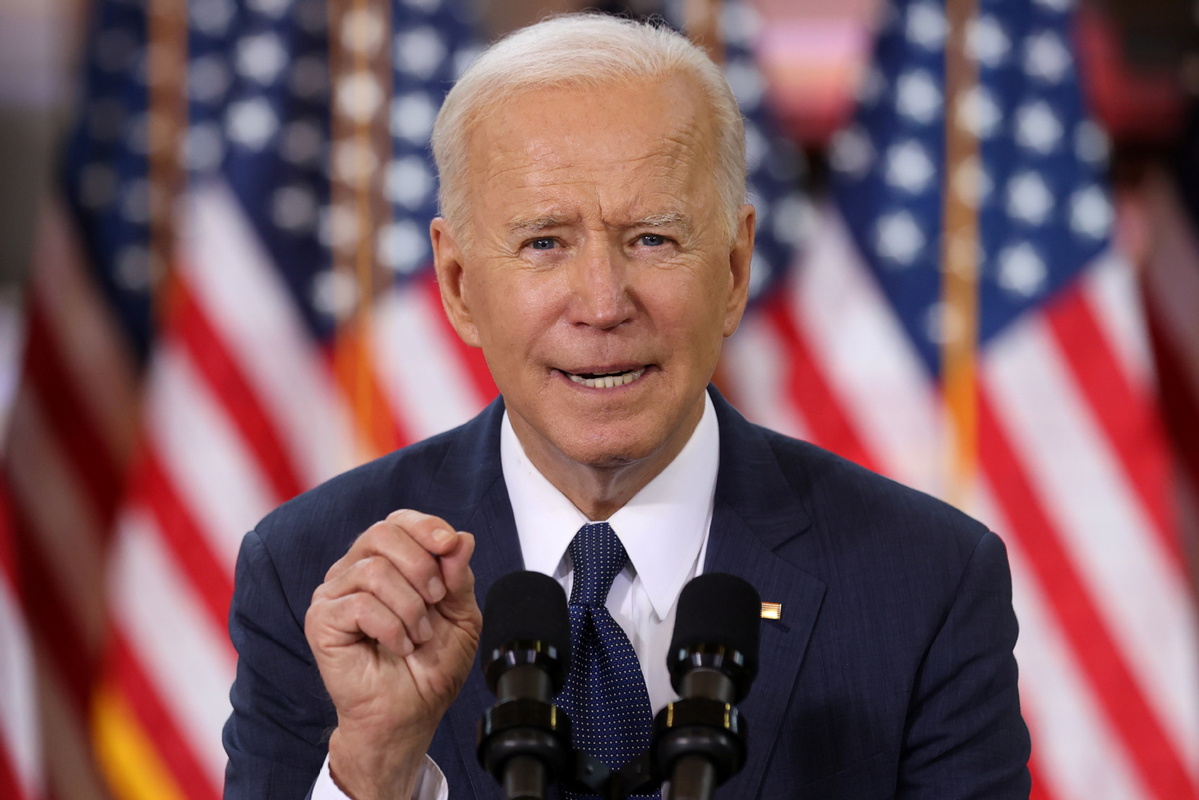 The White House released a $2.3 trillion infrastructure plan Wednesday that looks to a greener future by allocating more money to electric-vehicle development than to traditional projects such as roads and bridges.
In fact, infrastructure is not part of the sweeping plan's name.
It is called the American Jobs Plan, and it proposes spending billions of dollars on funding the "care economy", worker training, affordable housing, upgrading public school buildings, supporting community colleges, helping labor unions, expanding high-speed internet and creating a Civilian Climate Corps.
"It's a once-in-a-generation investment in America unlike anything we've seen or done since we built the interstate highway system and the space race decades ago," US President Joe Biden said at a carpenters union training center in Pittsburgh on Wednesday, in outlining the plan. "In fact, it's the largest American jobs investment since World War II."
The voluminous proposal was released early Wednesday on the White House website.
"The American Jobs Plan is an investment in America that will create millions of good jobs, rebuild our country's infrastructure, and position the United States to out-compete China," says the 25-page statement on whitehouse.gov.
"This package is about jobs, jobs, jobs: creating millions of good-paying union jobs, investing in American workers and turbocharging America's global competitiveness — all while reimagining and revitalizing our infrastructure in a transformative, resilient way," House Speaker Nancy Pelosi, Democrat of California, said in a statement.
"This is not going to be apparently an infrastructure package," said Senate Minority Leader Mitch McConnell, a Kentucky Republican. "It's called infrastructure. But inside the Trojan horse there's going to be more borrowed money and massive tax increases on all the productive parts of our economy."
Former president Donald Trump, in a statement, said the proposal "would be among the largest self-inflicted economic wounds in history".
Biden will ask Congress to put $400 billion toward "expanding access to quality, affordable home- or community-based care for aging relatives and people with disabilities". The White House says the funding will create "well-paying caregiving jobs with benefits".
The plan includes $300 billion toward boosting manufacturing, namely semiconductor, medical, and clean manufacturing.
Affordable housing will see an allocation of $213 billion. There will be $100 billion appropriated for high-speed internet broadband.
The top four transportation-related categories will be electric-vehicle incentives ($174 billion), followed by roads and bridges ($115 billion), public transit ($85 billion), and passenger and freight railways ($80 billion).
Included in the plan provided by the White House are grants for governments and private groups to build 500,000 electric-vehicle chargers and replace 50,000 diesel transit vehicles. The initiative is geared at pushing the country away from internal combustion engines.
Amtrak, a sentimental favorite of Biden's when he rode the passenger railway from Delaware to Washington, will receive $80 billion to help with a backlog on repairs and to modernize the heavily traveled Northeast Corridor.
The plan also would modernize 20,000 miles of highways and roads, the top 10 "economically significant bridges" and 10,000 other bridges.
Included is $25 billion for airports, $17 billion for inland waterways, coastal ports and ferries, and investments in cleaning port air pollution.
The Democratic president's projects would be financed by higher corporate taxes — a trade-off that could lead to resistance from the business community and thwart attempts to work with Republicans lawmakers. Biden hopes to pass an infrastructure plan by the summer, which could mean relying solely on the slim Democratic majorities in the House and the Senate.
"I'm going to bring Republicans into the Oval Office, listen to them, what they have to say and be open to other ideas," Biden said. "We'll have a good faith negotiation. Any Republican who wants to help get this done. But we have to get it done."
Biden's efforts could be complicated by demands from a handful of Democratic lawmakers who say they cannot support the bill unless it also addresses the $10,000 cap on individuals' state and local tax (SALT) deductions put in place under Trump and a Republican-led Congress.
With a narrow majority in the House, they could conceivably quash any bill that doesn't significantly lift the cap or repeal it entirely.
"We say No SALT, no deal," said Democratic representatives Tom Suozzi of New York and Bill Pascrell and Josh Gottheimer of New Jersey in a joint statement. New Jersey has the highest property taxes in the country, and both states have high-cost housing.
Funding the first $2.3 trillion for construction and "hard" infrastructure projects would be an increase on corporate taxes that would raise the necessary sum over 15 years and then reduce the deficit going forward. Biden would undo a signature policy of the Trump administration by raising the corporate tax rate to 28 percent from the 21 percent rate set in a 2017 overhaul.
US Chamber of Commerce Executive Vice-President and Chief Policy Officer Neil Bradley said in a statement that "we applaud the Biden administration for making infrastructure a top priority. However, we believe the proposal is dangerously misguided when it comes to how to pay for infrastructure."
The Business Roundtable, a group of CEOs, prefers funding infrastructure with user fees such as tolls.
There's $100 billion to "upgrade and build new public schools, through $50 billion in direct grants and an additional $50 billion leveraged through bonds".
The proposal includes $20 billion for road safety programs to reduce fatalities for cyclists and pedestrians, and $20 billion to reconnect neighborhoods divided by highway projects.
The plan allocates $45 billion to replace 100 percent of the water-bearing lead pipes and service lines across the country, which the White House says serve as many as 10 million families.
It also proposes broadband access for some 35 percent of rural Americans, and funding for building or retrofitting 2 million housing units and for veterans hospitals.
The proposal includes capping and sealing oil and gas wells and abandoned mines, which the White House says will create "hundreds of thousands" of jobs in area where oil and mining employment has dried up.
The plan will aim to "build and rehabilitate more than 500,000 homes for low- and middle-income homebuyers and eliminate exclusionary zoning and harmful land use policies".
"For decades, exclusionary zoning laws – like minimum lot sizes, mandatory parking requirements, and prohibitions on multifamily housing — have inflated housing and construction costs and locked families out of areas with more opportunities," the statement says.
Biden will ask Congress to make a $10 billion R&D investment in historically black colleges and universities (HBCUs) and other Minority Serving Institutions (MSIs.) He also is calling on Congress to invest $15 billion in creating up to 200 centers of excellence that serve as research incubators at HBCUs and other MSIs to provide graduate fellowships and other opportunities.
There is $30 billion over four years "to create US jobs and prevent the severe job losses caused by pandemics through major new investments in medical countermeasures manufacturing; research and development; and related biopreparedness and biosecurity".
The proposal includes a $50 billion investment in domestic semiconductor manufacturing, $180 billion in research and development with a focus on clean energy, and unspecified amounts as incentives for companies to create new jobs in coal communities and grow the US supply chain.
"We are one of the few major economies whose public investments in research and development have declined as a percent of GDP in the past 25 years," the White House statement says. "Countries like China are investing aggressively in R&D, and China now ranks number two in the world in R&D expenditures."
Agencies contributed to this story.