Digging up publicity
Share - WeChat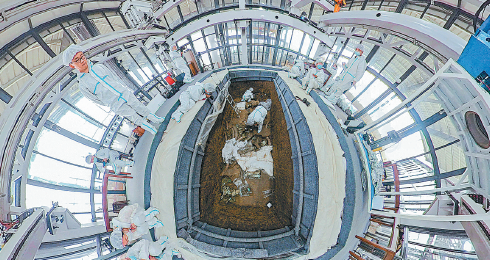 Books to record surge in interest around excavations as important findings whet public's appetite.
Just a week before exciting findings, including a golden mask, were announced at the Sanxingdui Ruins site in Guanghan, Sichuan province, a leading publishing house decided to set up an archaeology workshop to help record achievements and provide resources for more to study.
"Since the beginning of the millennium, there has been a surge of new excavations, and the number of large-scale digging sites are rising in the country," says Zhao Jianying, president of the China Social Sciences Press, part of the Chinese Academy of Social Sciences.
"We feel obliged and responsible to take up the task of presenting them in book form, as well as in other ways," Zhao says.
The press is known for its previous publications of tomes like the nine-volume Chinese Archaeology. Zhao says the press has published hundreds of titles on archaeology since its establishment in 1978, among which were award-winners such as those honored with the Chinese Government Award for Publishing.
"With our author base and editorial strength, the new workshop is set to open up a broader horizon for the study of archaeology," Zhao says."We'll input more funds and more personnel."
The workshop is a response to President Xi Jinping's call to develop archaeology to better understand Chinese civilization during a meeting in September 2020, Zhao says.
"Xi called for strengthened dissemination of archaeological and historical research findings through an in-depth study of history. He urged further efforts to guide the people, especially young people, to better understand the origin and development history of Chinese civilization," says a Xinhua report.
Wang Wei, with the Institute of Archaeology, and chairman of the Chinese Archaeological Society, is leading a project on the publication of a centennial history of Chinese archaeology, involving more than 100 leading experts in archaeology.
All the important discoveries will be described by archaeologists who actually worked on the exact sites, making sure they're authoritative and firsthand, according to Guo Peng, director of the workshop under the press.
Guo notes that the advanced technology the archaeologists are applying, including remote sensing and carbon-14 testing, is another aspect the book addresses.
Most Popular