Timely services for the world
Share - WeChat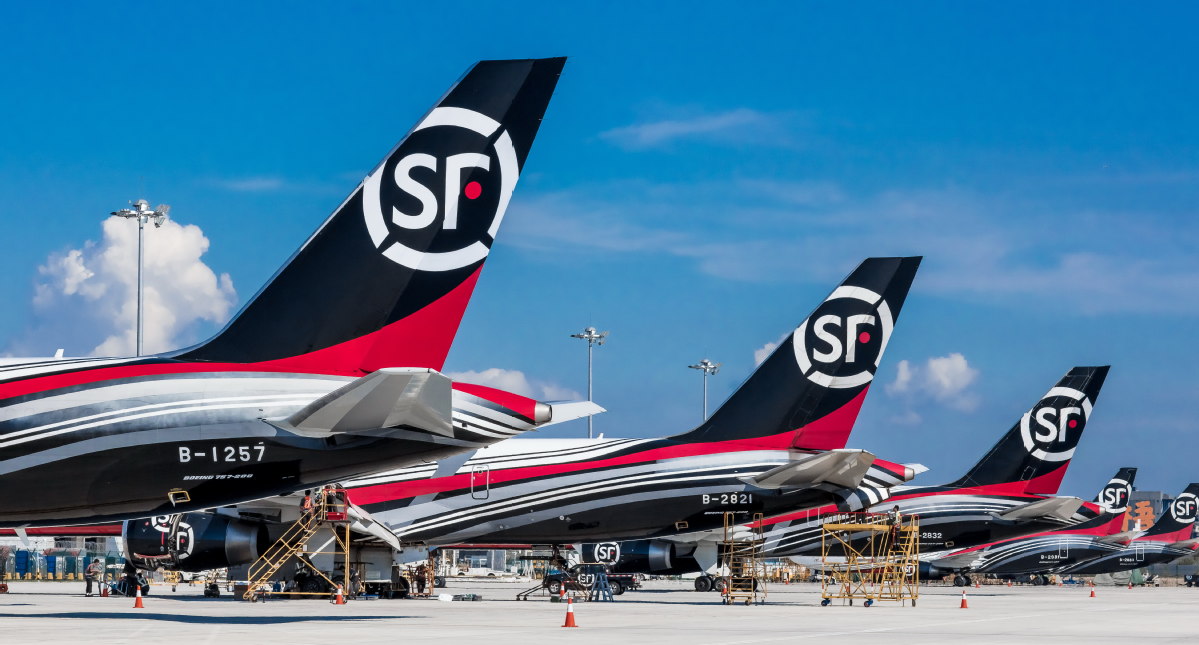 Success spurs courier and logistics giant SF Holding to expand its operations abroad
Shenzhen-listed SF Holding Co, one of China's largest courier companies by volume of packages delivered and sales revenue, is stepping up its overseas expansion.
SF Holding, which owns a fleet of 64 aircraft, said it is all set to join the league of global logistics giants such as FedEx, UPS and DHL.
International flight networks are the core competence of SF as it seeks to provide international courier services.
According to the company's latest earnings report, SF's 2020 revenue from international operations was 5.97 billion yuan ($915 million), up 110 percent, making it the fastest-growing business segment.
By consolidating its operations in Europe and Southeast Asia, SF Airlines, a subsidiary of SF Holding, made a breakthrough in regional capacity in North America in November.
By the end of 2020, SF Holding's international courier and economy courier businesses covered 78 countries and regions, including the United States, Canada, Russia, Japan, South Korea, India and Mexico.
Its international small parcel business covered 225 countries and regions. The company has about 390,000 delivery personnel under various workforce models, it said.
Besides, SF has set up branches in more than 20 countries and regions, and built 12 overseas warehouses. It has Customs clearance capacity in more than 20 gateways in China and operates self-owned gateways in the US, Singapore, South Korea and Mongolia, the company said.
"SF will continue to contribute to the building of an international corridor for the economies involved in the Belt and Road Initiative," said Yan Ruolan, strategy director of SF International.
"Following the signing of the Regional Comprehensive Economic Partnership agreement, we will continue to innovate our business model and raise efficiencies and profits," she said.
The RCEP agreement was signed late last year and created the world's largest free trade bloc, and member countries account for nearly one-third of the world's population.
By the end of last year, SF operated 2,110 cargo routes in all and 3,743 flights daily on average last year.
The total air cargo volume it handled was about 1.67 million metric tons, of which the volume handled by all-cargo aircraft was 848,900 tons, up nearly 47 percent year-on-year, according to its earnings report.
SF has been continuously launching new routes to further improve its international route networks, the company said.
Ezhou Huahu Airport in Hubei province, a customized airport that SF is constructing with the provincial government, will become the first cargo hub airport in China.
The facility is expected to be put into use by the end of this year or early next year, and will function as an international air cargo hub and a gateway airport for air trade between China and other countries.
Meanwhile, SF Holding has made an offer to pay HK $17.55 billion ($2.3 billion) in cash to acquire 51.8 percent stake in Hong Kong-listed Kerry Logistics Network Ltd, it said in an announcement published in February.
Kerry Logistics, a spinoff of Kerry Properties Ltd and ultimately controlled by Malaysian billionaire Robert Kuok, provides warehousing, distribution and supply chain solutions to companies across Asia. It offers services to help Asian customers to export their goods to Europe and the US.
The deal would combine the capabilities of the two parties to create one of Asia's biggest logistics groups. Following the acquisition, SF Express plans to explore cooperation with Kerry Logistics in airfreight, ocean cargo services, Custom's brokerage, and cross-border logistics services to grow its business internationally.
"In the long term, as an international logistics company, it's important to build low-cost transportation ability and professional operations teams to win over more customers. The acquisition is expected to help SF to get opportunities to cooperate with more top multinationals in courier services," said Zhao Xiaomin, a logistics industry analyst.
Founded in 1993, SF has constantly strengthened its transportation capacity and entered a golden period of international trade, especially for premium fresh products.
Chinese consumers have also shown an increasingly higher demand for such products in recent years. Last year, China imported 575,000 tons of fresh durians from Thailand and the import value reached 14.7 billion yuan.
Among the fruits that China imported from abroad, Thai durians topped the list in terms of both quantity and value, according to the Ministry of Agriculture and Cooperatives of Thailand.
Now, it only takes 29 hours for Thai durians to be transported from Thai farms to Chinese dining tables, using express delivery services of SF International between Thailand and China. The duration includes the processing time of pruning and packaging, according to the courier.
Traditionally, Thai durians were mainly transported by trucks and ships internationally, and they were picked 20 days before maturing on trees to guarantee the freshness through long transportation. Today, durians are picked after they mature on trees, SF said.
In addition, with the direct shipment by SF International, it takes 61 hours to pick roses from gardens in Ethiopia and export them so as to reach consumers in China.
Addis Ababa in Ethiopia has been known for growing top-quality roses, and the city is about 10,000 kilometers away from China. In the past, flowers planted in Africa were usually transported to China by flights with a stopover in Amsterdam.
Owing to the COVID-19 pandemic, a large number of international flights operated by commercial airlines were canceled.
To meet global demand for epidemic prevention materials and other goods, SF International resumed or launched services on 30 international freight routes, transporting more than 90,000 tons of goods in 2020, the company said.
"China's industrial and consumption sectors are undergoing significant changes, and the courier segment in China is facing greater challenges and better opportunities than those in the US," said Changjiang Securities in a recent research report.