Shipping lines sweat as stuck cargo vessel blocks trade artery
Share - WeChat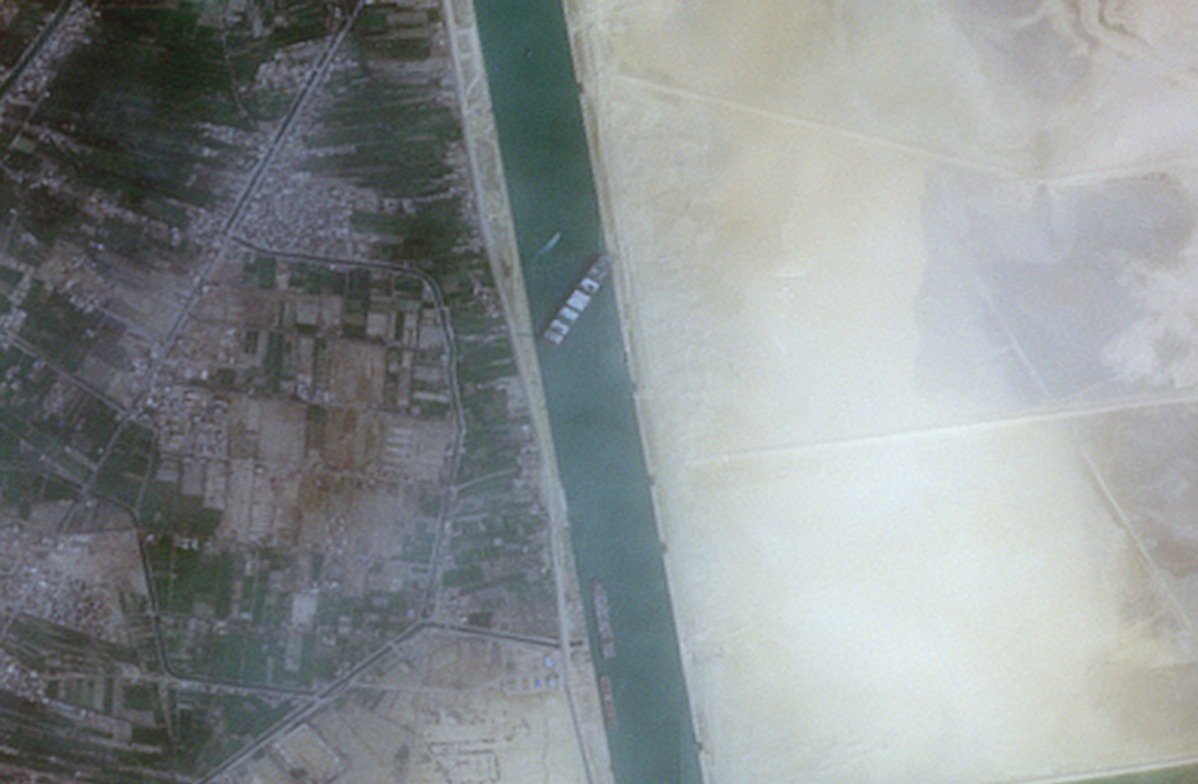 ISMAILIA, Egypt-A skyscraper-sized cargo ship wedged across Egypt's Suez Canal further imperiled global shipping on Thursday as at least 150 other vessels needing to pass through the crucial waterway idled waiting for the obstruction to clear, authorities said.
The 400-meter-long Ever Given ran aground diagonally across the single-lane stretch of the southern canal on Tuesday morning after losing the ability to steer amid high winds and a dust storm, the Suez Canal Authority said in a statement.
In the time since, efforts to free the ship using dredgers, digging and the aid of high tides have yet to push the container vessel aside.
Authorities began work again to free the vessel on Thursday after halting for the night, an Egyptian canal authority official said. The official said workers hoped to avoid offloading containers from the vessel as it would be a dayslong effort to do so.
Ship-tracking software shows five tugs surrounding the Ever Given and three more heading toward it. The ship's GPS signal shows only minor changes to its position over the past 24 hours, however.
Lieutenant General Osama Rabie, the head of the canal authority, said navigation through the waterway would remain halted till they refloat the vessel.
150 in the queue
The ship is now blocking transit in both directions through one of the world's busiest shipping channels for goods, oil, grain and other products linking Asia and Europe.
Canal service provider Leth Agencies said at least 150 ships were waiting for the Ever Given to be cleared, including vessels near Port Said on the Mediterranean Sea, Port Suez on the Red Sea and those already stuck in the canal system on Egypt's Great Bitter Lake.
Evergreen Marine Corp, a major Taiwan-based shipping company that operates the ship, confirmed the Ever Given had been overcome by strong winds as it entered the canal. High winds and a sandstorm plagued the area on Tuesday, with winds gusting as much as 50 kilometers per hour.
Tuesday marked the second major crash involving the Ever Given in recent years. In 2019, the cargo ship ran into a small ferry moored on the Elbe River in the German port city of Hamburg. Authorities at the time blamed strong winds for the collision, which severely damaged the ferry.
Roughly 30 percent of the world's shipping container volume transits through the 193-km canal daily, and about 12 percent of total global trade of all goods.
Shipping experts say that if the blockage is not likely to be cleared within the next 24-48 hours, some shipping firms may be forced to reroute vessels around the southern tip of Africa.
Agencies - Xinhua