Group meal orders bring cheer to catering sector
Share - WeChat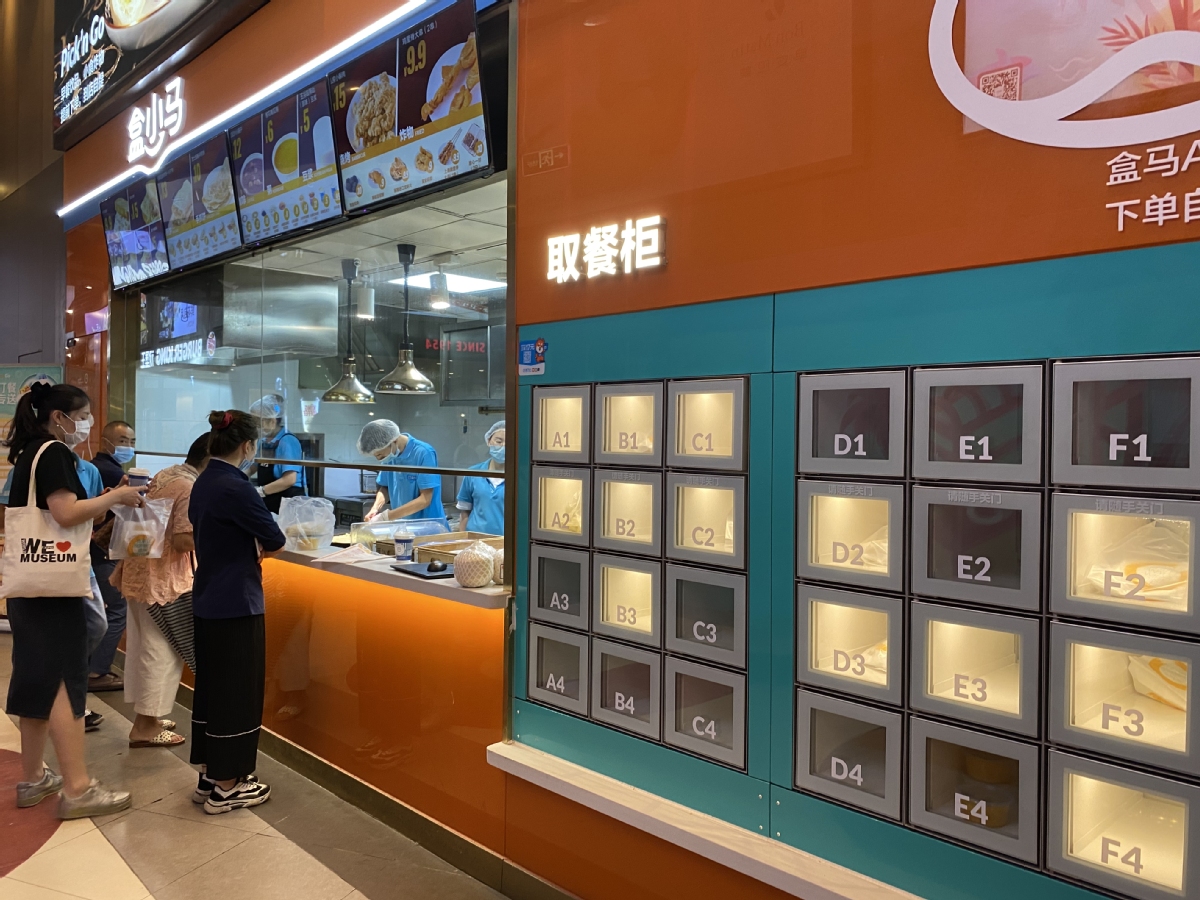 Offices, hotels and conferences have become important scenes for retailers in the dining and beverage markets, and they are accelerating efforts to cash in on emerging demand.
Freshippo's Pick'n Go, which serves as e-commerce giant Alibaba's grocery chain Hema Fresh's diversified brand, offers on-the-go Chinese and Western fare and addresses the demand of busy urban residents in China for quick takeout options.
As of end-2020, Freshippo's Pick'n Go had 14 stores in Shanghai, as well as in Jiangsu, Anhui and Guangdong provinces. Some stores are located near office buildings or in first floors of office buildings, and they mainly offer lunches for office workers.
Other stores are located near subway stations, which mainly provide breakfasts for commuters. Last year, Freshippo Pick'n Go opened six such stores in Shanghai near subway stations.
In Shanghai, nearly 70 percent of surveyed consumers said they either did not have breakfast at home or just grabbed something simple before heading to their workplaces. The company said such stores can provide quick breakfast pickup options for group buyers.
Meanwhile, staff members of some finance, technology and service companies tend to order group meals for lunch or dinner.
They have relatively higher quality and taste demands, and they can therefore swallow higher prices. Yet, the supply of high-quality group meal options falls short of demand, market insiders observed.
Currently, China has more than 7,000 registered companies involved in the business of providing group meals. Most of them operate in traditional catering businesses such as canteens, according to the China Cuisine Association.
Group meal orders have become the fastest-growing segment of China's catering sector, and the growth rate has been faster than traditional sit-down restaurants.
In 2019, about 670 million people were potential consumers of group meals, and their per capita annual spending on group meals was between 1,300 yuan ($200) and 1,500 yuan on average. By 2023, sales of China's group meals market are expected to hit 2.14 trillion yuan, according to LeadLeo Research Institute, a market research provider.
"Currently, the food delivery businesses mainly target individual consumers. Large-scale food orders from offices still have considerable room for growth," said Zhu Changci, a LeadLeo analyst.
In February last year, food delivery platform Ele.me introduced group meal deliveries to enterprises. After the launch of the service, nearly 6,000 catering firms in 13 cities nationwide used the service to deliver large number of meals to offices.
In May last year, another major food delivery platform Meituan established a department that focuses on group meal deliveries. Meituan cooperated with several restaurants in Beijing, Shanghai and Shenzhen, Guangdong province and offered group meal deliveries to different office buildings and canteens of some companies and institutions.
"The group meal delivery service is still in its initial development stage. It's available in a limited number of cities, and the penetration rate is relatively low. Expanding such services can help food delivery platforms achieve a remarkable increase in business volume," Zhu said.
"In addition, the COVID-19 pandemic has resulted in higher requirements for safe and hygienic cooking with the delivery of group meals, and this comes at a time when Chinese consumers are increasingly pursuing quality food and premium services," Zhu said.
With increasing costs of labor, electricity and rent for group meal providers, the number of central kitchens are expected to rapidly increase to help lower operating costs and improve profitability.
In addition, unit prices of some group meals are relatively low and stable. If prices of raw materials rise, it will affect the profit margins of caterers, Zhu added.
A niche of group drink orders has also developed in China. Heytea, a milk tea chain from Guangdong province, said group orders refer to those orders of more than 50 drinks, and buyers can get a discount of 1 percent off from the total price. If buyers order more than 500 drinks, 10 percent discounts are offered.
Such large-scale orders are only available from stores in Beijing, Shanghai, Guangzhou and Shenzhen, and orders need to be placed before noon, and a day in advance, the company said.
Shuiqingyan, a tea brand from Nanning, the Guangxi Zhuang autonomous region, said sales in group orders account for 30-50 percent of total revenue.
The company actively seeks cooperation with retailers from sectors such as real estate, cars and insurance. It not only produces beverages at its stores, but also moves tea-making equipment near to customers for more convenient service.
"Developing business in the group order market can help milk tea retailers generate enormous sales revenues. Milk tea makers may seek to establish stable contacts with companies in different sectors and create new growth channels from group orderings," Zhu said.
"Group orders raise requirements on the making and timely delivery of drinks, and retailers also need to strike a balance between individual and group customers," he added.