UK Cabinet divided on plans to extend lockdown laws
Share - WeChat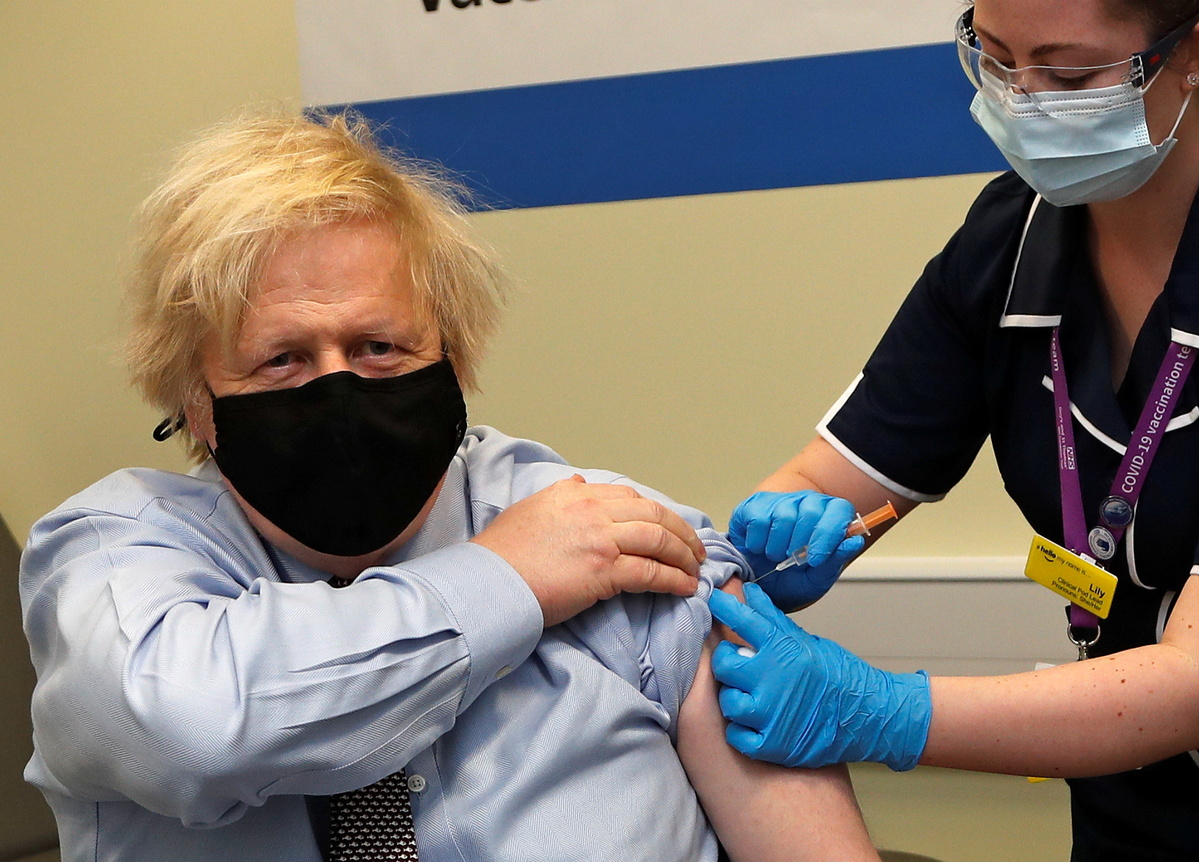 British Prime Minister Boris Johnson's Cabinet is divided over plans to extend some lockdown laws in the country for another six months.
The extension of some COVID-19 legislation would mean the rules would be in place for three more months after social distancing legislation is relaxed on June 21.
The prime minister will face resistance from within his own party when he tries to push through the laws on Thursday, which would include powers to close ports, ban protests and detain citizens until the end of September.
Dozens of Tory MPs, including several members of Cabinet, are against the extension, and are calling for a "road map to freedom that is based on data, not dates".
Writing in the Sunday Telegraph, MP Mark Harper, chairman of the COVID Recovery Group, known as the CRG, noted that the Coronavirus Act, which is the legislation MPs will vote on this week, contains "some of the most draconian detention powers in modern British legal history, giving the police and other officials the power to detain us, potentially indefinitely".
He highlighted that Johnson had promised his road map out of lockdown would "guide us cautiously but irreversibly toward reclaiming our freedoms" by June 21. "Retaining most temporary provisions of the Coronavirus Act until October is not consistent with this pledge and will raise concerns that curbs will be reintroduced in the autumn … The road map is 'dates, not data'," he said.
The Sunday Express reported that a group of five Cabinet members, including Chancellor of the Exchequer Rishi Sunak, International Trade Secretary Liz Truss, Leader of the House Jacob Rees-Mogg, Business Secretary Kwasi Kwarteng and Communities Secretary Robert Jenrick, were among those opposing any delay in the lifting of restrictions.
A Cabinet minister told The Telegraph: "There is a lot of cynicism and a lack of trust."
Johnson faces increasing pressure from some senior Conservatives to resist extending the ban on overseas travel. The PM's roadmap out of lockdown said that overseas travel from England could resume from May 17, at the earliest.
Quoted in The Observer on Sunday, Graham Brady, chairman of the 1922 Committee of backbench Conservative MPs, said: "The success of the British vaccination program should allow international travel to resume safely. It is very likely that COVID is now an endemic virus — there may be variants for years to come. We need to focus on rational mitigation and not keep resorting to disastrous lockdowns."
But scientific advisers have warned of the risks of overseas holidays in the late spring and summer, as COVID-19 cases rise in countries including France, Italy, Spain, Germany and Turkey. Cases in Italy have nearly doubled and France has entered a new month-long lockdown to curb the spread.
Andrew Hayward, a professor at University College London and a member of the Scientific Advisory Group for Emergencies, known as SAGE, told Times Radio on Saturday that the UK needed to be cautious about easing lockdown measures, and that the increasing rates in Europe could last "up to several months".
Speaking on Sky News on Sunday, the defense secretary, Ben Wallace, said Britain must not allow dangerous variants into the country via returning tourists this summer. He said: "If we were to be reckless in any way, and import new variants that put out risks, what would people say about that? We've got good direction of travel, we're getting there, and I think we need to make sure we preserve that at all costs."
On Saturday, the Financial Times reported that ministers are working on a new "traffic light" system for foreign travel this summer that would mean tougher restrictions on more risky "red" countries and easier travel to "green" destinations with higher vaccination rates.
But Mike Tildesley, a scientific advisor to the government, told BBC Radio 4's Today program that the increase of COVID-19 cases in Europe meant foreign summer holidays for Britons now looked "extremely unlikely".