Karcher rides CIIE to offer cleaning solutions
Share - WeChat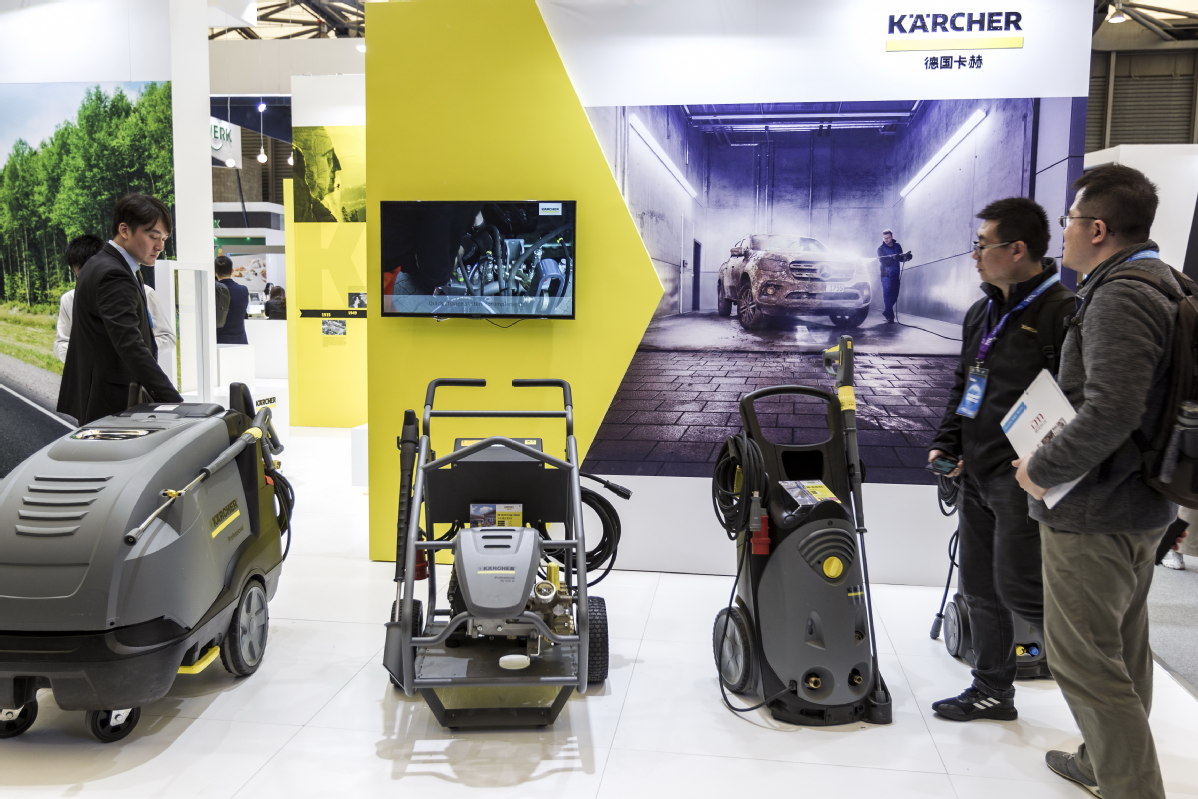 Editor's Note: Three years have passed since the first edition of the China International Import Expo. This new series of stories highlights the achievements and changes that enterprises have attained or experienced because of their participation in the annual event.
Karcher, a German cleaning systems provider and a regular exhibitor at the China International Import Expo, is all set to exploit growth opportunities spawned by the CIIE's success as well as the COVID-19 pandemic, the top executive of its local unit said.
"Karcher will fully tap Chinese consumers' needs, develop customized products and expand our Chinese market with top products and services," said Tang Xiaodong, president of Karcher Greater China.
The company, he said, believes that the CIIE is a major innovation in the development of international trade and has brought international companies such as Karcher a wide variety of business opportunities.
Shanghai-based CIIE has helped Karcher to sign several strategic cooperation agreements with new partners and enhanced its brand awareness globally in the past three years, he said.
"Owing to COVID-19, the market for cleaning products and services saw an upsurge in China last year. When cleanliness and hygiene matter most, people have higher technical requirements for related products, and this has created unprecedented demand for more efficient, eco-friendly cleaning solutions," Tang said.
Last year, Karcher's sales revenue in China jumped 40 percent to over 3 billion yuan ($461.1 million). This encouraged the company to increase its local investment by 100 million yuan in January to boost localization.
"China is one of our most important strategic markets and we think the CIIE, as a shared trading platform, opens up new channels for exchange and cooperation among global companies."
Karcher's exhibition area at the expo expanded from 198 square meters during the inaugural 2018 edition of the annual event to 550 sq m last year. This year, it will likely further expand to over 800 sq m.
At the previous events, Karcher displayed customized solutions for different cleaning scenes, including fully automatic vehicle washing systems and sanitation solutions for streets and alleys, which have been used in two districts in Jiangsu province's capital Nanjing.
The third CIIE held in November last year witnessed the debut of a fully automatic robot with forward-looking technologies, including visual navigation and ultra-precision millimeter-level radar.
The machine has been in use at Hongqiao Railway Station in Shanghai since February as part of measures in the prevention and control of COVID-19.
Karcher reached an agreement in December with Nantong-based Suxitong Science and Technology Industrial Park in Jiangsu province to build its world-class R&D and manufacturing base for automatic vehicle washing systems.
"We are truly looking forward to the fourth CIIE, and will bring more cleaning products to Chinese consumers," Tang said.
The company entered the Chinese market about two decades back. Over the years, Karcher has witnessed upgrades of business patterns and consumption, and continuous improvement of people's living standards, Tang said.
"The Chinese government has made outstanding achievements in improving people's livelihood and the overall economy."