Portraits of choice
Share - WeChat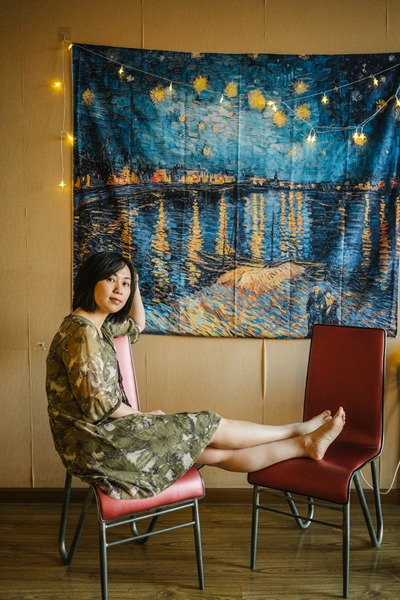 A photography project aims to capture the lives of women living alone, Wang Qian reports.
Part-time photographer Dai Xianjing has been living on her own since her last relationship ended in 2016, and the magazine she worked for in Shanghai also closed. That year, Dai turned 28 years old.
"Facing the milestone of turning 30, the end of an intimate relationship and career uncertainty made me reflect on my life," Dai says.
She started the Thirties As Waves photography project in 2016 to document the lives of women in their 30s who live alone. She tries to capture the private and casual moments in the lives of her subjects, displaying their beauty and independence.
Dai has spent time with more than 30 urban women, of ages 30 to 47, in their homes, discussing their stories of intimate relationships and sharing their secrets and desires, pain and happiness. The final work includes portraits and autobiographical text written by Dai.
Moving to Beijing to work in an internet company for brand marketing last year, Dai, 33, has been observing women around her.
"Every photo process is like a journey to recognize the value of the self," she says.
Solo living is not isolation or loneliness, and women in her images are seen enjoying the freedom of their choice.
"As I have observed, many women live alone in cities, thanks to the increase in the number of women in the workforce and the convenience brought about by the internet," she says.
According to the National Bureau of Statistics, there were more than 86 million people living alone in China in 2019-18.5 percent of all households, compared to about 6 percent in 1999. The number is expected to hit 92 million next year.
A survey on urban solo dwellers by online dating site Zhenai and property listings platform Ke in September showed that more than 70 percent of respondents born after 1990 said that living solo is becoming popular and more female respondents than men said they enjoyed living on their own.
At the same time, more women in big cities have chosen to invest in real estate. After reviewing about 68,000 transactions in 12 first-and second-tier cities in 2018, Ke found that about 47 percent of buyers on its platform aged 30 to 50 were women.