Jan-Feb industrial output surges over 35%
Share - WeChat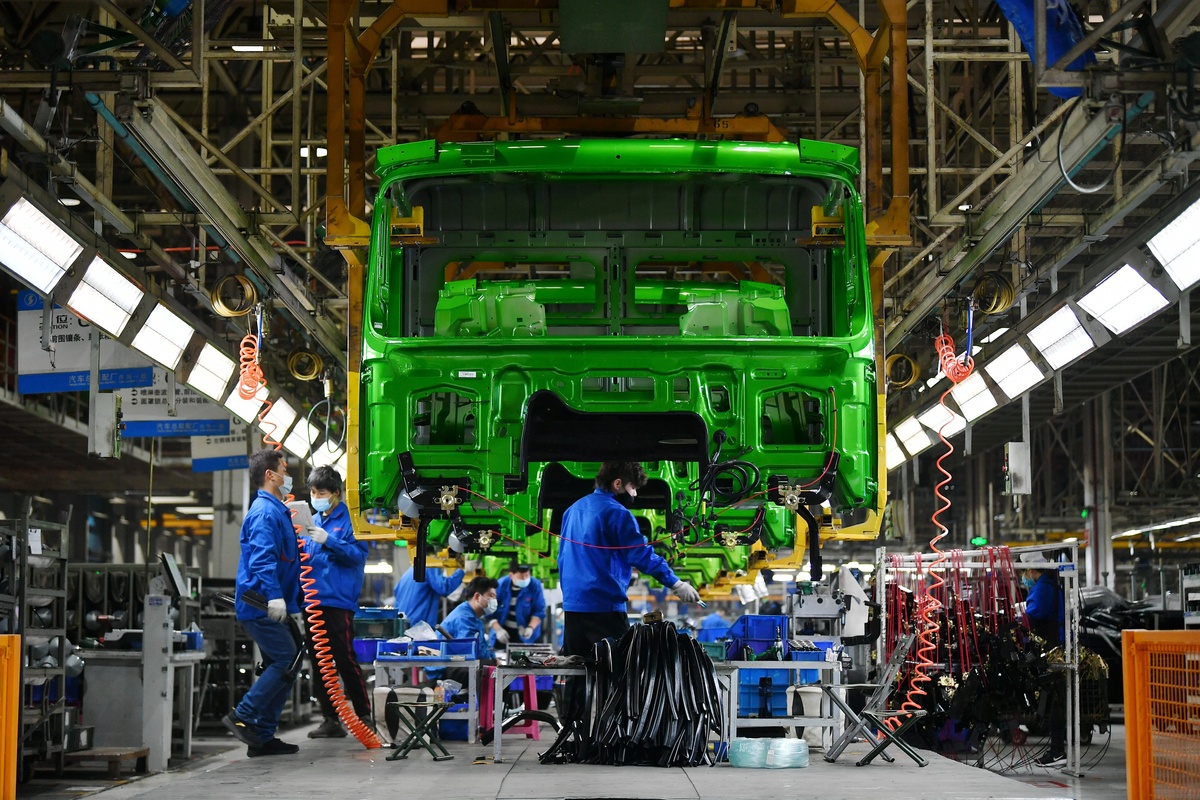 China's economic recovery remained well on track in the first two months of the year, with surging industrial production and consumption, boding well for the world's second-largest economy's first-quarter growth results, officials and experts said on Monday.
But the jump in economic indicators, largely due to a low comparison base, cannot hide the lingering difficulties faced by small businesses and hard-hit sectors, making continuous policy support imperative, they said.
China's industrial production, retail sales and fixed-asset investment all jumped more than 30 percent in the January-February period from a year earlier, when COVID-19-induced lockdowns suspended economic activity, the National Bureau of Statistics said on Monday.
After deducting the effect of a low comparison base, major economic indicators grew steadily in the first two months of 2021, said Liu Aihua, a spokeswoman for the bureau.
Economic growth may "rally sharply" in the first quarter of the year, Liu said, citing that exports and industrial production expanded fast while consumption and investment recovered steadily in the January-February period.
China's industrial output surged 35.1 percent year-on-year in the first two months, compared with 7.3 percent in December, the NBS said.
The January-February output represented 16.9 percent growth compared with the level in the same period of 2019, as well as annual average growth of 8.1 percent in the past two years, the bureau said.
Retail sales grew by 33.8 percent in the first two months, versus 4.6 percent in December and sending the two-year average growth to 3.2 percent, the bureau said.
Li Qilin, chief economist at Shanghai-listed Hongta Securities, said the industrial production and retail sales figures have exceeded market expectations and signaled that the economy will gain more traction in the first half of the year.
Further COVID-19 containment domestically will boost consumers' demand for offline services, while the global recovery fueled by stimulus measures will strengthen demand for China's exports, Li said.
Iris Pang, chief China economist at Dutch bank ING, said the pickup in retail sales, led by jewelry, automobiles and catering, showed that consumption is on a recovery track even though social distancing measures remain in place.
Consumption will be a growth stabilizer for China this year and help offset the potential bumps in external demand, Pang said, adding that she expects China's economic growth to hit 12 percent year-on-year in the first quarter of 2021.
Though projecting double-digit economic growth in the first quarter, experts said some sectors are still suffering from the impact of COVID-19, and called for policies to remain supportive in order to revitalize businesses and address the unbalanced recovery pattern.
Liu from the bureau said the foundation of recovery is "not yet solid", as industries such as offline services have not recovered to pre-pandemic levels, adding that difficulties remain for small businesses while employment pressures linger.
The surveyed urban jobless rate came in at 5.4 percent in January and 5.5 percent in February, versus 5.2 percent in December and the government's annual control target of 5.5 percent, according to the NBS.
Also, the growth in fixed-asset investment fell short of market expectations and came in at 35 percent year-on-year in the January-February period and 1.7 percent for a two-year average, with a sluggish recovery in manufacturers' investment.
The combination of an unbalanced domestic recovery and external uncertainties surrounding COVID-19 and the global economic situation has led to calls to maintain policies to support business entities and step up efforts to expand domestic demand, Liu said.
The Government Work Report has pledged to maintain necessary support to alleviate the difficulties facing market entities, and avoided a sharp shift in macro policy.
The Outline of the 14th Five-Year Plan (2021-25) for National Economic and Social Development and the Long-Range Objectives Through the Year 2035, adopted on Thursday, also rolled out multiple measures to revitalize market entities and boost domestic consumption, such as improving property rights protection and easing market access in the services sector.
Lu Ting, Nomura's chief China economist, said he expects the Chinese government to see through the high growth figures due to a low base and stick to the "no sharp shift" commitment, with neither hikes nor cuts to policy interest rates this year.