The nature of reality: One planet, two systems
Share - WeChat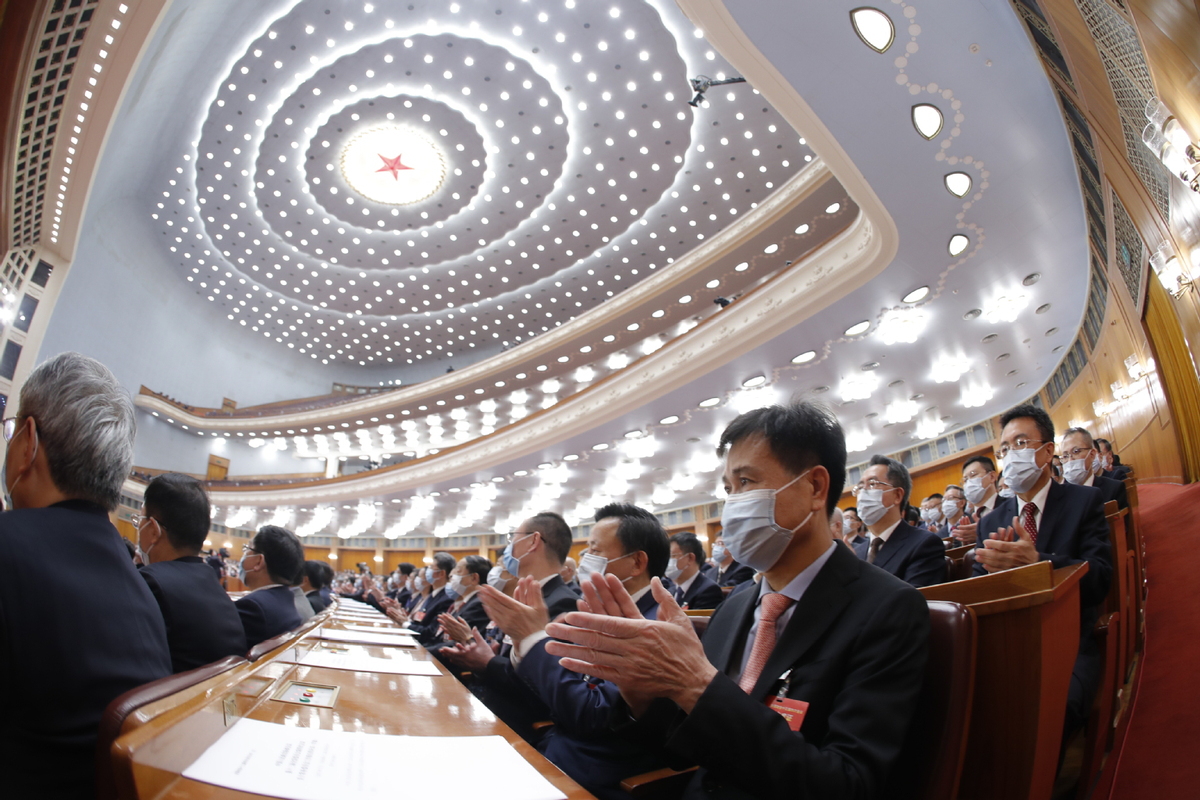 As the two sessions of the National People's Congress and Chinese People's Political Consultative Conference comes to an end this week there are four words that best summarize the outcomes derived for the year ahead: rebalancing, equalizing, decarbonizing and digitizing.
The nature of China's economic development in the age of decoupling is one of shifting from reliance on its export economy by rebalancing it by evolving domestic growth and consumption. The rebalanced approach in the decade ahead could very well assure the projected average 6.5 percent GDP anticipated in this session's Government Work Report. The "dual circulation drive" is new nomenclature for effectively rebalancing the economy from its fervent two-decade export and hyper growth drive focused on coastal regions of the 1990s, to one of balanced domestic consumption and sustained steady local development of the hinterland.
To put this and the upcoming 14th Five-Year Plan in perspective we need to look at China's pattern of development over the past four decades. In the 1980s a classic development policy of import substitution and export promotion was adopted. The yuan was initially overvalued as China imported equipment and then devalued to attract investment and promote cheap exports. China entered fast growth in the 1990s becoming factory of the world.
China's rural population crowded to the cities seeking opportunity as foreign and domestic investment jumped on the manufacturing for export bandwagon. Farmers became factory workers. Villages were vacated except for elderly and children. The biggest human migration in the history of the world took place as China's national workforce descended upon the coastal cities. Focus on GDP rocketed growth and China's foreign exchange reserves. At the same time coastal cities over-imploded and so did traffic and pollution. It was time for a re-think. In some ways de-coupling, American sanctions and an overall trend of de-globalization turned re-think into brainstorming.
China is actually using a classic kung fu move, disarming a pressuring attack by turning around its own force to become smooth response and even an advantage.
That is why the 14th Five-Year Plan will focus on domestic development and turning forgotten villages into new ecological cities. With improved infrastructure and quality living facilities, the coastal population is now shifting back home. This will reduce pressure on city infrastructure as a new rural infrastructure arises that is smart, green and blue. The priority is no longer on just GDP for the sake of high growth but rather on balanced growth that can offer sustainable opportunities for new employment of youth and quality living for those who have already been in the workforce or are retiring. This requires revamping of pension fund systems and upgrading of health. This is where China's fiscal and monetary policy comes in.
Where much of Europe is aping America's quantitative easing, buying back debt to issue liquidity, pump-up capital markets, China is taking almost the opposite approach. There will be no liquidity surge or debt-buy-back stimulus. China's capital market is only about 70 percent of GDP as compared to America's, which is over 300 percent of GDP. Essentially China still has a real economy built on trades and services while America's is almost entirely capital market trading and arbitrage. So the political elite in America focuses on providing cheap liquidity to Wall Street to support the symbiosis of their joint interests. This has led to the disempowerment of the middle class that now joins the lower strata of the economy. China, on the other hand, is placing emphasis is on expanding a middle class by building a real economy rather than focusing on just the capital markets.
The message at the closing of this session of the joint CPPCC and NPC meetings is improved quality of life across the board rather than quantity for a few. The 14th Five-Year Plan will drive this through planned smart infrastructure investments financed through green bonds. New emphasis will be placed on high technology and the digital economy to achieve greater efficiencies, requiring advancements in education. A re-focus on coastal regions such as the Great Bay encompassing Shenzhen, Zhuhai, Hong Kong, Macao, becoming a center of robotics and AI development in the decade ahead, a region once the center of toy manufacturing in a decade gone by.
In projecting toward a green high technology future with balanced growth between exports and domestic consumption in an era of global decoupling and ideologically driven irascibility and intrusiveness, a whole new generation of minds will need to be prepared for the challenges. This will mean investing in the education of China's youth in terms of both social breadth and technological depth.
This commitment to education for China's youth stands in stark contrast with current American practices where the cost of education for most youth means entering a future of debt servitude. Most American students graduate from higher education carrying oppressive debt burdens that limit their own career determination and will ultimately have an effect upon innovation and creative solutions at a time when our planet needs both. Education of a nation's youth should not be considered a debt burden but rather an investment in the future, as an educated youth is a nation's greatest asset. Yes, on the approach to managing debt and assets, the approach of China and America differs.

Laurence Brahm is a US documentary filmmaker living in China, and he is a senior international fellow at the Center for China and Globalization.
The opinions expressed here are those of the writer and do not necessarily represent the views of China Daily and China Daily website.
If you have a specific expertise and would like to contribute to China Daily, please contact us at opinion@chinadaily.com.cn, and comment@chinadaily.com.cn.
Most Viewed in 24 Hours
China Views