Amazon store gives taste of retail future in the UK
Share - WeChat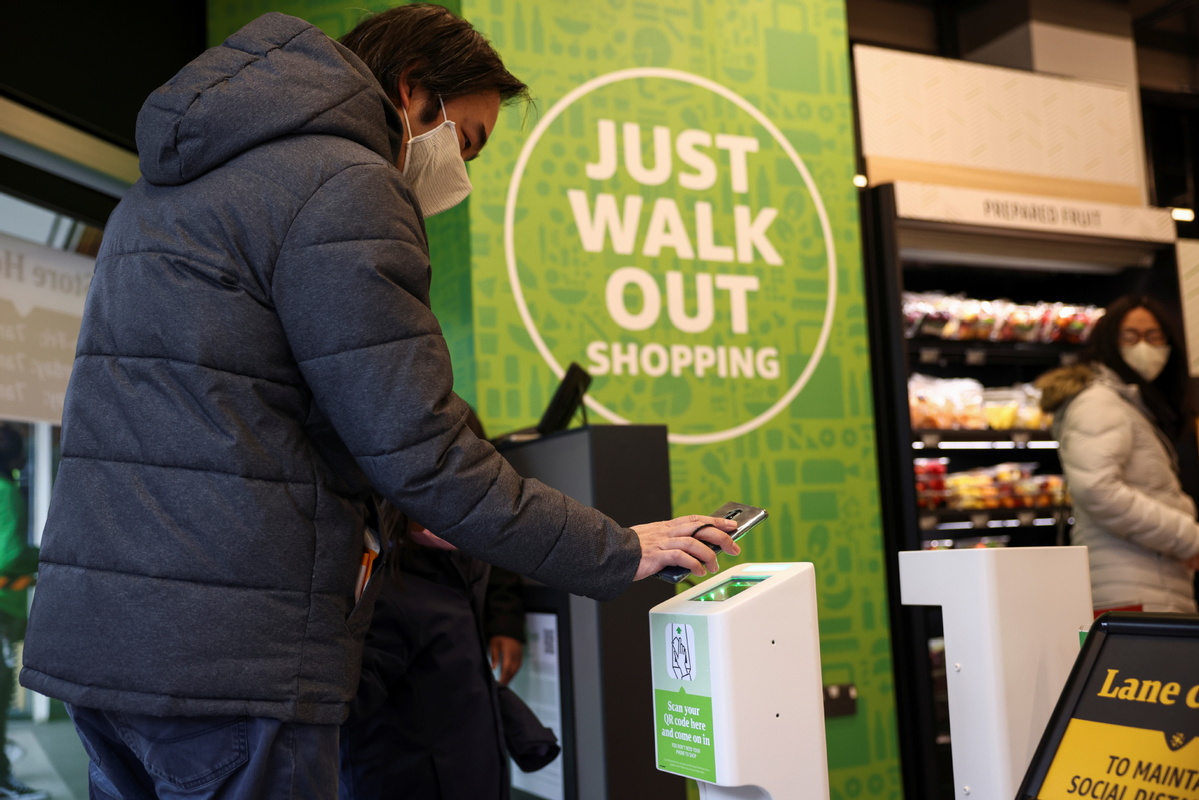 Amazon's first bricks and mortar physical store in London will not be a threat to leading supermarkets in the United Kingdom, but the big stores will pay attention say retail experts.
The e-commerce giant opened its first till-less grocery store outside the United States last week in Ealing, west London, where shoppers can pick up their items and leave without waiting to pay at the cashier.
The Amazon Fresh store is available to Amazon customers who would need to scan in a code on their phone to enter. Shoppers then pick items off the shelves without scanning them, and the bill is automatically charged to their Amazon account when they leave the store.
The store deploys Amazon's Just Walk Out technology, which uses cameras to track shoppers and their purchases.
Karl McKeever, a retail analyst and director of retail agency Visual Thinking, said the UK store means "simply there is an opportunity to extend the consumer's broader relationship with Amazon in a market where trust, reputation and positive experience has been established".
McKeever explained that groceries are an important category for retailers as food for the home accounts for a significant percentage of shoppers' regular expenditure.
"Consumers will typically remain loyal to a retailer for many years, if they are generally satisfied, creating an important ongoing revenue stream. It is why loyalty is so hard won and fought over," he said.
He said the Amazon Fresh store in the UK is not competing with already established big supermarket names, but instead "through high innovation, and extensive PR and outlet technology" it is learning about the convenience and grocery market in the UK, "to potentially open a small number of stores in travel hubs and key city locations, with the greatest profit opportunity".
McKeever suggested that the Ealing store allows Amazon "the opportunity to further test its contactless technology and 'walk out' shopping experience, in an 'innovation-friendly' market".
But as Amazon ramps up its services, it could put pressure on other retailers to raise their game.
McKeever said: "All big retailers will take notice. It offers the prospect of disrupting the established sector model and creating an innovative game-changing shopping experience that some shoppers may like." He added that the Amazon store could push other retailers to "consider their own operations and alternatives".
The analyst said the trial will be watched closely by the big fast-moving consumer goods brands, who are keen to maximize sales and reduce costs, and may be tempted to consider their own technology-based operational solutions in the future.
Nick Carroll, associate director of retail at global market researcher Mintel, said: "Naturally being an Amazon store it has unique technology woven into it, but notably Amazon has also focused on the basics. So we shouldn't look at this as a direct assault on the grocery leaders. This is a destination store and a technological show of force from Amazon, designed to give shoppers a glimpse into the future."
According to Mintel's latest research, 76 percent of Britons surveyed said they would shop at a physical Amazon grocery store.
Carroll pointed out that the e-commerce giant "will not be looking at this new store as simply a 'one-off' experience for shoppers".
"It will want to create engagement that keeps shoppers returning by building on the basics it got right in the US, including an aggressive pricing strategy and a full range offering of all the categories you would expect to find, from big name brands to Whole Foods ranges and Amazon's growing private label offering," he said.