To embrace the digital future, we need 'she power'
Share - WeChat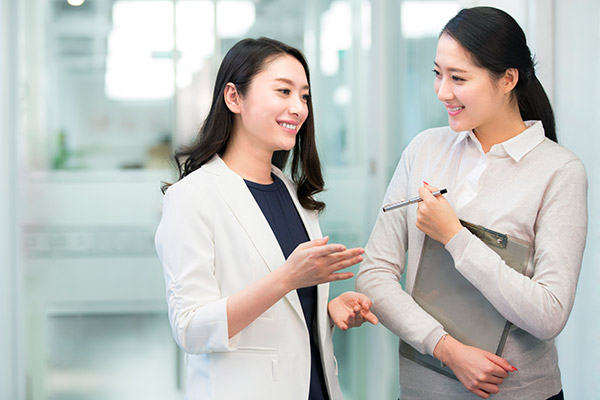 With the end of the Spring Festival holiday, my team and colleagues have returned to work. Unlike previous years, in response to the call from the government to contribute to the fight against the COVID-19 pandemic, many Microsoft China colleagues chose to stay put this year. This is a rare phenomenon even for me,having been living, working and traveling in China for nearly five years. It made me realize even more clearly how, over the past year, we have experienced significant changes because of the pandemic, from the way we move about society to the way we work and live. The 2021 Spring Festival, as different as it was this year, also reminds us: change is still ongoing, challenges still exist and we still need to adapt to this "new normal".
The world has still not recovered from the pandemic. Individuals, organizations, and institutions are still trying to adapt to the new rhythms of life. In many ways, the pandemic has given birth to new opportunities, and all kinds of industries around the world have accelerated the process of digital transformation to discover new ways to succeed. This is changing the workforce, requiring new technical skills and digital capabilities. This would be a challenge for both employers and employees in the best of times. At the same time, women have been disproportionately impacted by the pandemic. According to the latest global data from UN Women, 64 percent of the people unemployed due to COVID-19 are women. Indeed, COVID-19 may make set back gender equality efforts 25 years, if these issues are not properly addressed.
Microsoft is trying to raise awareness of this issue, highlight the importance of a diverse and inclusive workforce, and provide resources and training to upskill the workforce for a vibrant digital future that serves everyone.In January, Microsoft andDDI, a leadership consulting firm, launched the "WomenDigitalFuture" initiative which, with a number of major enterprises, institutions and public welfare organizations, aim to help 1 million Chinese women improve their digital skills and embrace the digital future over the next year. The initiative will provide an environment for women to learn and network for personal and professional development and encourage women to challenge themselves, not set limits and explore their unlimited potential.
Since its launch, WDF has already made great progress. With the support of LinkedIn, the home page of WDF was successfully launched, presenting activities, online courses and other information. We hope this resource will help WDF reach more women in the workplace and job seekers. Additionally, corresponding to the theme of this year's International Women's Day: "Choose To Challenge," Microsoft joined with the organization Ladies Who Tech to provide a set of online learning paths for women who are eager to learn AI and participate in certification examinations. We provided open online courses for Microsoft AI fundamental concepts, and a $69 Microsoft AI-900 certification exam qualification for free. Offline activities will be held in multiple cities in the coming months with the support of Ladies Who Tech, bringing opportunities and knowledge to even more women across the country.
A culture of inclusion is a priority for everyone at Microsoft, from our CEO Satay Nadella across the entire organization. We have training, incentives and robust discussions that aid us all in being more inclusive teammates and allies to our colleagues around the world. We believe we will not succeed in our mission to empower every person and every organization on the planet to achieve more unless we include everyone and engage with everyone in an equitable and respectful way that encourages them to be their best, most authentic selves. Last October, Microsoft released its Global Diversity & Inclusion Report 2020, which reveals some of our achievements in building a more diverse and inclusive workforce. From 2016 to 2020, the size of the global workforce in our core business grew 25.8 percent, while the number of women globally grew 41 percent. The number of women in technical roles has increased 82.7 percent since 2016. At Microsoft, female leaders and female employees have occupied a growing proportion in the company, and the number is still rising, which we are proud of and grateful for. But we know we still have work to do as a company and in greater society.
Helping one million Chinese women in tech in 2021 is only a first step. Microsoft will continue to recruit more enterprises and institutions to participate in the 'Women•Digital•Future' initiatives. At the same time, we want our digital empowerment initiatives to be multidimensional, including those who are already in the workplace and those who are still on campus. We have launched a series of initiatives to address these challenges for different groups of women.
• DigiGirlz, which started in 2000 as a technology camp activity, provides free opportunities for female students in middle schools and colleges to learn about technical work and careers, encourages them to enter STEM fields, and helps them pursue their career dreams. According to our research, female students participating in DigiGirlz projects increase their interest in technology by 24 percent. As of today, the DigiGirlz project has sponsored 652 events in 92 countries, with about 65,000 female students taking part, most of whom entered technical roles after graduation.
• With the help of computer science introduction activities for primary and secondary school students such as Hour of Code, we provide opportunities for Chinese women and their children to understand and use digital tools, enhance their interest in technology and integrate them into online or offline communities. The hope is to build and maintain a connection with digital society, help young people make further use of digital tools such as artificial intelligence, digital productivity and a shared future of innovation.
• Women Think Next is a global Microsoft initiative aimed at women in the workplace, and has been held in China five times since 2016. The event attracts outstanding women from various fields such as science and technology, culture and arts for lively discussion, networking, and development activities. On March 7, Microsoft joined with LinkedIn to hold a Women Think Next event online with the theme: 'Listen to Her Confidants'. Extraordinary women at different stages of their lives have been invited to share their experiences in cross-border fields and personal development in multicultural environments.
• Microsoft Research Asia has joined hands with more than 10 Chinese universities to conduct the Ada Workshop since 2016. The workshop invites senior female researchers and programmers to share their career development paths, help women in science and technology fields to understand industry trends and successfully complete the transition from campus to workplace. Ada Workshop is named after 'the first computer programmer' Countess Ada Lovelace. The workshop has been successfully held four times, with more than 1,000 female college students from all over the country participating. MSRA has also joined hands with top international conferences SOSP 2017 and ISSTA 2019 to expand the influence of the Ada Workshop.
In addition to Microsoft's digital empowerment projects for women, we also have a range of initiatives for skills improvement and diversification of talents more generally. Whether it's to help secondary vocational school students improve their digital skills, focus on digital talent training in underdeveloped areas, or help the disabled to break into newcareers, we aim to elevate those who are not always seen or appreciated for their talents, many women among them. We do this through a series of cooperative programs with public welfare organizations and training institutions, as well as workplace assistance programs initiated by Microsoft.
As we recover from the pandemic as a global community, it is imperative we make it an equitable, inclusive one so we can all realize the benefits of everyone's contributions. Technology adoption and innovation are reshaping our societies, requiring new skills and new capabilities to be successful. At Microsoft, we believe this is an enormous opportunity to reshape our communities in a truly inclusive way, and we are grateful to our partners in business, government and the nonprofit sector for joining us in this important journey.
The author is the Vice President of Microsoft Corporate, chairman and CEO of Greater China region.
The opinions expressed here are those of the writer and do not necessarily represent the views of China Daily and China Daily website.
Most Viewed in 24 Hours
China Views