Red-themed performances show colorful allure
Share - WeChat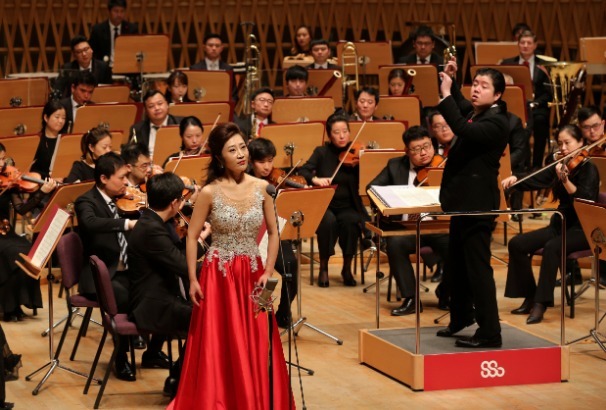 Twelve theater shows featuring the Chinese revolution will be presented from February to April in celebration of the centennial of the founding of the Communist Party of China.
Hosted by the organizing committee of the China Shanghai International Arts Festival, the red-themed performance-art series features folk operas, ballets, symphonies and other classical-music productions.
The performances kicked off on Feb 27 with a concert by the Shanghai Symphony Orchestra at its home concert hall.
The orchestra played a series of musical pieces that households in the country would find familiar. These pieces included Sing a Ballad for the Party by Zhu Jian'er, Song of the Guerrillas by He Luting, Ode to the Red Flag by Lyu Qiming, as well as songs from the Long March Series.
The modern repertoire documents the glorious history of the development of the Communist Party of China and represents the success of modern Chinese music creation, says Shanghai Symphony Orchestra director Zhou Ping.
The Shanghai Symphony Hall has adorned its lobby with decorations for the occasion and put up an interactive exhibition of Red Classic Music. The SSO this year commissioned four new symphony pieces from four artists to "present the new potential of music creation in China", Zhou says. Highlights of the four new compositions were premiered at the New Year concert, and the SSO will take them on a national tour in April and May.
According to Xu Zhong, director of Shanghai Opera House, the original Chinese opera production Jiang Jie was created in 1964. A fine example of Western opera art adapted for the Chinese theater, the production successfully integrated Chinese musical elements, especially the folk music of Sichuan province, and tells the story of Jiang Zhujun and her experiences on the eve of China's liberation.
Through the past decades, the Shanghai Opera House has faithfully polished the production and updated the stage design. The first actor to perform the title character was Wan Fuxiang, a versatile artist of Chinese folk opera. Before her death in 1994, Wan used to coach young singers in performing the role of Jiang Jie, Xu says. Leading the upcoming performances at Shanghai Grand Theater on April 3-4 will be the sixth generation of Jiang Jie performers, he says.
A popular subject in modern Chinese theater art, the story of Jiang Jie was also adapted to Huju Opera, the folk opera form of Shanghai. Shanghai Huju Opera Troupe will present the production at the Shanghai Nine Trees Future Art Center in Fengxian and Shanghai City Theater in Minhang on March 21 and April 2.
Most Popular