Student debts seen clouding US recovery
Share - WeChat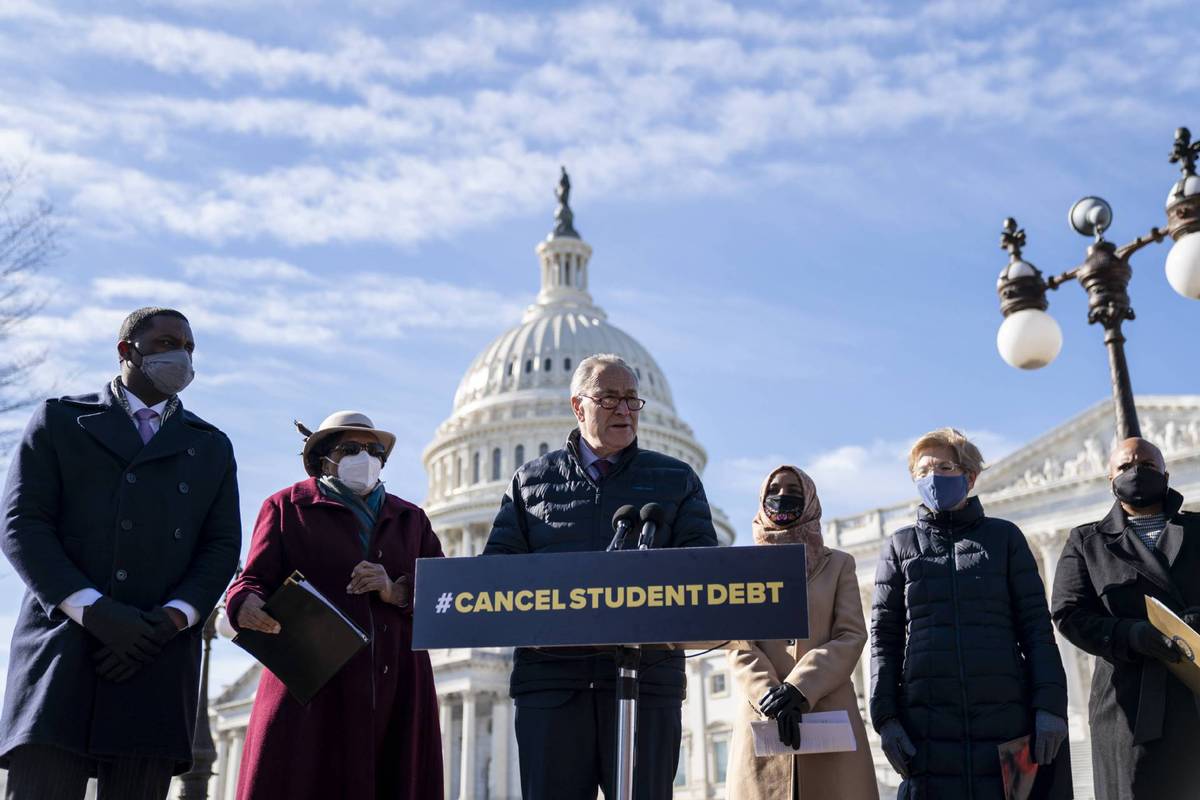 Advocates for federal relief on $1.7 trillion overhang press case for Biden to act
US President Joe Biden has been called on to erase debts from students loans by executive order to address a crisis of mounting debts that some say could threaten the nation's economic recovery from the coronavirus pandemic.
Debts from student loans in the United States are at a record high. About 44.7 million borrowers collectively owe about $1.71 trillion, according to data from Student Loan Hero, a Texas-based financial services company.
On the campaign trail for the November presidential election, Biden voiced support for some form of debt relief. Some advocates want individual debts of up to $50,000 to be canceled, and others want all debts to be written off.
Among the class of 2019, 69 percent of college students took out student loans, and they graduated with an average debt of $29,900, from private and federal sources, the company said.
Lately, the debate on loan forgiveness has heated up, as some members of Congress have called on Biden to cancel up to $50,000 in federal loan debt for each borrower.
In mid-February, 17 attorneys general signed a letter to the leaders of the US Senate and House of Representatives indicating their support for two congressional resolutions that urge Biden to write off the student loans through his executive authority.
One in five borrowers with student loans from the federal government is in default, and a growing number are senior citizens living on low fixed incomes, according to the letter.
The attorneys general said they "routinely receive complaints from borrowers who are unable to navigate the abstruse and opaque repayment or forgiveness plans", and those people are at risk of "catastrophic" consequences such as the seizure of Social Security retirement or disability income if they cannot pay off the loans.
During his presidential campaign, Biden promised to forgive at least $10,000 of federal student loans for all borrowers in response to the pandemic. At a recent CNN town hall, he made it clear that he will not erase $50,000.
"I'm prepared to write off the $10,000 debt, but not $50,000," Biden said. "Because I don't think I have the authority to do it by signing with a pen."
Jessica Tsai, an accountant in Silicon Valley in California, said: "If not $50,000, I think $10,000 is not bad."
Having worked for several years, Tsai realized she needed a graduate degree to advance her career. So she took out a federal student loan of $60,000 to pay for an MBA program at Pepperdine University in 2016 and started paying back the debt after she graduated in 2018.
"The interest is high, about 5 percent, but I wouldn't be able to finish the school without the loan, because my family couldn't afford it," Tsai said
Forgiveness proposal
The $10,000 forgiveness proposal would wipe out the balances of about 30 percent of borrowers, but $50,000 in forgiveness would clear debts for about 80 percent of borrowers, as that amount would include people with postgraduate education.
"If the $50,000 debt relief happens, I would consider buying a home," said a Bay Area software developer who gave his name as Brian.
He graduated with a federal loan of $45,000 from a graduate program at Syracuse University last year. He will start paying off the debt from September as the Biden administration extended the payment and interest freeze on federal student loans until that month due to the pandemic.
Before getting out of debt, Brian said he would not consider buying a home or getting married. "Who would marry someone with tens of thousands of dollars in debt?" he said.
His opinion echoes a 2015 survey by financial company Bankrate that found that 56 percent of people aged 18 to 29 had put off major life events, like buying a car or home, saving for retirement or getting married, because of the burden of student debt.
The 2017 Student Loan Debt and Housing report by the National Association of Realtors describes the student debt as "a roadblock to milestones" for millennials.
The report shows 55 percent of the surveyed millennials postponed having children, 41 percent delayed marriage, and they expected a delay in purchasing their first home by seven years due to loan debt.
The 17 attorneys general said in the letter that they are "keenly aware" of the burden on their states' residents because they are responsible for enforcing consumer protection laws. Canceling $50,000 in student loans would give a "much-needed boost" to the economy and help address the racial wealth gap, as it disproportionately affects black and Latinx households, they said.