Shopping centers open door to innovation
Share - WeChat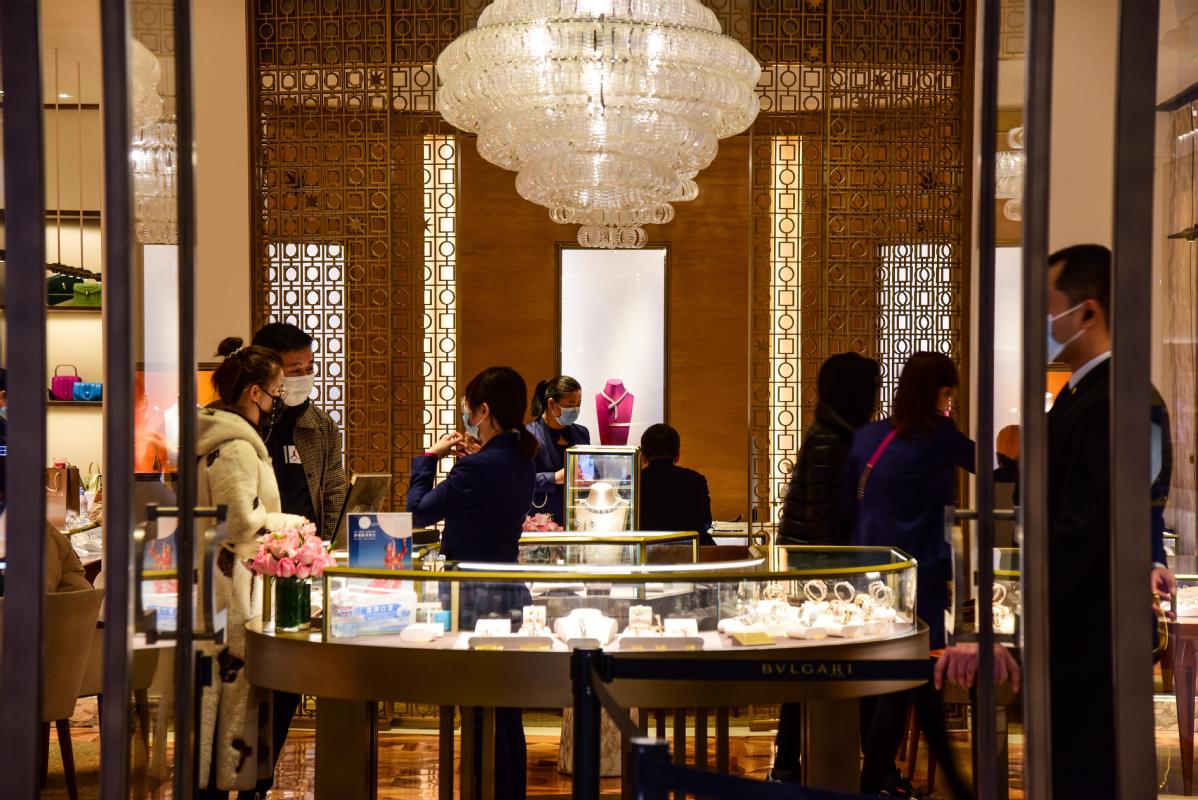 Creative thinking appeals to customers during pandemic
Chen Miao, a 28-year-old bank clerk in Beijing, found to her surprise that her spending last year was double that of the previous year, despite the COVID-19 pandemic keeping her home for almost five months.
"I didn't have any major new expenses, such as rent or paying for a car, last year," she said.
"If I had to attribute a reason for the rise in my expenditures, I would put it down to 'revenge spending' during the pandemic, as I had much more time for online shopping from home," she said.
With many businesses failing due to COVID-19, the retail industry, especially high-end players, have been through tough times. However, some of them performed well last year, as they stepped up to the challenge with innovation and services that appealed to customers.
SKP Beijing department store, the nation's biggest and most productive retailer in 2019, saw 15 percent year-on-year revenue growth last year, with sales expected to reach 17.5 billion yuan ($2.7 billion), the company announced in December.
The high-end fashion and luxury shopping mall is located in the capital's Chaoyang district, near the central business area, where most foreign companies set up their China headquarters.
Lin Xiaoxiao, 26, a white-collar worker who lives near the mall and often goes window shopping there, said she bought three luxury-brand handbags costing 20,000 yuan to 50,000 yuan there last year because she could not travel overseas due to the coronavirus.
"I used to buy luxury jewelry and bags at duty-free shops when I traveled abroad. The pandemic has made this impossible, so I decided to buy from the department store," she said.
Lin said last year had been "super hard", so she wanted to give herself the best items she could afford.
"I don't view this as revenge spending, because I've always shopped like this in previous years. I just changed my purchasing channels," she said.
"In addition, I have found that department stores and shopping malls have become more creative than before the pandemic emerged. They seem to be providing more interactive experiences in an attempt to attract and retain customers."
Lin said it costs more to buy the same type of handbag in a department store than at a duty-free shop, but the better shopping environment and service provided by a store compensate for this.
Xie Dan, deputy general manager of the SKP Beijing department store, said China's success in controlling and preventing COVID-19 has created a relatively good business environment for domestic companies.
"Due to the pandemic, SKP has attracted many consumers who used to shop for high-end luxuries overseas," she said.
"Chinese consumers now contribute 35 percent to global fashion consumption, whereas previously only a small proportion of that total came from China."
In 2019, the company opened SKP-S, a new outlet one street away from SKP Beijing. In addition to traditional luxury brands such as Louis Vuitton, Prada and Balenciaga, the new venue boasts niche ones, including Rick Owens, Jil Sander, Stone Island and Moose Knuckles, which are popular among young customers.
SKP Group, the mother company of Beijing SKP, has expanded its market share elsewhere in China.
According to local media reports, on Jan 18, the group signed an agreement to launch a store in Hangzhou, capital of Zhejiang province.
In 2018, the group opened an SKP store in Xi'an, capital of Shaanxi province, its second after the Beijing outlet. Last year, it also launched department store projects in Kunming, capital of Yunnan province, and Chengdu, the Sichuan provincial capital.
Beijing's second-largest shopping center, Hopson One Beijing Chaoyang, which occupies an area of 190,000 square meters, has staged a series of promotional activities to boost consumption during the pandemic.
By the end of May, customer flow at the center had returned to the level seen the previous year.
Now, about 100,000 customers a day are visiting the venue-a significant rebound for the center, which is reshuffling the brands it stocks.
To broaden visitors' shopping experience, the company has introduced new energy cars, designer clothing for children and a fitness training center.