China donates 200,000 more doses of vaccine to Zimbabwe
Share - WeChat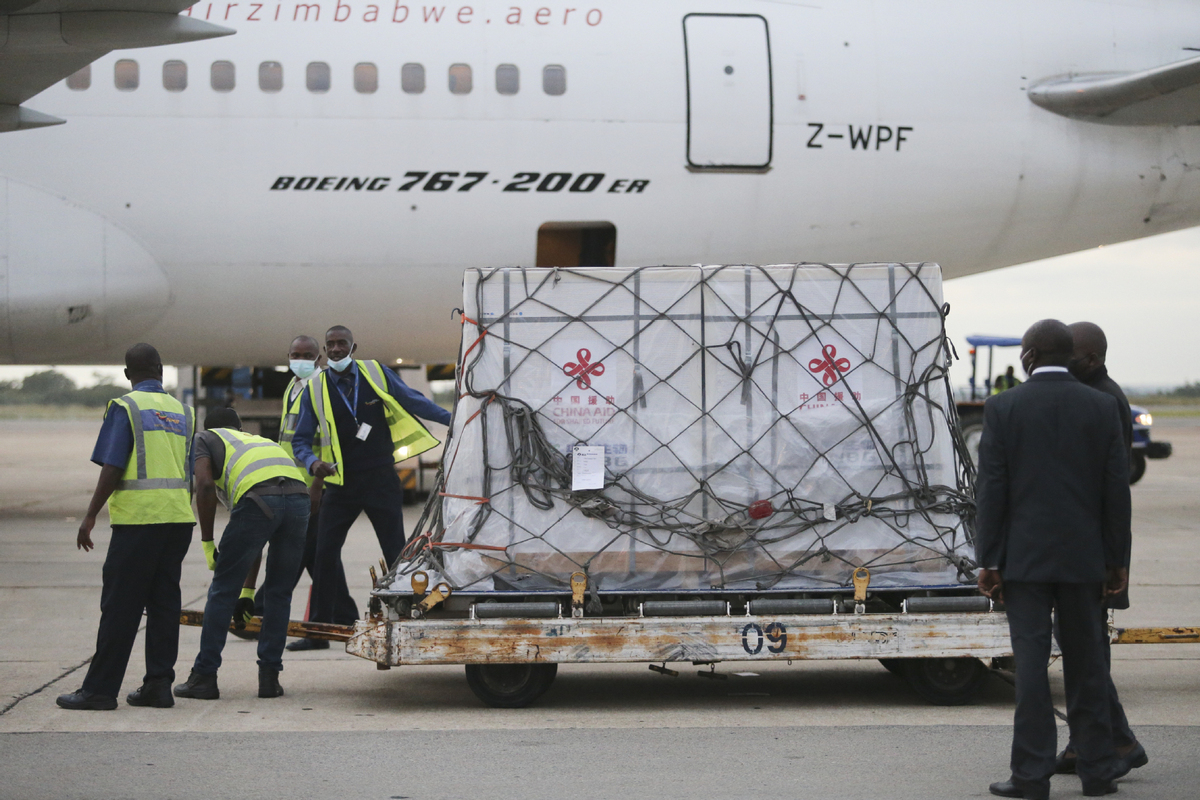 Zimbabwe will receive a second donation of 200,000 doses of the Sinopharm vaccine from China, Guo Shaochun, the Chinese ambassador to Zimbabwe, said on Wednesday.
He announced the news on his Twitter account after holding a virtual meeting with Zimbabwe President Emmerson Mnangagwa.
"Just now, I had a meeting with H.E @edmnangagwa announcing that China had decided to donate another 200,000 doses of Covid-19 vaccine to Zimbabwe. Facing this global pandemic, what we need is solidarity and action. China is committed to standing with the Zimbabwean people," ambassador Guo Shaochun said.
The donation comes on the backdrop of the first donation of 200,000 doses of the Sinopharm vaccine from China in mid-February, which made Zimbabwe one of the first recipients of the vaccine from China.
Zimbabwe's COVID-19 vaccination program kicked off on Feb 18 when Zimbabwe's Vice-President Constantino Chiwenga, who doubles as the minister of health, became the first citizen to get a shot of the vaccine.
Healthcare workers are being prioritized under the first phase of the national vaccine rollout and they have described the vaccination as highly essential to combat the coronavirus pandemic.
Doctor Masimba Dean Ndoro, who received his shot of the vaccine on Monday this week, said he was excited to be among the first to be inoculated.
"It was quite an experience being one of the healthcare workers to receive the first dose of the vaccine and in so doing setting a good example to others to follow. I chose to be vaccinated because that is the way to go. My message to others is once your turn is due, get vaccinated," he said.
Norman Matara, a doctor with the Zimbabwe Association of Doctors for Human Rights, said as a front line health worker it was imperative for him to be vaccinated.
"As a leader in the health sector, it is also necessary to instill confidence among my peers and the public to get vaccinated. For me, it was a smooth experience. Data shows that the Sinopharm vaccine is safe to take and is effective and the fears concerning its safety are unwarranted. Vaccination is our only hope of returning to normalcy," he said in an interview.
Journalist Tsvangirai Mukwazhi, one of the first journalists to be vaccinated last week, said he did so for protection.
"I was vaccinated because that is the right way to fight the pandemic. As a journalist who goes out to do stories, getting vaccinated protects me from the pandemic. It is nothing to be scared of. What is scary are the conspiracy theories against vaccines out there. I would urge any other Zimbabwean and fellow journalists to get vaccinated."
Besides the donated vaccines from China, Zimbabwe has procured about 600,000 doses from the same country, and delivery is scheduled for early March.
Information Minister Monica Mutsvangwa said on Tuesday, the country will be getting further donations of 75,000 doses of the Sputnik V (Victory) vaccine from Russia and 12,000 doses from India. Zimbabwe targets to inoculate about 10 million people, or 60 percent of the population. Vaccination is voluntary.
Mutsvanga said this week that the country's epidemic curve is showing a general downward trend since mid-January. The country has been on a tight lockdown since the beginning of January.