Chinese firms expand in UK despite the pandemic
Share - WeChat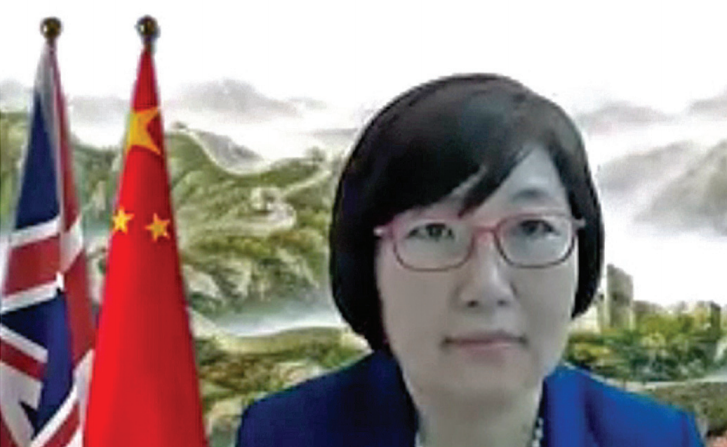 Chinese business activity in the United Kingdom remained resilient last year despite trade tensions and pandemic disruption, a new report has shown, with the number of large UK-based China-owned businesses increasing along with the total value of Chinese investments into Britain.
The number of Chinese businesses in the UK with an annual revenue of at least 5 million pounds ($7 million) rose to 838 in 2020, up from 795 the year before, according to the Tou Ying Tracker, an annual analysis of China-UK enterprise produced by accountancy company Grant Thornton UK in collaboration with China Daily UK and the China Chamber of Commerce in the UK, or CCCUK.
The companies contributed a total of 92 billion pounds in revenue, up by 1 billion year-on-year, and the total value of Chinese merger and acquisition deals in the UK was 4.7 billion pounds, an increase of 31 percent from 2019.
This positive growth occurred at a time when the UK became entangled in trade tensions between the United States and China, and as the COVID-19 pandemic wreaked havoc on the global economy.
"It is fair to say 2020 was a year like no other for all Chinese companies here," Bao Ling, minister of China's embassy in the UK, said during a virtual launch event for the report. " But among all the challenges there have also been many things worth celebrating. These companies have demonstrated strong resilience and determination in fighting against the pandemic and adapted as best as they could."
Dave Dunckley, chief executive of Grant Thornton, said the large Chinese companies continued to make an "outstanding contribution to the UK economy" through impressive revenue-generation and the employment of 75,239 people, which was up from 71,000 in 2019.
Fang Wenjian, general manager of Bank of China's London branch and chairman of the CCCUK, noted that, in addition to the larger companies, numerous small businesses form the backbone of Chinese enterprise in the UK.
"The total number of Chinese-owned companies has grown to 15,000 this year, up from 13,000 last year," Fang said. "In addition, Chinese companies contributed more than 4.3 million items of personal protective equipment across the UK last year, when this country was in great shortage of those items while combatting the pandemic. This demonstrates that we continue to fulfill our social responsibilities in this country in addition to contributing profitability and employment."
While the value of investment from China in the UK increased, the number of deals totaled 25, a 46 percent decrease on 2019, suggesting that the pandemic and associated travel restrictions took a toll on business dealings.
Despite the downturn, the UK remained among the most popular European destinations for Chinese investment, attracting almost one-third of all deals in Europe last year.
"The US-China trade war drove Chinese investors towards Europe, with Chinese capital showing a preference for the UK as an investment destination," the report stated.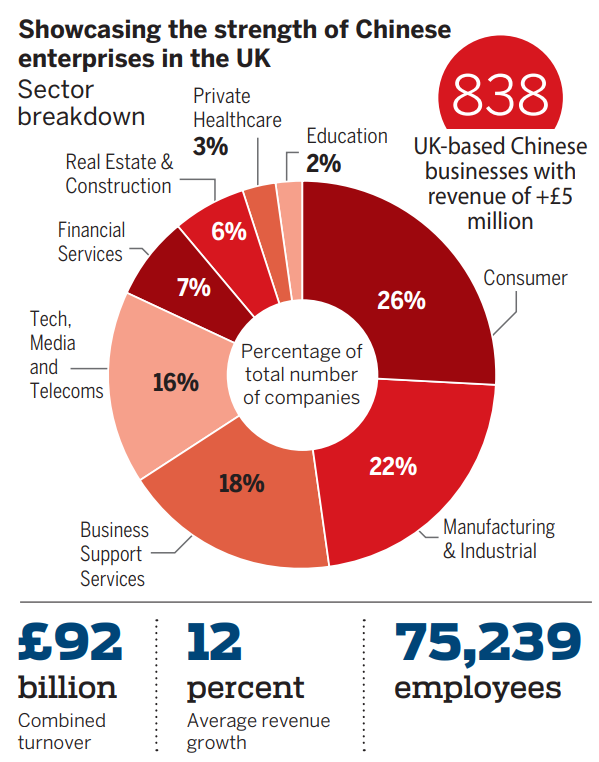 Some of the largest deals last year included China Resources Group's involvement in a 4.2-billion-pound acquisition of UK waste resources management company Viridor, and Hong Kong-based Link Asset Management's 380-million-pound purchase of the 17-floor London office building The Cabot.
Several companies entered the Tou Ying Tracker for the first time, including but not limited to: Chinese education services company Bright Scholar, which has acquired a number of UK schools; and UK-based steel trading company Stemcor, which was bought by Guangzhou-based Cedar Holdings.
"This report proves that many Chinese companies in the UK remain dynamic and resilient, even with the odds stacked against them," said Yu Yilei, managing director of China Daily UK.
It remains to be seen to what extent Chinese investment interest in the UK will be affected by the UK government's ban on Chinese telecommunications company Huawei, which happened in the latter half of last year.
The UK took the decision to bar Huawei from participating in 5G network infrastructure upgrades, following sustained pressure from the US, which also imposed sanctions aimed at disrupting the company's supply chain. Some onlookers, including China's former ambassador to the United Kingdom Liu Xiaoming, have argued that the move sends a "negative message" to other Chinese companies considering investments in the UK.
Bao said the UK and China "should work for an open and inclusive business environment "this year, as the UK forges a new path outside the European Union and as China launches its 14th Five-Year Plan (2021-2025).
"We should work for an open and inclusive business environment. Stable bilateral relations are of great importance to the development of economic and trade cooperation," Bao said. "We should continue to create new platforms for communication between Chinese companies and all sectors of the British society, to expand converging interests, safeguard the open and non-discriminatory environment for businesses, and inject greater stability into China-UK relations."
Simon Bevan, head of the China Britain Business Group at Grant Thornton, anticipates that this year China-UK cooperation will develop strongly in environmental areas, such as battery technology and clean power, with additional link-ups in agritech, biotech, and healthcare.
"China is probably the only major economy to have grown in 2020, and it will be at the heart of international recovery this year," Bevan said.