Whodunit role-play game killing competition amid long holiday staycations
Share - WeChat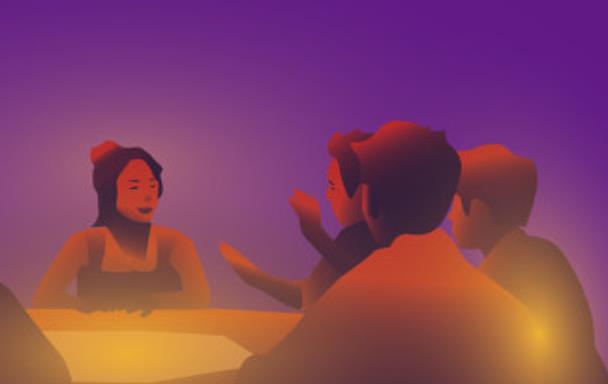 China's hit game jubensha, literally translated as "script homicide"-a role-playing murder mystery game-has risen in popularity during Spring Festival, as many people chose to stay put to prevent the spread of COVID-19.
Donning an elegant traditional Chinese garment, Song Jun and six of his friends spent a whole afternoon during the long holiday working together to find crucial clues at a crime scene and interrogating each other.
Given a character with a detailed back story, the 30-year-old Beijing resident played the role of an official during the Ming Dynasty (1368-1644). Following a trail of clues, he was shocked to find the murderer was his character's best friend.
"I was deeply impressed by jubensha as it offers me a new choice to hang out with friends, instead of traditional options such as eating out or singing in karaoke lounges. I just really love the new immersive, real-life adventures, which will provide me with brand-new experiences," Song said.
In recent years, this role-playing murder mystery game has gained a huge following among young urban Chinese.
Players are usually assigned a character and then spend their time solving the whodunit. It usually costs around 150 yuan ($23) per person and takes more than four hours.
The murder mystery craze swept across Beijing during the Spring Festival holiday. Xingtan Club, one of Beijing's top jubensha clubs, has seen rising sales during the holiday.
"We're rather busy during the holiday," said Li Kan, co-founder of Xingtan Club. "In fact, we were fully booked ahead of the holiday."
Li said most customers are mainly young, between 25 and 35. "jubensha offers them new social experiences. During the game, a group of friends will put aside their smartphones and gather together to talk and even learn new stuff from the back story. And murder mysteries based on a true story may allow players to think more seriously about related issues."
Covering over 300 square meters, Xingtan Club, a classic example of more than 300 jubensha clubs in Beijing, provides more than 130 murder mystery games, and it can seat around 60 people at once.
Despite significant initial investment, high rents and labor costs, Xingtan Club has already turned a profit, saying it garnered some 100,000 yuan one month.
"With customers' growing need for better scripts and services, we need to offer them more immersive murder mystery experiences instead of simple board games. We're planning to offer melodrama experiences, allowing players to better immerse themselves in roles during games," Li said.
Li has a rosy view of the emerging jubensha sector, saying the club will work harder to offer players better scripts and services in the future.
"Next month, we will go to three mystery game expos out of Beijing to take more high-quality scripts back home. Having a better understanding of consumer needs, we also plan to work with professional script writers to create original scripts."
Data from company register platform Qichacha showed China had around 6,500 jubensha enterprises as at the end of 2020. Jiangsu province topped all other areas in terms of the number of jubensha companies, followed by Shaanxi and Hubei provinces.
According to Qichacha, the number of newly registered jubensha companies reached 3,158 in 2020, up 60 percent year-on-year.
Zhu Mingchi, a former Analysys expert of consumption, culture and entertainment, said the hit jubensha game exactly caters to young people's growing need for abundant offline entertainment experiences.
"There's huge potential in the jubensha sector, and we will see more new offline entertainment options popping up in the future. To maintain healthy long-term growth, the emerging jubensha sector needs to balance market demand and supply. After an initial stage of high-profit development, it will gradually fall back to a reasonable level in the future. And newcomers blindly entering the market may face new problems," Zhu said.
Wang Xin, founder and head of Blackcat Creative Studio, said the sector is at an early stage of development, and more efforts should be made to provide better script content, services and create a better environment for scriptwriters.