Duty-free shops to enliven cities
Share - WeChat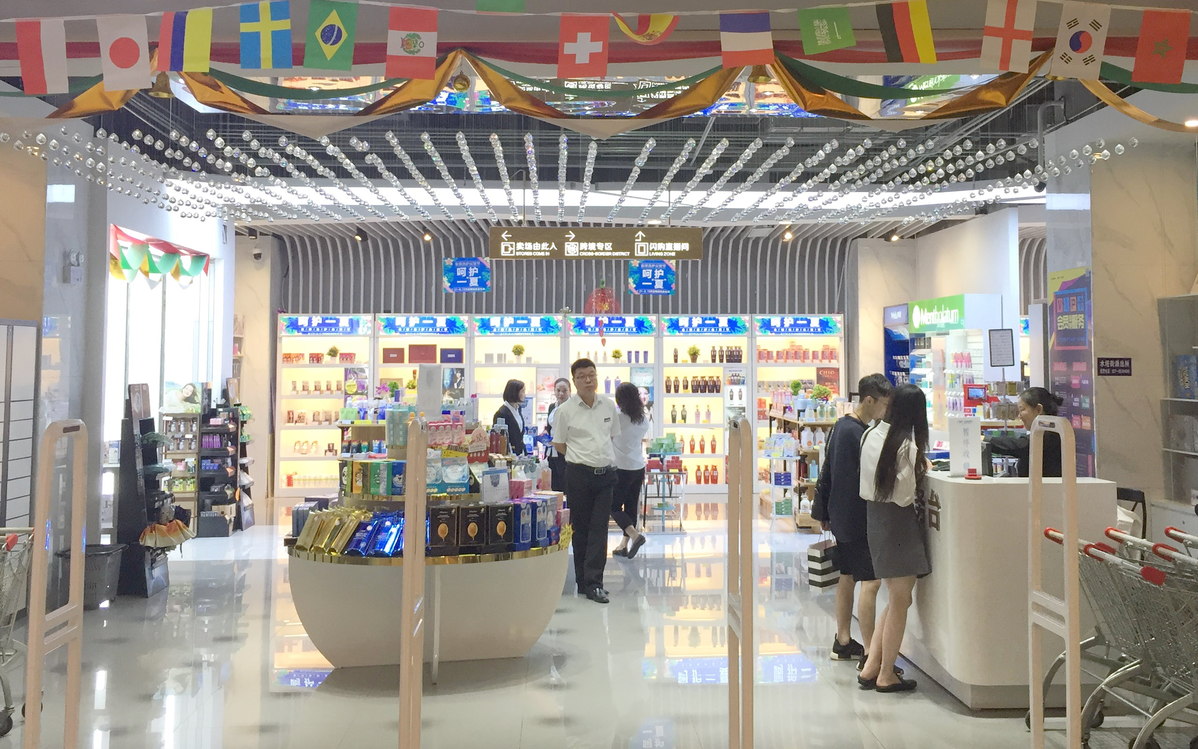 Downtown areas to throb with retail growth, offset impact of pandemic
A group of Chinese enterprises have rolled out plans to set up more duty-free stores in downtown areas of domestic cities.
Their larger plan is to stimulate more retail growth opportunities and thrive again, having taken a hit so far due to the outbreak of COVID-19.
Wangfujing Group, a major department store chain, said it plans to launch a duty-free complex at Universal Beijing Resort in the near future.
The park, to be based in Beijing's eastern suburban district of Tongzhou, is expected to open this spring, latest by end-June.
The group said it plans to develop three kinds of duty-free businesses, namely duty-free stores at airports, in cities, and in the offshore tax-free shopping destination of Hainan province.
"Duty-free stores in downtown areas can shape differentiated competition with those stores in Hainan. With the relaxation of policies and the landing of more stores in downtown areas, they are expected to become more competitive," said Zhu Changci, an analyst at the Lead-Leo Research Institute, a provider of market research reports.
"China's duty-free store sector has grown rapidly, fueled by Chinese consumers' continuously growing income and willingness to spend," Zhu said.
Meanwhile, Chengdu, capital of Sichuan province, is expected to see its first duty-free store by the end of this year.
The store will be operated by China Duty Free Group Co Ltd, a State-owned enterprise that specializes in the duty-free business. It will be located near Chunxi Road in downtown Chengdu, according to the local bureau of commerce of Jinjiang district in the city.
Currently, the surrounding area is being upgraded, and construction work for the store is tipped to begin once the duty-free license is received.
Other retailers such as Caissa Touristic, a Beijing-based travel agency, and even real estate developers are setting their sights on winning a duty-free shop license in China to grab market share.
In cities on the Chinese mainland, foreigners are the main target consumer group of duty-free shops in downtown areas. Visitors from Hong Kong, Macao and Taiwan also typically shop at such stores around their departure times on the Chinese mainland.
Besides, Chinese citizens who traveled abroad in the past six months could purchase duty-free products worth up to 5,000 yuan ($774) per person.
As the ongoing COVID-19 pandemic has led to restricted international travels, a duty-free shop operated by China National Service Corp in the Qianmen area of Beijing allows Chinese consumers who traveled abroad after August 2019 to buy at its outlet.
"Due to COVID-19 and the stagnation of international travel, the number of people who are qualified to purchase duty-free goods at downtown stores has dropped significantly, and it is expected to have a certain negative impact on such shops' operations," Zhu said.
Internationally, duty-free stores in downtown areas stand as the second-largest duty-free shopping channel after such stores at airports.
Duty-free stores in cities are usually conveniently located, not limited by operation areas like airports, and they can offer more variety of products and abundant shopping time, according to LeadLeo.
In South Korea, as of 2019, sales revenue of downtown duty-free stores accounted for 80 percent of the total sales of the duty-free market.
In South Korea, most consumers of duty-free stores are Chinese, and they contribute to more than 80 percent of the revenues, LeadLeo found.
The tropical island of Hainan, which aims to become a global free trade port, has seen flourishing duty-free shopping business, benefiting from the new favorable policy.
Since July 1, Hainan has increased its annual tax-free shopping quota from 30,000 yuan to 100,000 yuan per person each year, with no limit on times of purchase.
Foreign and domestic travelers, including Hainan's residents, who are over 16 years old, can buy offshore duty-free products without any record of traveling abroad.
They can pay for duty-free goods at shopping malls by showing their flight or ship tickets, and collect the goods at designated areas of airports and wharfs when departing Hainan but not the country, according to the State Taxation Administration.
In 2020, nine offshore duty-free stores in Hainan together achieved sales of 27.48 billion yuan, surging 103.7 percent over the previous year.
Besides, 4.48 million people went shopping in those stores, up 19.2 percent year-on-year, according to Customs.
From 2019 to 2023, China's duty-free shopping sector is expected to grow at a compound annual growth rate of 23.4 percent, and sales are foreseen to reach 86.1 billion yuan in 2023, LeadLeo predicted.
"China's duty-free shopping business is still in its initial development stage. With a number of large duty-free stores to be built in different domestic cities, there is a considerable growth potential of the sector," Zhu said.