China's vaccine initiative strengthens global fight against virus
Share - WeChat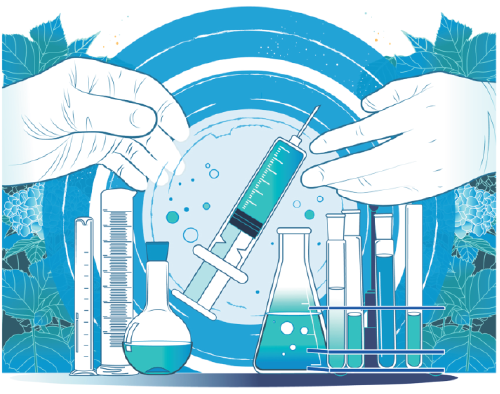 As a child I was always puzzled by the Chinese concept of nei (internal) and wai (external). We came from a humble background, meaning food was not always abundantly available at home. Yet whenever an occasion arose-a festival or a knock on the door by a neighbor or distant relative-mom managed to concoct some dishes. This was especially the case during Spring Festival, when people enjoy the family reunion dinner, the best meal of the year.
We kids would always complain about mom favoring non-family members with food. Giving one dish away meant one less for us. To which, mom would explain the need to balance nei and wai, often by doing good deeds. We felt that mom was doing this to give "face" to dad and, if we continued protesting, mom would add: "One day you will understand the true meaning of being a good neighbor."
Reflections on good neighbor
Reflecting on being a good neighbor, I came across four articles on China's evolving international vaccine assistance initiative prior to the Chinese Lunar New Year, each from a different perspective. The first, on the front page of China Daily's Feb 9 edition, features a small photograph of Peruvian President Francisco Sagasti welcoming Chinese pharmaceutical company Sinopharm's COVID-19 vaccines in Peru's capital of Lima.
The second, on the cover page of Guangzhou Daily, describes China's efforts to supply vaccines to 53 developing countries, highlighting China's participation in and contribution of 10 million doses of vaccines to the World's Health Organization-led COVAX program.
"Soft diplomacy paying off for China in Europe" is the headline of the third article in Hong Kong-based South China Morning Post that, among other things, praises China's assistance to Hungary and Serbia.
The fourth, an article in Singapore-based Straits Times, has a catchy headline, "China unlikely to meet 50 million COVID-19 vaccination before CNY" and describes China's struggle to meet the internal demand for vaccines while extending help to other countries before the Chinese New Year.
As an expat living in China for 15 years with children at home, I could see the four articles weaving around the fascinating concept of nei and wai.
Balancing internal and external demands, especially due to limited resources, is never an easy task. To begin with, China is balancing nei and wai in its vaccine initiative, and gauging from news from the Americas to Europe, China is not alone in this delicate endeavor.
While some of my Beijing-based colleagues have received COVID-19 vaccine jabs, those in Guangzhou and Shanghai are yet to be vaccinated. We would do well to wait patiently for our turn, as Chinese authorities are on top of the vaccine rollout program.
The strict pandemic prevention and control measures including wearing of face masks, maintaining social distancing in public places, and nationwide quick response (QR) code-based tracking system have helped China to largely contain the novel coronavirus within the country and focus on vaccine research, development and production. A need-based vaccine rollout, which balances all critical factors, is, in fact, the best way to defeat the virus.
True, sharing a scarce resource with a neighbor-food or vaccine-means one less for ourselves. But hoarding, whether food or medicines, for domestic use is not the way to deal with a crisis. To borrow a catchphrase from American educator and leadership authority Stephen Covey, hoarding stems from scarcity. And since vaccines, like food, are used to save and build lives, they should be given to those who need them most.
In order to contain the spread of a pandemic, countries may have to impose strict measures including lockdowns-the tighter the lockdown the better the outcome. Some countries and cities that half-heartedly imposed lockdowns have seen their healthcare systems being overwhelmed by rising cases, and second and third waves of infections, spreading fear in their neighborhood.
On the other hand, countries that imposed strict prevention and control measures and helped other countries in their fight against the virus have raised hopes that the virus will be contained sooner rather than later. The more one helps one's neighbor, the safer the entire neighborhood will become.
No nation can feel safe until all nations are safe
Of course, not every country can develop its own vaccines. For those that cannot do so, the only option is to source the vaccines from the international market. But since not all countries can afford to purchase the highly priced COVID-19 vaccines, less-developed and poor countries will suffer more. However, that does not make rich countries safer, because until all countries are free of the virus, no single country can feel safe.
While we often laud corporations and individuals, such as the Bill and Melinda Gates Foundation, which partly or fully fund vaccination or other medical programs, we seldom give credit to countries that help other countries to overcome medical or other emergencies.
A friend in need is a friend indeed, whether that friend is an individual, a corporation or a country. Adam Smith, the father of modern economics, said the mercantilist approach to the economy is a sure formula to "beggar thy neighbor", something a responsible society must avoid. So prosper with your neighbor or help your neighbor to prosper should be the way forward in the Year of the Ox, for China as well as other countries.
'What we do today echoes in eternity'
This is a cathartic moment in human history-a time when the novel coronavirus has infected more than 111 million people and claimed over 2.46 million lives. So we need to make decisions responsibly on what to do and what not to do or say-and we owe it to our children to save lives and create a better neighborhood and a better world. As the fictional character of General Maximus Decimus Meridius says in the Gladiator: "What we do today echoes in eternity."
Looking back, I can better appreciate my mom's efforts against all odds to balance nei and wai. Due to the COVID-19 travel restrictions, my family celebrated the Lunar New Year in three different countries this year. Yet all of us vowed to help people in need in the best way we could, and a good way to start that is offering food and medicines to others.
As my mom says at the dinner table, "it is more blessed to give than to receive". Let's hope the Year of the Ox augurs well for all with more supplies of food and vaccines.
The author is the general manager of a foreign bank in Guangzhou. The views don't necessarily reflect those of China Daily.
If you have a specific expertise and would like to contribute to China Daily, please contact us at opinion@chinadaily.com.cn, and comment@chinadaily.com.cn.
Most Viewed in 24 Hours
China Views