Wax wonders wow enchanted visitors at Madame Tussauds
Share - WeChat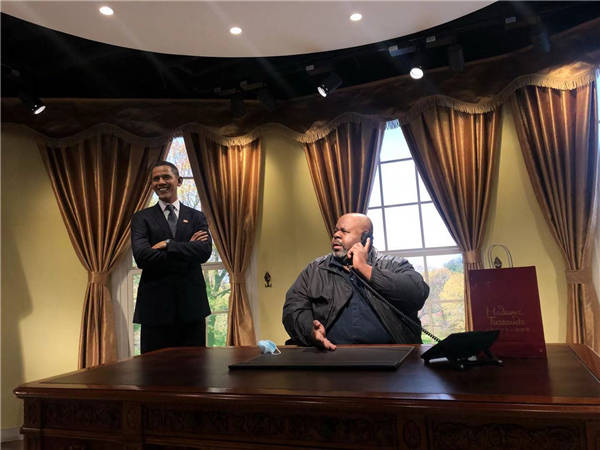 With travel off the table for me and many others in Beijing due to a flare up of COVID-19 cases in other provinces, I wasn't sure how I would occupy my time off from work during the Spring Festival holiday.
One of my Chinese friends also had some free time and wanted to meet up. I originally suggested that we visit the National Museum. Admission there is free, but I couldn't figure out how to make an appointment.
My friend recommended that we go to Madame Tussauds in the Qianmen area instead. I had completely forgotten that Beijing was the home of one of many of the famous wax museum's sites. It had been a long time since I had been to one (I went to the New York location back when I was a teenager), but I remember enjoying it and was looking forward to our planned excursion.
We entered the museum on a Saturday afternoon after a rather subpar dining experience at the nearby Beijing Fun complex in Qianmen, which was a lot more crowded than I had thought it would be.
The museum's patronage was not nearly so abundant that day, though, probably because of the somewhat steep price tag-it cost us a total of 340 yuan ($53) to get in, but we also got a free coffee mug and a guide (both of which my friend let me have).
The museum contained figures of renowned people, foreign and domestic, from the world of politics, athletics and entertainment. Among the Chinese people portrayed were famed writer Lao She, opera master Mei Lanfang, crosstalk legend Hou Baolin and basketball luminary Yao Ming. World figures including former United States president Barack Obama, Queen Elizabeth II, German Chancellor Angela Merkel and Russian President Vladimir Putin were also on display.
Besides taking humorous photos with the statues, the coolest part of the visit for me was the ability to make a wax cast of my hand! For 108 yuan, a lovely lady dipped my fisted hand in freezing water, then in hot wax, then repeated the process a few more times until the cast was thick. Then she took it off my hand and attached a base to it. It's an awesome souvenir! My only regret is that I didn't think to choose what color I wanted, so my cast is just white.
As we exited the museum, there appeared to be a statue of a guard waiting just outside the door. My friend walked up to it and was trying to figure out who he was supposed to be; she thought he might be famous.
After a couple of seconds, though, I could tell the guard was a real person pretending to be a statue. But just before I could say so, he exclaimed "Ni hao!" He scared my friend, and we both started laughing, along with the onlookers outside. It was a great way to end our trip to a wonderful site in the capital.