E-learning set to 'take a big leap forward'
Share - WeChat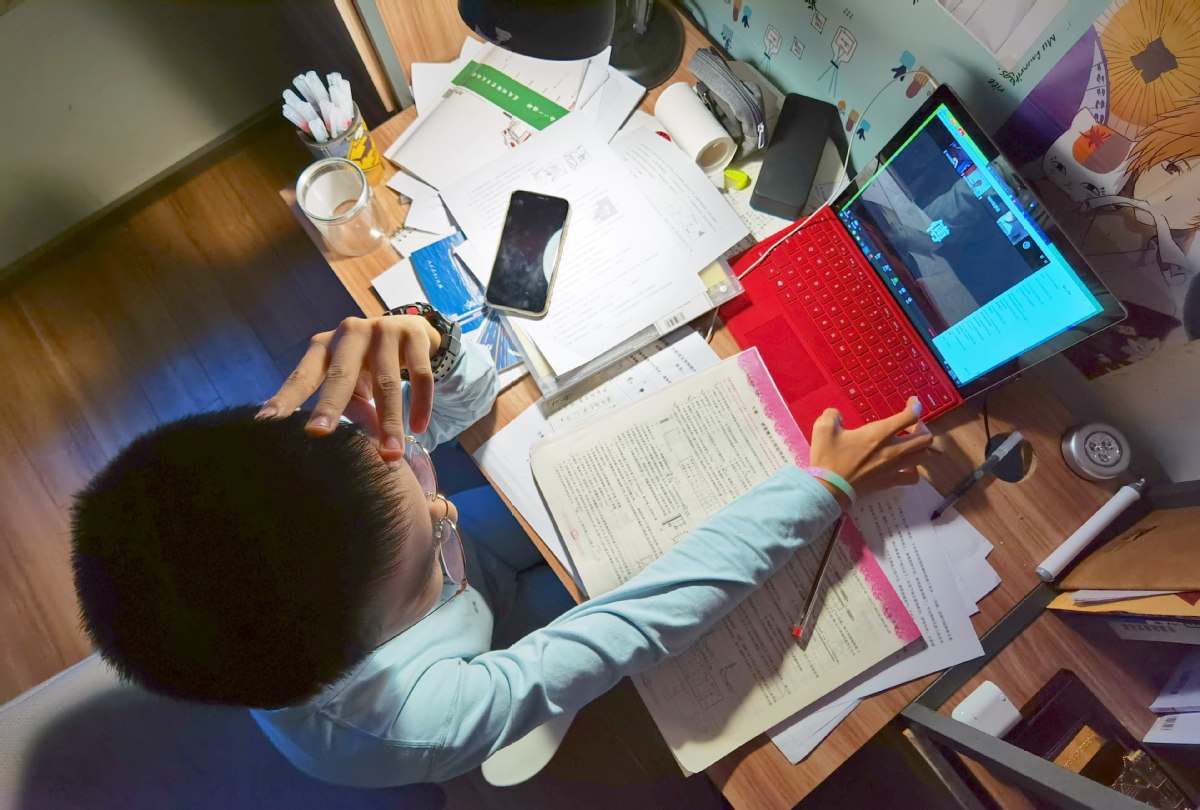 Study-from-home routines spark demand for quality education online
Time was ticking, the day's deadline was just an hour away, but Tang Zhumei, an accountant and a 39-year-old mother from Beijing, suddenly stopped auditing dozens of financial statements that piled up on her desktop.
Upon receiving a pop-up notification, she reached for her smartphone and, in a jiffy, bought an online English-language course for her 11-year-old daughter.
The 60-session course set her back by 9,000 yuan ($1,389), paid via WeChat Pay, but Tang said she believes it's worth every fen of the money spent.
In China, online consumption as part of the national consumption upgrade can take many forms. Top-quality education is par for the COVID-19-era online shopping course as study-from-home regimen is part of the new normal.
And parents tend to vie for the best e-learning programs for their children, which are considered few and far between. Demand outstrips supply, and market forces could send prices soaring, keeping consumers such as Tang on their toes, always on the lookout for the next big deal, limited-time offers and discount-price promotions.
One such offer came Tang's way from an extremely popular teacher working with an equally popular e-learning platform. She gladly grabbed it with both hands as the winter vacation, a critical period for school students, came one to two weeks earlier than expected across China.
The COVID-19 pandemic and the disrupted academic schedules are making millions of Chinese parents think nothing of shelling out big bucks to ensure their children receive online education.
"As a person who never rushes to purchase something even during the Singles Day shopping gala, I can't believe I was willing to wait and vie for a top-quality online course for my daughter," Tang said.
Online education providers are not complaining. Some of them, in fact, have been laughing all the way to the bank. And investors are chasing them for a slice of the education pie.
Industry data showed that a whopping 50 billion yuan was invested in the segment last year. That was more than what the industry had received from investors in the previous 10 years.
Things will only brighten up further going forward, said industry observers. The 14th Five-Year Plan (2021-25) highlighted that the country is expected to "give full play to the advantages of online education, so as to improve the lifelong learning system and build a learning society".
It was the first time that the government's economic development plan highlighted the role of online education.
China's online education sector is expected to achieve a higher sales revenue of 485.8 billion yuan by the end of last year. (Full-year data for 2020 is yet to be collated and confirmed.) In 2019, the revenue was 387 billion yuan.
The total number of users will likely reach 351 million, according to consultancy iiMedia Research.
Industry insiders said the sector is outgrowing its phase of wild swings and nicely settling into an orderly, sustained boom.
As both students and parents have deepened their familiarity with virtual classrooms, demand is rising for higher-quality lessons, more technological breakthroughs and more innovative e-learning methods.