Johnson sets July target for adults to get jab
Share - WeChat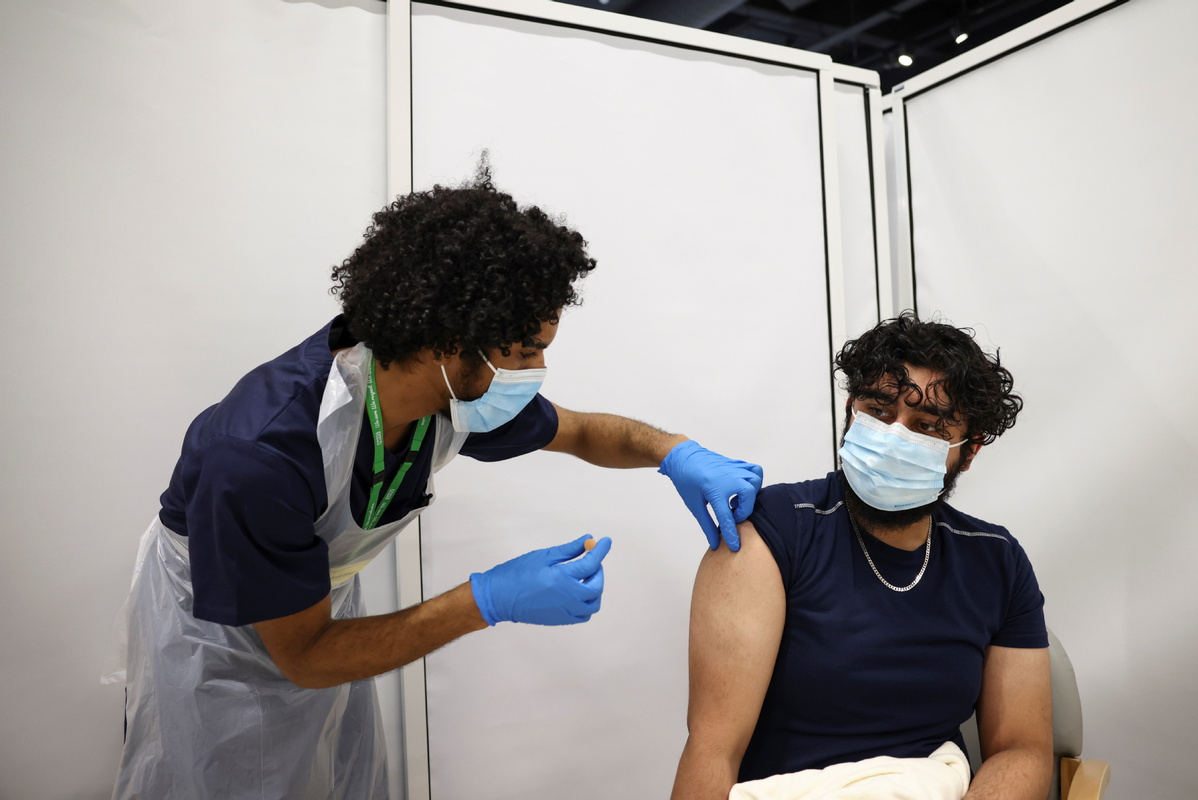 PM says route out of UK lockdown will be 'cautious and phased' to protect all
Ahead of Monday's planned announcement on a cautious reopening of the economy from the novel coronavirus lockdown, Britain's Prime Minister Boris Johnson pledged that all adults in the country would be offered a COVID-19 vaccine by the end of July.
In a statement, Johnson said that he wants the rollout program to "go further and faster". He added that the July target would allow vulnerable people to be protected "sooner" and that this would help to further ease restrictions across the United Kingdom.
"But there should be no doubt-the route out of lockdown will be cautious and phased, as we all continue to protect ourselves and those around us," he said.
If the July target is fulfilled it would mean that the government achieves its aim two months earlier than previously promised, ITV News and others reported. The UK has already met a target to vaccinate 15 million Britons from higher-risk categories by mid-February.
Reuters reported that the UK has given a first dose of vaccine to 17.2 million people, which is more than a quarter of its 67 million population. The news agency noted that this is behind "only Israel and the United Arab Emirates in vaccines per head of population".
Health Secretary Matt Hancock told the BBC's The Andrew Marr Show on Sunday that one third of all adults have now had a vaccine.
"As of this morning, one in three adults of all adults in the whole country have been vaccinated-it's great news," he said.
"We are confident that the vaccine works effectively against both the old strain that has been here for some time and the so-called Kent variant, which is now the main source of infection in this country.
"We do not yet have the confidence that the vaccine is as effective against the South Africa variant and the variant first seen in Brazil, but we do think that the measures that we have taken-both the enhanced contact tracing and the measures at the border– are reducing those new variants here."
The latest data showed "around a dozen" new cases of the variant first recorded in South Africa had been found in the UK, Hancock said. In total, there have been around 300 cases, he added.
National Health Service England chief Simon Stevens told the BBC there were "early signs" the vaccine rollout was contributing to a fall in hospital admissions.
Adam Finn, a professor from the University of Bristol and a member of the Joint Committee on Vaccination and Immunisation, told BBC Breakfast that overall cases are going down "impressively fast" but that this is "primarily (due to) the lockdown and not the vaccine program".
Johnson is expected to set out a four-step plan, known as the roadmap for easing restrictions, on Monday. The prime minster has said that the lockdown will be eased cautiously, and will be guided by "data not dates".
Some Conservative members of Parliament are lobbying for all legal restrictions to fall away by the end of April, according to The Guardian.
It is believed the government aims to open schools again on March 8, but teaching unions are pressuring against this and instead urge a staggered return for pupils.
Hancock told Sky News there was evidence the vaccines could "reduce transmission by two-thirds", which could be a factor in deciding whether to vaccinate children against COVID-19. He also rejected calls for teachers to be given priority in the vaccine queue.
Speaking to Times Radio, Hancock said restrictions will be eased with "weeks between the steps".
A leading scientist and adviser to government told the Observer that outdoor sports for children and small numbers of adults should be allowed immediately as part of an "accelerated" easing of the lockdown.
Mark Woolhouse, a professor at Edinburgh University, said the data showed there was no need for the government to be "ultra-cautious".
"The government has said the country's exit from lockdown should be data-driven. Well, the data is extremely good, far better than anyone, including me, anticipated two or three weeks ago," said Woolhouse.
"This virus very rarely transmits outdoors. So, quite honestly, outdoor activities that don' t involve close physical contact could be adopted now. That is not an argument to say we can have crowds back at football matches. But sports involving small numbers of players or sports for children: they could start perfectly safely today," he said.