All arrivals into UK to now face mandatory tests
Share - WeChat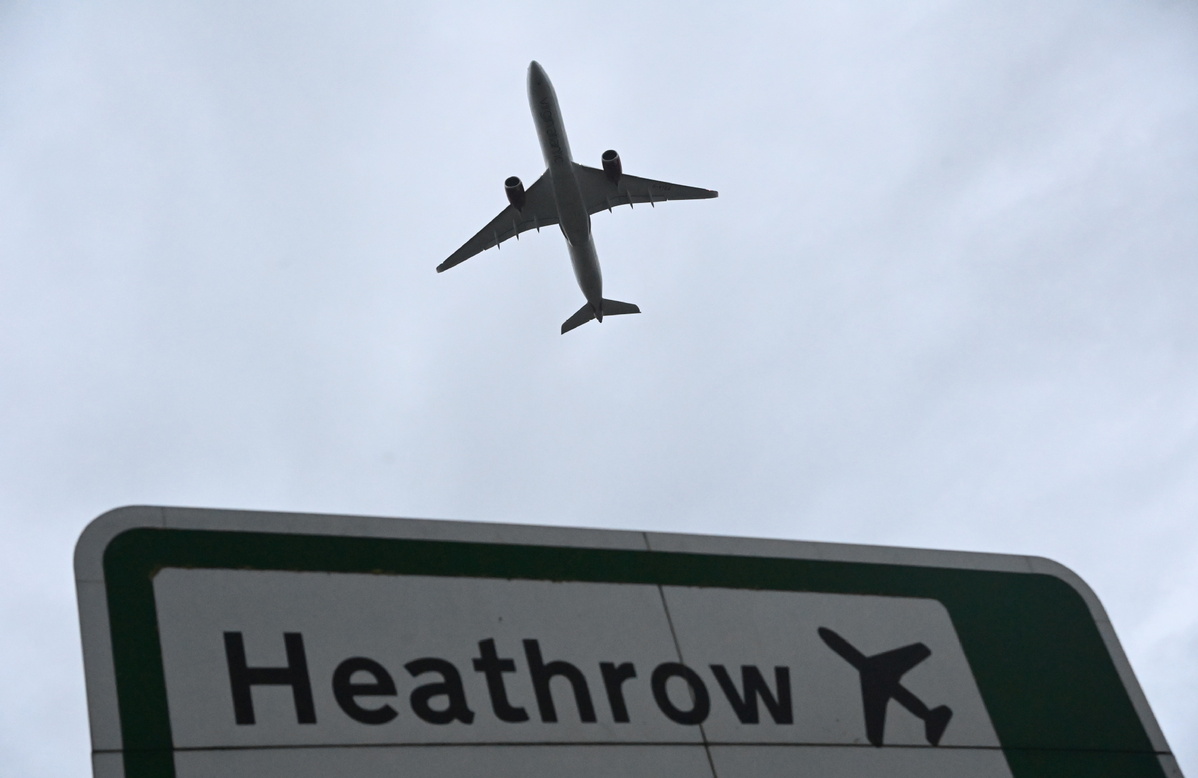 Move to bolster borders against new mutant variants of novel coronavirus
All travelers arriving in the United Kingdom from abroad will face a double-testing procedure for novel coronavirus while in a 10-day quarantine, the government has announced.
Speaking in the House of Commons on Tuesday, Health Secretary Matt Hancock confirmed that all passengers must pay to take the tests, on days two and eight after they arrive, in addition to providing a negative test from before their departure.
The British government is seeking to bolster its borders against new mutant variants of the virus, and had previously announced hotel quarantine measures would start on Monday for people arriving from COVID-19 hot spots, or so-called "red-list" countries, including South Africa and Brazil. The cost of quarantine is expected to be 1,750 pounds ($2,413) per person.
Testing will now include arrivals from all countries, which the Department of Health said would enable authorities to track new cases more effectively.
A health department spokesperson told Sky News: "Enhancing our testing regime to cover all arrivals while they isolate will provide a further level of protection."
Arrivals from red-list countries will next week have to isolate in quarantine hotels, as ministers moved closer to confirming the arrangement with accommodation providers after weeks of wrangling.
Hancock said the government had contracted 16 hotels with 4,600 rooms initially for those entering the country, a number that would be expanded soon.
The Financial Times said the government has resisted pressure to apply the regime to all passengers arriving, instead choosing a program that targets those entering from 33 countries deemed to have a higher risk, while arrivals from nations not on the list must self-isolate at home.
Ministers are seeking to reserve 28,000 rooms near 10 airports, the Daily Telegraph reported, but the paper claims that hotel chains are resisting an "open-ended" arrangement that might roll into the summer.
It said the government seeks to "requisition" rooms on an "exclusive basis" for an initial 45-day period until March 31 "but expects the hotels to extend on a rolling basis beyond that point".
The Telegraph quoted a source close to the talks, who said: "The government wants an open-ended approach, but the hotels are not prepared to do that unless they compensate them for the income they would get from bookings for July and August."
The opposition Labour Party has been deeply critical of what it says has been a lack of urgency to secure borders against variants.
Labour's shadow home secretary, Nick Thomas-Symonds, accused the government of "incompetence" in a social media post.
"Even when these measures eventually do begin, scientists have made clear that the limited way they are being introduced will be insufficient to stop mutant strains of the virus reaching the UK, potentially putting the gains of the vaccine at risk," he said.
Meanwhile, "tens of thousands "of nurses across the UK have not yet had their first novel coronavirus vaccine, The Guardian reported.
Results from a survey by the UK Royal College of Nursing of 24,370 nurses found that 85 percent had had at least one dose, with the remaining 15 percent still unvaccinated.
The college said "scaling that 15 percent up" to its 450,000-strong membership suggested an estimated 75,000 nurses had still not had their initial jab. The government has pledged that all health and social care staff will be offered a first dose by the start of next week.
"With only days to go, every effort must be made to reach all nursing staff to ensure their protection and that of the patients and vulnerable people they care for," said Donna Kinnair, the chief executive and general secretary of the college.
New research published in the journal BJPsych Open from the Royal College of Psychiatrists has revealed that one in three COVID-19 patients put on a ventilator experience symptoms of severe post-traumatic stress disorder, or PTSD, and some who recovered at home suffered the same.
The study showed one in 10 who did not need medical help, but had breathing problems, now have severe PTSD. The report listed symptoms, the most common being intrusive thoughts or imagery, known as "flashbacks".
Adrian James, president of the Royal College of Psychiatrists, said: "It is clear that COVID-19 can have serious mental health consequences. This virus isn't just a threat to our physical health, it also poses significant risks to mental health during and following the illness."