Autonomous buses hit road in Chongqing
Share - WeChat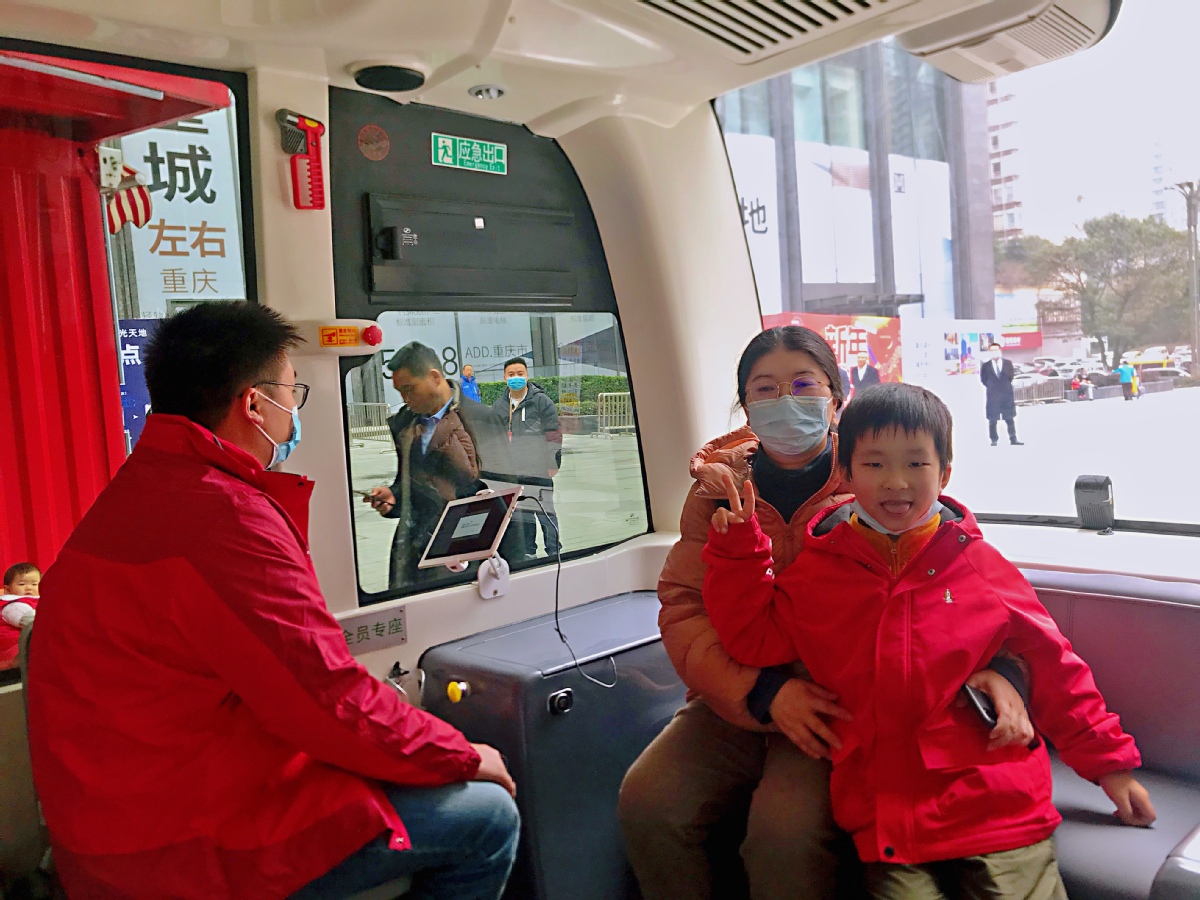 Starting on Monday, a commercial autonomous bus called Apollo, produced by Chinese internet search giant Baidu Inc, opened to the public in the mall atrium of Shin Kong Place in Chongqing's Yubei district.
The whole journey is about 3 kilometers without stopping. It takes 20 minutes and costs 25 yuan (half price during the promotion period).
Apollo, which is 4.4 meters long, 2.2 meters wide and 2.7 meters high, can carry 14 passengers and has a battery life of 100 km. The driverless travel route is set by a small touch screen.
It is China's first commercial autonomous bus entering a commercial route, according to Baidu.
Apollo was launched in April 2017 in collaboration with major global carmakers, including Volkswagen, BMW and Ford.
Slated to enter mass production in July 2018, Apollo has started operations in Beijing, Jiangsu, Fujian and Guangdong provinces, with a total operating distance of more than 100,000 kilometers and safe transport of more than 110,000 people.
In 2018, Baidu passed Chongqing's automatic driving road test license requirements.
At the Smart China Expo 2019, a three-way agreement was signed by the Yongchuan district government, the Chongqing Vehicle Test and Research Institute and Baidu Inc to jointly build and operate the "Western autonomous driving open test base" project in Yongchuan, with a total investment of 1 billion yuan ($155 million).
Baidu is also one of several Chinese technology companies that have launched autonomous taxi services to the public.
According to consulting firm McKinsey, China has the potential to become the world's largest market for autonomous vehicles. McKinsey estimates that autonomous driving vehicles will make up more than 40 percent of new vehicle sales in the world's largest auto market by 2040.