Chinese firms seek to get foothold in Europe
Share - WeChat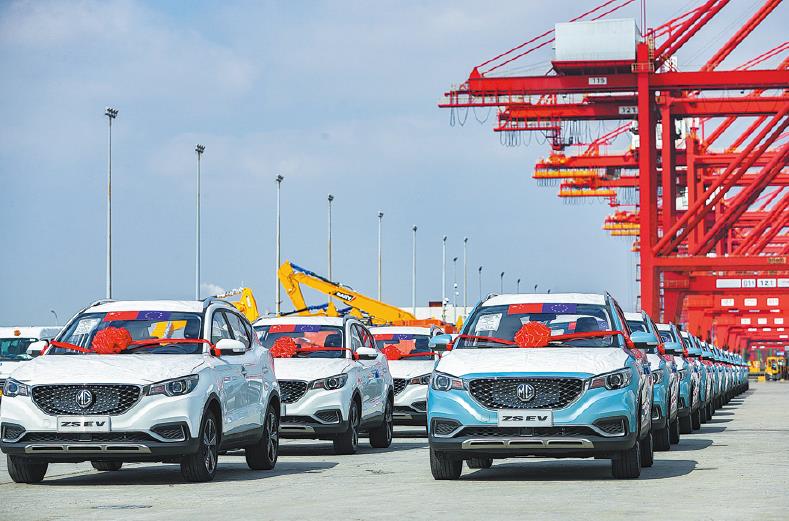 Automobile manufacturers seek to capitalize on continent's push for new energy vehicles
Chinese carmakers are plying their way into Europe, as the continent where the modern gasoline car was invented shifts its focus toward new energy vehicles.
On Thursday, a ship laden with 209 electric Xpeng G3 SUVs left Guangzhou in South China's Guangdong province bound for Norway. This is the company's second shipment to the Nordic country, after the first 100 arrived in December.
Xpeng is one of China's popular electric car startups, but is not the only brand that is exploring the European market, where sales of new energy vehicles are soaring.
Another startup, WM, and established carmaker BYD are selling vehicles to Europe as well. Nio is planning its foray.
Last year, nearly 1.4 million electric cars and plug-in hybrids were sold in Europe, skyrocketing 137 percent from 2019, in a vehicle market struck by the pandemic that was down 20 percent year-on-year.
The figure in European countries combined dwarfs sales in China, which has been the world's largest single market since 2015.
Similarly to the direction China has taken, European governments are giving generous incentives for consumers to purchase EVs.
In Germany, buyers can save up to 9,000 euros ($10,940) on purchases of new electric vehicles. France offered incentives of up to 7,000 euros in 2020, but will trim that down to 6,000 euros in 2021.
China's largest carmaker SAIC Motor Corporation is planning to sell 300,000 vehicles in Europe by 2025, of which 70-80 percent will be electric vehicles or plug-in hybrids.
Yu De, a senior executive in charge of SAIC's overseas business, said the company has made some breakthroughs, and around 25,000 of its electric and plug-in hybrids were sold in Europe in 2020.
The sales earned it carbon credits worth 40 million euros. Europe has traditionally been difficult for international carmakers to gain a significant market share.
Toyota has been in Europe for around 50 years and its market share is usually no more than 10 percent, said Yu.
But he said the new energy vehicle market is offering opportunities for Chinese carmakers that have been active early on.
China started in earnest its new energy vehicle initiative in 2009, so local companies have since gone through several rounds of development in terms of product design and car quality.
One of China's largest electric carmakers, BYD, has sold over 1,400 electric buses in Europe. SAIC Motor's MG EZS EV was the first small-sized electric SUV to receive a five-star Euro New Car Assessment Programme rating.
Robin Zheng, a senior analyst at Roland Berger, said, "Their (Chinese carmakers') entry into northern and western Europe means they are accepted by the strictest consumers."
SAIC is currently selling three models in Europe, with another three to four scheduled to hit the European market this year, and all are plug-in hybrids or electric vehicles.
Last year, SAIC launched its own shipping service to speed up deliveries to make the most of its early advantages as European carmakers, such as Volkswagen, bring their electric models to market.
Its first model, the ID.3, as well as Audi's e-tron have acquired some market share in Europe, said Volkswagen Group CEO Herbert Diess in a Twitter post in January.
In France, Renault doubled its electric-vehicle sales in the European market in 2020, selling 115,888 vehicles and representing more than 100 percent growth from 2019.
Many of those vehicles were sold to companies that offer vehicles for employees. Personal customers currently prefer plug-in hybrids instead.
But analysts said this is favorable for Chinese carmakers, which are usually little-known in European markets.
As long as they can convince one company, they can sell many vehicles, and that is far more efficient than selling them to individual customers.
And the presence of Chinese vehicles on the street will help improve their brand awareness among individuals, they said.
China's battery makers are trying to make the most of the zeal for electric vehicles in Europe and are setting up plants to produce batteries for local carmakers.
CATL began construction on its first overseas plant in Germany in late 2019. Its annual production capacity is expected to reach 14 GWh when completed in 2022.
Last year, Svolt, a spin-off from Chinese car manufacturer Great Wall Motors, said it will invest up to 2 billion euros in two production sites in Germany.