Homestays key to rural tourism sector's revival
Share - WeChat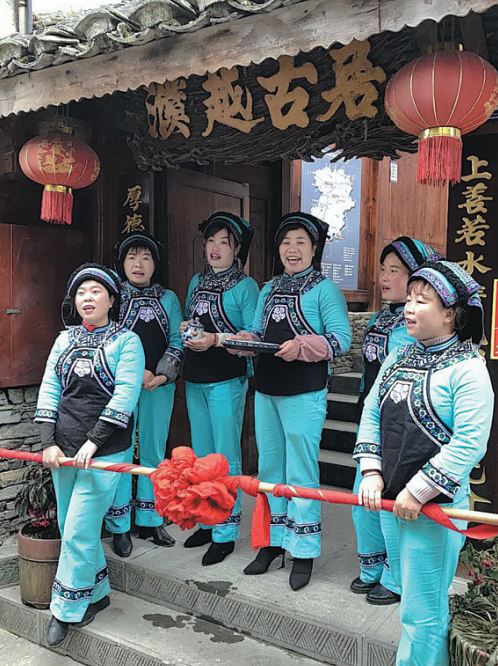 When Xingli Group, a tourism, culture and e-commerce company in Guizhou province, offered to renovate houses in Pianpo township for free in 2018, villagers in the mountainous area were skeptical, worrying that the company would charge them later and swindle their limited savings from farming.
But eventually they embraced the arrival of the company, as well as travelers swarming the town for its combination of bucolic landscapes, comfortable accommodations and a variety of cultural events by the local Bouyei ethnic group-known for their indigo-dyed fabrics and rice wine brewing skills.
"Xingli Group covered all renovation costs, and we get 60 percent of total revenue from homestays," said Chen Tingchao, the 85-year-old owner of an old wooden house converted into a popular hotel annexed to a pub, a teahouse and a small library.
His daughter, Chen Weixiu, was one of the first villagers in Pianpo to start a homestay business on her own in 2008.
Following a brief boom in local tourism around 2010, Chen said her income became unstable as the number of visitors to Pianpo plunged due to outdated infrastructure and monotonous sightseeing activities.
Sitting in the refurbished homestay, Chen said she was relieved and happy to see that her hometown's tourism industry has regained popularity. Her small business has grown from five to nine rooms and three workers are hired to help with cleaning and cooking.
"Now during the peak travel season in May, all rooms are booked," she said.
Despite the COVID-19 pandemic, total revenue from the tourism industry in Pianpo reached 440 million yuan ($68 million) last year, up by nearly 20 percent from 2019, according to the township government.
Zhang Yu, manager of Xingli's branch that oversees the project at Pianpo, said: "The expansion of a firm's business in the countryside and the improvements of local residents' livelihoods should be equally valued. Our strategy is to enroll villagers in the process so that we can all get richer together."
Zhang said the company had invested more than 3 million yuan into repurposing and upgrading 60 homestays in Pianpo. After they were put into operation, proprietors like the Chen family can get 60 percent of the revenue and the company claims 30 percent.
The remaining 10 percent is either distributed to poverty-stricken households in Pianpo or used for property maintenance, he added.
In 2019, all of the 85 impoverished residents in Pianpo had emerged from poverty and their annual income had reached nearly 12,700 yuan on average, according to the local government.
The revival of Pianpo's tourism is typical in China's drive to achieve rural rejuvenation-a national development plan first proposed in late 2017 to boost rural incomes and raise living standards for residents in the countryside.
To further bolster the income of locals, Zhang said Xingli planted 16,700 square meters of sunflowers and plans to raise crawfish in 4,700 square meters of fields, in preparation for launching a new sightseeing and fishing project.
"In addition, we are helping farmers to sell vegetables, fruits, sausages and tofu to other regions via our online and offline channels to create another income stream for them," he said. Zhang added that local industrial development plays a critical role in drawing more migrant workers to return to their hometowns.
"So far, five employees at the company are natives of Pianpo who have given up job opportunities in other parts of Guizhou province and decided to stay in their hometown," Zhang said.
"It is very difficult for a company from outside the village to truly reach the goal of rejuvenating the countryside. We are also pinning our hopes on more returnees from large cities to fully unearth the charm of Pianpo," he said.