Future of China's digital economy
Share - WeChat China needs to nurture and attract skilled digital talent to promote its digital transformation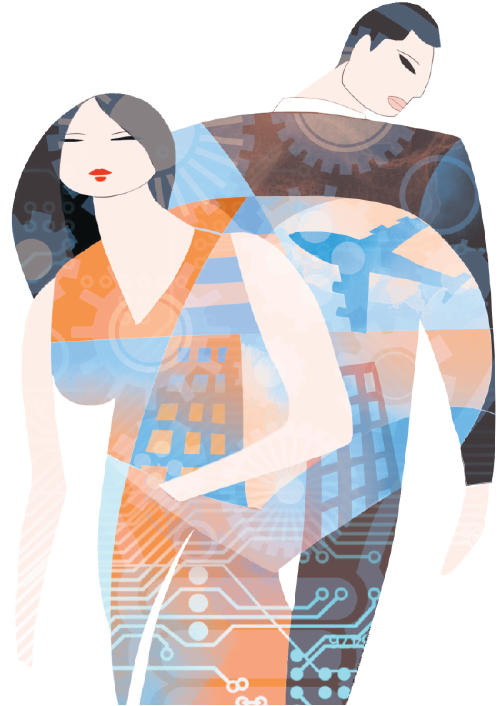 In recent years, a new generation of digital technologies, such as big data, cloud computing, artificial intelligence, the internet of things and 5G, has developed rapidly. The digital economy has become a critical driving force for global economic and social development. It has gained even more momentum thanks to the prominent role of digital technologies in the prevention and control of the novel coronavirus and resumption of economic activities during the pandemic.
According to a report released by the China Academy of Information and Communications Technology, China's digital economy was valued at 35.8 trillion yuan ($5.5 trillion) in 2019, which was second only to the United States worldwide, accounting for 36.2 percent of China's GDP and contributing 67.7 percent to its GDP growth. The report also noted that the digital economy accounted for 51.3 percent of GDP in developed countries in 2019, while the number was only 26.8 percent in developing countries. This illustrates that China's digital economy boom is different from that of the developed countries as China embraced digitization before completing industrialization, urbanization and agricultural modernization.
China's booming digital economy can be primarily attributed to a number of forward-looking policies for digital infrastructure development by the government. According to official data, the number of internet users in China was 940 million by the first half of 2020 and the country had an internet penetration rate of 67 percent, 749 million online shoppers, and 805 million online payment users. Fast and affordable internet access has translated China's demographic dividend and huge market into the data dividend and thus a boon for the digital economy. China has probably the most abundant data resources in the world, which has laid a solid foundation for its flourishing digital economy.
Another key reason for China's digital growth spurt is that many Chinese technology companies have explored innovative digital models tailored to the local market environment. In the past 20 years, Chinese internet companies such as Alibaba and JD.com Inc have launched unique business models such as Alipay and JD Logistics that are tailored to China's market environment and have solved the trust-related problems in the market and business environment that would otherwise take a long process of industrialization to overcome. These business models have not only driven concurrent digitization and industrialization in China, but also represent the secret recipe for their competitiveness in emerging markets over internet giants from industrialized economies in the West.
Based on a deep understanding of emerging market environment, Chinese companies have introduced business models that suit China's market and the markets of other developing economies, which has also paved the way for the new dual circulation development paradigm with the domestic circulation as the mainstay and the domestic and international circulations reinforcing each other.
China's digital transformation now is expanding from the demand side to the supply side, from marketing to the upstream of the industrial chain, such as logistics, manufacturing and research and development. While digital transformation on the demand and consumer side mainly depends on the data dividend generated by a large number of internet users, a digital shift on the supply side relies more on industry-savvy and digital-literate talent who can collect, integrate, analyze and apply data both upstream and downstream. Digital talent is the most important resource and key driving force for the digital transformation of China's economy in the next stage.
In 2020, we analyzed nearly 40 million digital talents among all LinkedIn users in 31 cities worldwide, and found that the proportion of digital talents in the ICT sector in China is higher than that in Europe and the US, while the percentage of digital talent in traditional industries in Western countries is higher than that in China.
In addition, we found that most China's digital talents only have digital skills, while their counterparts in the West also have industry and business skills and experience. China's digital talent therefore has obvious shortcomings.
These findings show that compared with developed countries, China still lags behind in digitalizing traditional industries. China needs to nurture or find interdisciplinary talent with digital literacy and management skills in industries and other fields of the value chain to facilitate its digital transformation.
Digital technologies are driving a new round of scientific and technological revolution together with industrial transformation. For example, big data and AI are disrupting life science and genetic engineering, as shown by the rapid development of COVID-19 vaccines. We found that China also lags behind the developed countries in disruptive digital skills to push the scientific boundaries.
As talent is the most important resource, digital talent is the foundation underpinning the future of the digital economy. To better tap the digital talent dividend and make up for its talent shortage, China needs to drive supply-side reforms of its labor market and education with digital skills and education that is tailored to industry needs and scientific breakthroughs. With an emphasis on the integration of digital technologies with other scientific and engineering fields, China should nurture more cutting-edge digital talent with disruptive digital skills to expedite its digital transformation.
The author is a professor at the School of Economics and Management and director of the Center for Internet Development and Governance at Tsinghua University. The author contributed this article to China Watch, a think tank powered by China Daily. The views do not necessarily reflect those of China Daily.
Most Viewed in 24 Hours
China Views