Kenyan students honored in Huawei tech contest
Share - WeChat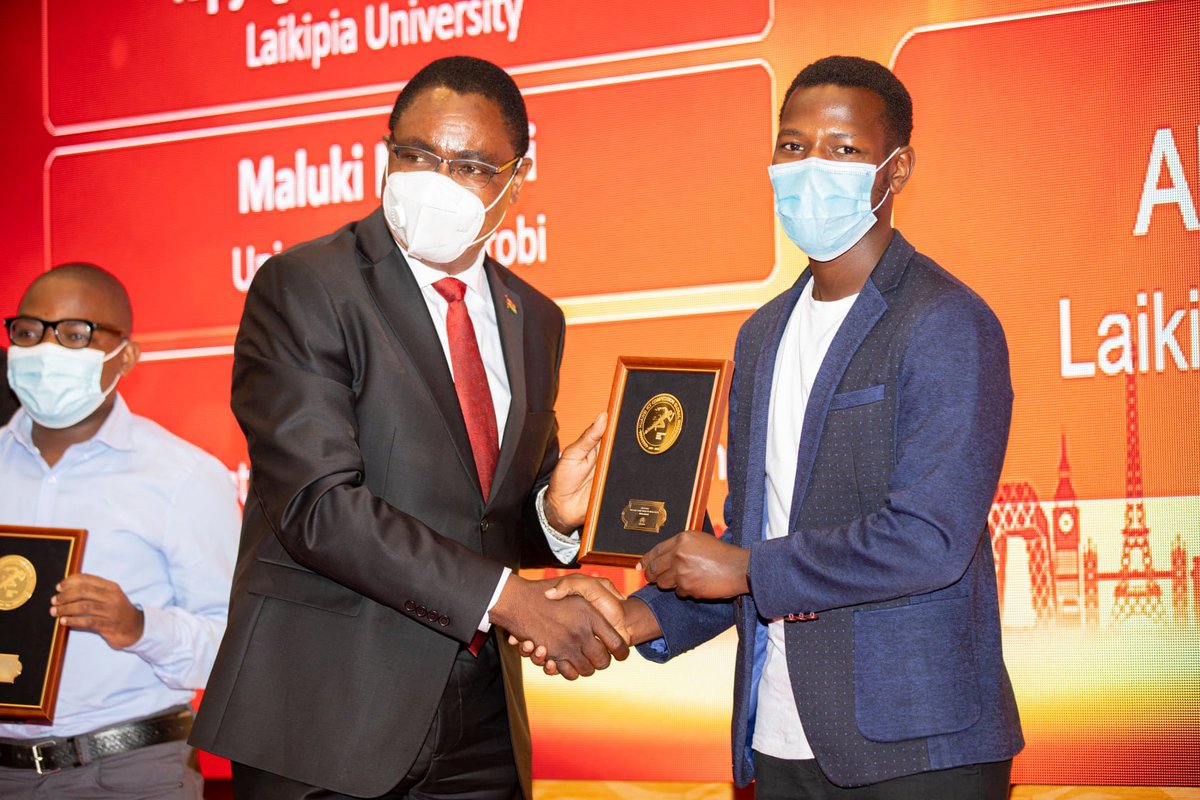 Three Kenyan teams that stood out in a global technology competition sponsored by Huawei have been honored for their achievements.
On Tuesday, the members of the teams were awarded prizes at an event held in recognition of their innovative spirit. The teams took part in the Huawei ICT Competition Global Final in November last year.
The event in Nairobi was officiated by Simon Nabukwesi, Kenya's principal secretary for university education and research in the Ministry of Education, and Yang Chen, vice-president of Huawei's Southern Africa region.
At the award ceremony, Nabukwesi congratulated the students and lecturers for their success in the competition staged by the Chinese technology giant.
In the final, two Kenyan teams came first and third in the network category, and another team placed third in the innovation category.
Nabukwesi also thanked Huawei for its tremendous commitment to building intellectual capacity among Kenyan students and institutions in the information and communications technology field.
"ICT is universally acknowledged as a catalyst for social transformation, national progress and overall economic growth. We have recognized the importance of our youth having the ICT skills to succeed," Nabukwesi said.
"The ICT competition is a unique contribution that the private sector can provide and it will significantly enhance the quality of our ICT education. We recognize the need for different formats that are practical and hands-on to complement the theory for our students."
Yang said Huawei has played an important role in the development of ICT talent in sub-Saharan countries for many years and that the company is starting to see its efforts pay off.
Social responsibility
He said that investment in education is not only a social responsibility, but also a business priority. Growth in the ICT sector can help the economies of the countries in which the company operates.
"Synergies with academic partners are key and have contributed to Huawei broadening its areas of collaboration," Yang said. "Huawei believes there are strong synergies between us and our academic partners, where we can each bring our own strengths to be partners and together achieve more than we could on our own."
Over the past five years, Huawei has signed cooperation agreements with more than 250 universities in 14 sub-Saharan countries, including Nigeria, Kenya and South Africa. This cooperation has enabled more than 7,000 university students to obtain Huawei ICT certification, which makes them better candidates for jobs in the sector.
As the organizer of the ICT competition, Huawei has invested heavily in mobilizing African students, holding 300 campus roadshows with 50,000 students participating. The competition-related training has helped over 300 students receive job offers.
Joseph Rotich, the vice chancellor of Laikipia University, an institution in Nyahururu that participated in the competition, applauded Huawei's efforts in training students through practical work that has improved the students' learning.
"We are proud to be associated with Huawei and are in the process of enhancing this collaboration," Rotich said. "We thank Huawei for providing technology which will assist us in improving our teaching and learning methods."