Biden executive orders undo Trump's favorites
Share - WeChat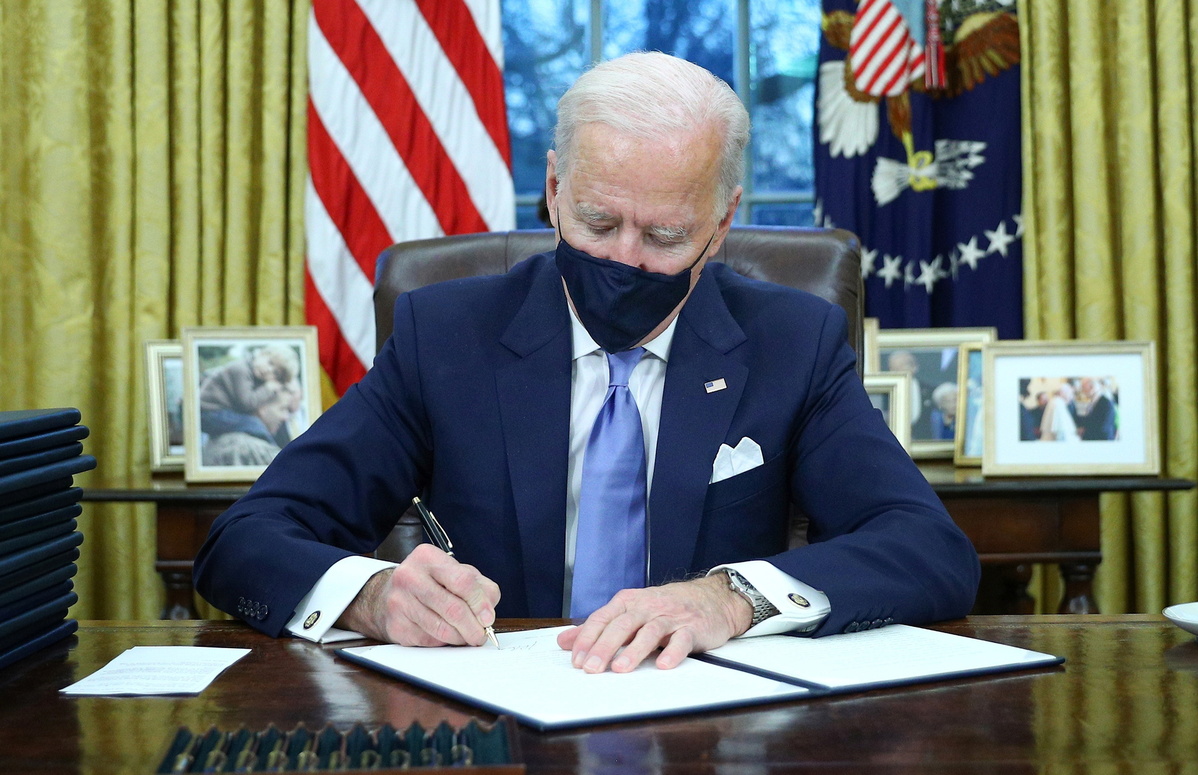 Hours after he was sworn in on Wednesday, President Joe Biden signed executive orders to undo some of former president Donald Trump's signature policies and took his first steps to address the COVID-19 pandemic in the country.
"There's no time to start like today," Biden told reporters in the Oval Office as he began signing a stack of orders and memoranda. "I'm going to start by keeping the promises I made to the American people."
Biden signed 17 executive orders, memorandums and proclamations; the first ones he signed address the coronavirus pandemic.
He imposed a national mandate requiring face masks and physical distancing in all federal buildings, on all federal lands and by all federal employees.
The president ended Trump's efforts to leave the World Health Organization, sending Dr Anthony Fauci, the nation's top infectious disease specialist, to participate in the group's annual executive board meeting on Thursday.
Biden installed a coronavirus response coordinator — Jeff Zients — to oversee the White House's efforts to distribute vaccines and medical supplies and reporting to the president.
He reversed Trump's attempts to withdraw from international agreements, beginning the process of rejoining the Paris Agreement on the climate.
Biden stopped funding for the construction of Trump's wall on the border with Mexico.
He signed an executive order revoking the Trump administration's plan to exclude noncitizens from the census count, and a second order aimed at bolstering the Deferred Action for Childhood Arrivals program that protects "Dreamers" from deportation. Trump had sought for years to end the program, known as DACA.
Two Trump-era proclamations that established a ban on travel to the United States from several predominantly Muslim and African countries were ended.
The president also directed the State Department to develop ways to address the harm caused to those prevented from coming to the US because of the ban.
CNN reported that it saw a calendar that Biden plans to follow by centering each day of January on a specific theme. The White House didn't confirm the accuracy of what CNN said the calendar showed.
Thursday, Biden's first full day in office, will be focused on the coronavirus pandemic, and Friday will highlight his push for economic relief, according to CNN.
The themes next week will include "Buy American", with a Monday executive order increasing requirements for government purchases of goods and services from US companies; immigration will be the theme on Friday when Biden plans to sign executive orders focused on border processing and refugee policies and establish a family reunification task force.
February will focus on what's identified in the calendar document as "restoring America's place in the world".