China-US relations likely to improve, experts say
Share - WeChat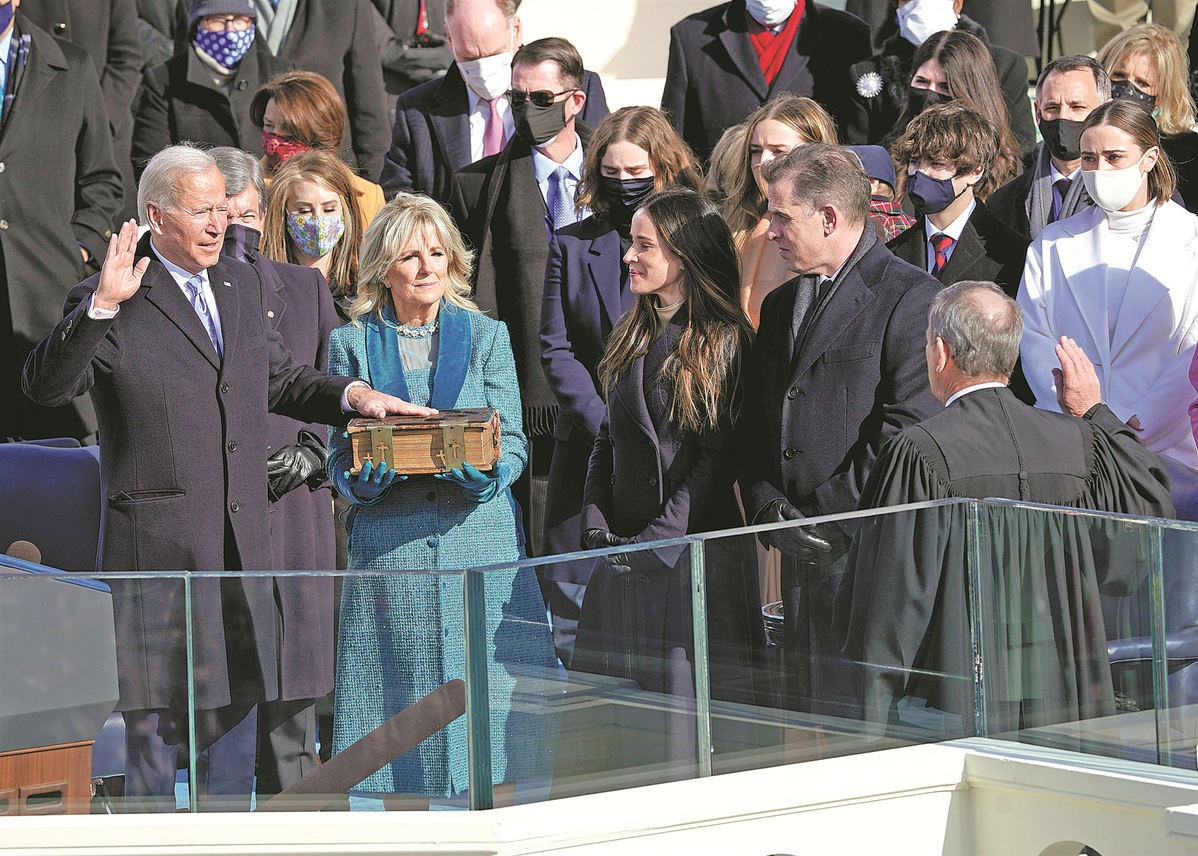 The China-US relationship is likely to start a new chapter marked by more stability and constructiveness after Joe Biden enters the White House, as the new US president seems more pragmatic and advocates cooperation, analysts said.
Biden, 78, took the oath of office on Wednesday as the 46th president of the United States, with three former US presidents — but not Biden's predecessor, Donald Trump — attending the ceremony. Trump, in a farewell speech on Wednesday, touted his legacy and wished luck to the next administration without mentioning Biden's name.
The transition of power, and signals sent out recently by Biden and his team, enable analysts to say there's reason for hope that positive changes will occur in the China-US relationship.
Xu Liping, a researcher at the National Institute of International Strategy of the Chinese Academy of Social Sciences, said that Trump has pushed the China-US relationship into a lose-lose situation. Even in the last month of his term, Trump issued radical policies targeting China that are not even in line with the overall interests of the US.
"Biden is likely to correct these policies, pushing bilateral ties in a more rational direction," he said. "While competition will continue to exist between the two countries, cooperation will also be needed in a wide range of sectors including trade and climate change."
Xu said that the Biden administration should restore communication channels with China, resume negotiations over bilateral economic and trade issues, reduce conflicts and strengthen cooperation in dealing with global issues.
Diao Daming, an associate professor of international relations at Renmin University of China, said that as an experienced politician, Biden has witnessed the ups and downs of the China-US relationship over the past few decades.
"Biden's overall attitude toward China has been pragmatic and rational, which means cooperation in areas with mutual benefits, such as people-to-people exchanges and trade cooperation, are likely to recover."
However, Diao said, the US faces difficulties domestically that have pushed the government to readjust its views toward the outside world and its diplomatic policies, which will not be easy to change, even after the transition of power.
"There may not be substantial changes in Sino-US relations soon, but we can still expect them to be more stable, constructive and dialogue-oriented," he said.
Chinese Foreign Ministry spokeswoman Hua Chunying said in Beijing on Wednesday that China always believes that a sound China-US relationship serves the fundamental interests of the two peoples and is also the common aspiration of the international community. Despite differences, China and the US share broad common interests and room for cooperation, and they shoulder special responsibilities for world peace and development.
She said she hoped that the new US administration will work with China to step up dialogue, manage differences, expand cooperation and bring China-US relations back on the right track as soon as possible.
Domestically, Biden faces an increasingly polarized, pessimistic and pained nation, according to the latest national NBC News poll. More than 7 in 10 voters believe the country is on the wrong track, another 7 in 10 think the next four years will remain politically divided and a majority say they are mainly worried and pessimistic about the nation's future.
Biden's biggest test after he is sworn in will be "continuing to be presidential — above the partisan bickering", according to William Banks, distinguished professor emeritus at the Syracuse University College of Law in New York.
The International Monetary Fund has predicted that the US economy will contract by 4.3 percent in 2020. The number of US workers applying for unemployment claims last week posted the biggest weekly gain since the pandemic hit in March, according to US Labor Department figures.
Cal Jillson, a political scientist and historian at Southern Methodist University in Dallas, said most presidential inaugurations are national celebrations, even for many of those whose candidate didn't win the election.
"This inauguration takes place in a more divided nation. President Biden will have to lower the temperature of our national politics while slowly pulling the nation together," he told China Daily.
Biden wants Congress to act quickly on a massive stimulus package to revive the economy. He has a target of seeing 100 million shots of coronavirus vaccine injected within his first 100 days in office.
Biggest challenge
However, Jillson said Biden's biggest challenge will be addressing the polarization in the public and in Congress.
"Simple competence in distributing and administering the coronavirus vaccine would go a long way toward meeting that challenge," he said.
Stanley Renshon, a political scientist at City University of New York, said he expected Biden to emphasize overcoming divisions, bringing Americans together and taking immediate steps to put the country on the right path.
"His biggest test will be governing a deeply divided country with a veneer of moderation while attempting to cloak a very liberal Democratic policy agenda that is being pushed decisively leftward. That is not a recipe for success," Renshon said.
Biden also should signal to the world that the US will recalibrate after four years of Trump, according to Edward Frantz, a presidential historian at the University of Indianapolis.
Francis Fukuyama, a well-known political scientist, said that where the US goes after Biden's inauguration is "anyone's guess". He said the major uncertainty is what will happen within the Republican Party.