Dozens in Germany infected with variant
Share - WeChat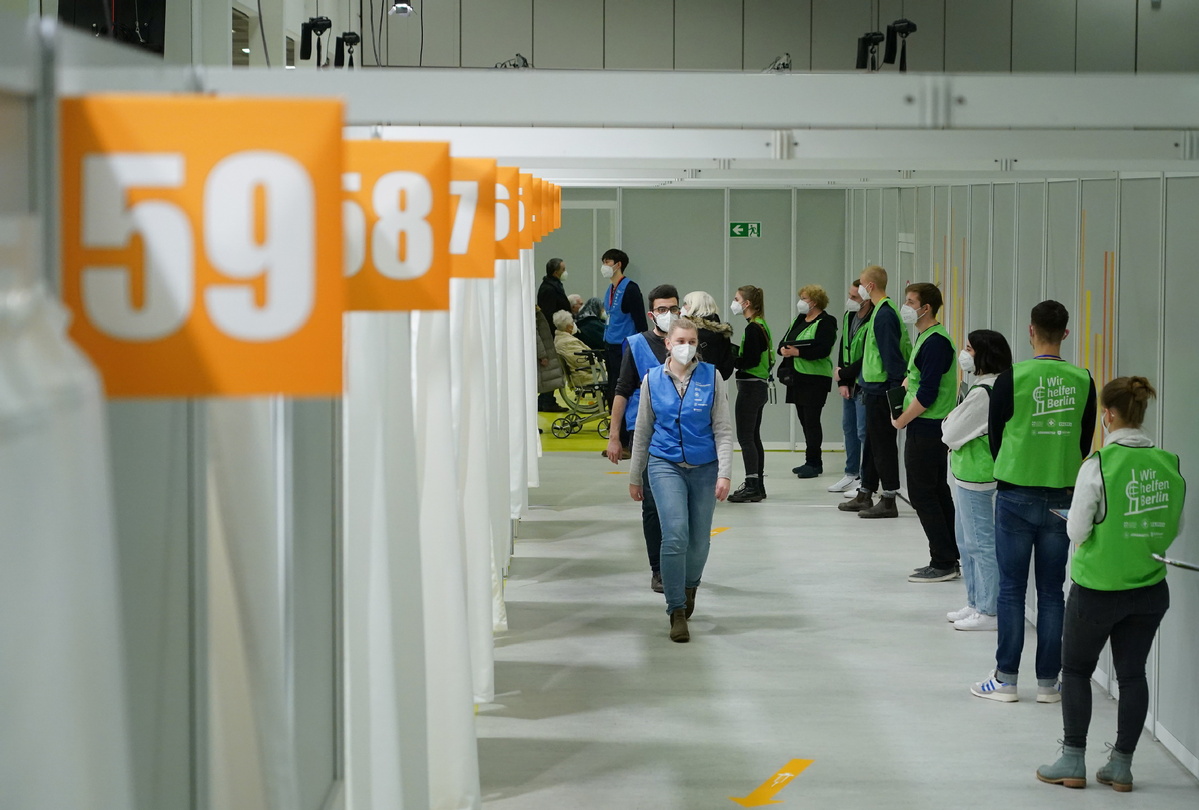 35 patients found to carry new strain of virus as nation considers extension of lockdown
A new variant of the novel coronavirus has been discovered in Germany following an outbreak at a hospital in a Bavarian ski town.
Doctors from the town's clinic in Garmisch-Partenkirchen sent samples to the Charite university hospital in Berlin for analysis, after 52 patients and 21 employees tested positive for the novel coronavirus.
The laboratory confirmed on Monday that a new variant was involved in the outbreak, with 35 of the 73 infected people carrying a new mutated strain.
Charite experts said the strain is distinct from strains first identified in the United Kingdom and South Africa that have contributed to rising infection rates in those regions.
At a press conference, Clemens Stockklausner, deputy medical director of the Garmisch-Partenkirchen hospital, said it is too early to tell if the mutations in the new strain "will be of clinical relevance", and it remains unclear whether the variant is either more transmissible or aggressive.
The discovery comes as Germany's Chancellor Angela Merkel has pushed forward a meeting with regional leaders to discuss the extension of a national lockdown. Current measures, which include the closure of schools, non-essential shops, and hospitality venues, are set to expire at the end of the month, though Merkel has brought forward a review of the regulations, from Jan 25 to Tuesday and is expected to extend the lockdown into February.
Germany went into a lockdown in early January, after infection rates rose sharply in December, when 16,718 people died from COVID-19, an almost three-fold increase on the month prior.
The measures have led to a decrease in daily cases, though German leadership is reportedly concerned that rates will rebound if restrictions are lifted too soon.
Experts are also worried that new variants could increase the spread of the virus, as has been the case in the United Kingdom, South Africa, and Brazil.
The UK strain is thought to be around 50 to 70 percent more transmissible than common variants, thanks to a mutation that allows for easier entry into cells.
The rise of mutated strains has prompted the UK government to dole out 2.5 million pounds ($3.4 million) in initial funding for a new consortium of virologists charged with studying the effects of emerging mutations in the novel coronavirus.
The G2P-UK National Virology Consortium includes researchers from 10 institutions who will study how mutations in the virus affect how transmissible it is, the severity of the COVID-19 disease it causes, and the effectiveness of vaccines and treatments.
"The virus has circulated in humans for more than one year and is prevalent all around the world," said Wendy Barclay, who leads the consortium and is head of the department of infectious disease at Imperial College London. "We're in a phase where the virus is constantly throwing up new variants and we need to gear up to assess the risk they pose, and to understand the mechanisms by which they act."